Digital dentistry is my Royale with Cheese
Have you ever thought of digital dentistry as being like a hamburger? Or a road map with pit stops? Well, kick off your shoes and follow along as Dr. Shawn Van de Vyver compares digital dentistry and its workflow to, yes, these very things ... and you'll find out that you can have your digital dentistry burger just how you like it!
May 1st, 2018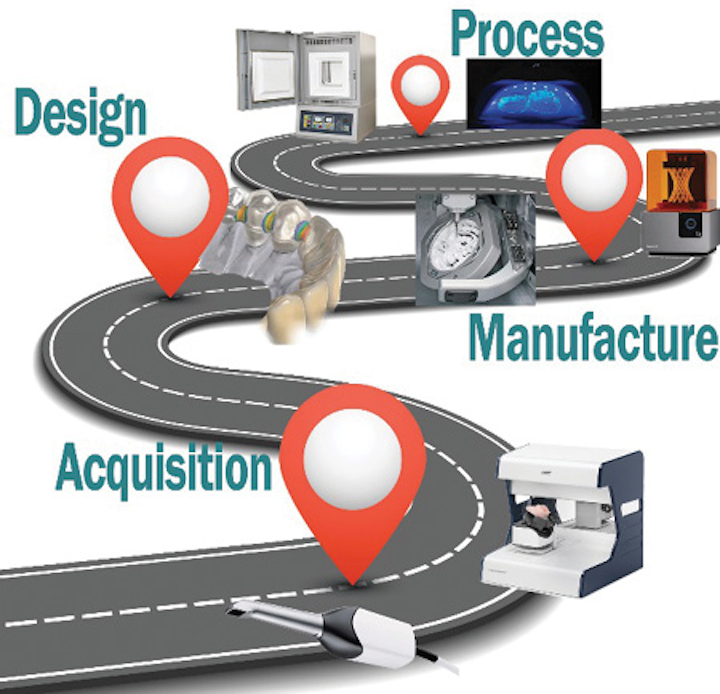 Shawn Van de Vyver, DDS
I'll come right out with it. My goal with this article and the ones that will follow is to convince you that digital dentistry is just like the perfect hamburger.
Yep. There it is. I just went off the deep end.
I'll admit, the title is a bit deceiving. I was thinking of a catchy hamburger-related title, but I couldn't get the famous scene from Pulp Fiction out of my head. Any time I can open the door to quoting Samuel L. Jackson, I'm gonna walk right through.
OK, back to my Digital Dentistry Burger Proof (that's a high school geometry joke right there!) . . .
I want to tell you right out of the gate that digital dentistry isn't just one "thing" or piece of equipment you get and voilà! you're practicing digital dentistry. Many folks think that to be a digital dentistry office means you're required to have a full suite that includes an intraoral scanner, integrated computer cart, milling unit, and processing equipment with multiple ovens, furnaces, pastes, and glazes.
Well, I'll let you in on a little secret: you don't have to get all of that stuff. In fact, you don't need any of that stuff to begin your digital dentistry journey. You don't need to order your hamburger fully loaded with bacon, cheese, tomato, and a fried egg to make it your way. You can order it with only the fixings you like to make it your perfect burger.
I'll lay out the whole digital dentistry road map (figure 1) for you so you can decide which path you want to travel and which vehicles (think equipment) you want to use on your way.
Figure 1: Think of the digital dentistry road map as having four pit stops (or four phases of workflow): acquisition, design, manufacture, and process.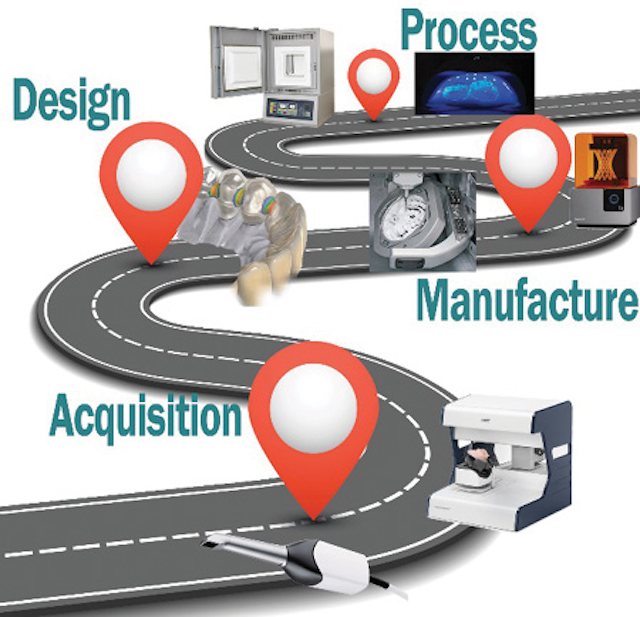 When I talk about digital dentistry, I'm referring to the digital workflows for patient care. Sure, you can have digital charts, computerized scheduling and accounting, and take digital photographs, but those have little influence or impact on the actual physical restorations you'll end up delivering. What I'm talking about when I use the term "digital dentistry" is the hardware, software, and techniques used during the treatment phase of the patient experience.
I'll start at the beginning—digitizing patient records. If you were going to start anywhere with digital dentistry, how would you get your preoperative condition digitized? How would you go about getting digital study models?
Let's begin with the assumption that we're just talking about a simple single-crown case. How do we get a digital version of our starting point—the tooth before we even touch it with a handpiece? This first pit stop on the road in a digital dental office is acquisition.
Acquisition is how we create a digital file (usually a STL file) from our patient. We can do that one of two ways. The first is in the mouth directly with an intraoral scanner. You've no doubt heard of some brand names, but now there are quite a few options to choose from. Several intraoral scanners are in development right now as well, so our menu of choices will only expand.
The second way to acquire a digital model of the patient is with an extraoral or desktop scanner. A desktop scanner scans your impression or stone model and creates the necessary STL file.
If you're just looking to get started in digital dentistry, getting a desktop scanner to digitize your patient models and preps is the easiest and least expensive route.
Once you have that STL file, you can move on to the design phase of your restoration. Some built-in dental design software comes bundled with intraoral acquisition scanners, and there's open-system dental CAD software available too. You might have some experience with dental CAD software and not even know it. When you move teeth in an Invisalign plan, for example, you're using dental-specific computer-aided design software to adjust and finalize your treatment plan. There are many other softwares and services that allow you to create, edit, and produce dental restorations. Just a couple of examples are exocad, CEREC Chairside, 3Shape, PlanCAD, and Dental Wings.
After you have your crown designed in the dental CAD software, you need to make the physical restoration—the manufacturing step. Currently, we can manufacture restorations with an additive or subtractive process. The old-school way of manufacturing dental restorations was only to mill a restoration. Milling involves cutting the restoration out of a block of material. Material is subtracted and removed from a larger volume, leaving the restoration. That's when you have a crown milled out of a small block of material, such as zirconia or lithium disilicate.
Additive manufacturing and 3-D printing are newer processes with consumer hardware and biocompatible materials becoming more readily available. Most notably, Formlabs and SprintRay are pushing the boundaries with in-office dental appliance manufacturing. Additive manufacturing takes a vat of material, usually liquid resin, and cures each layer incrementally, adding to the overall finished product.
You aren't just limited to liquid resins either. More expensive additive manufacturing equipment can melt metal powders in incremental layers to print metal copings and removable partial frameworks too.
With 3-D printing becoming more common in dental offices, choosing between a couple of manufacturers and materials is like asking what kind of cheese you want on your burger. American or cheddar . . . they both make good cheeseburgers. It's all about your personal preference.
Finally, the last waypoint on our road map is processing. Our finished restorations and appliances might need to be sintered, fired, glazed, or maybe just polished before they're ready to be delivered. Think of processing like the finishing touches or condiments you put on your Royale with Cheese. Maybe the extra mayo or special sauce you add gives your burger the perfect taste. Processing your restoration gives it the final characterization and adds your artistry to the finished product.
There are so many ways you can dabble in digital dentistry, and that might mean investing only in a single piece of equipment. For the way you practice, that may be as far as you go down the digital dentistry road. Perfect. You order your digital dentistry burger with pickles only . . . but that's just how you like it.
---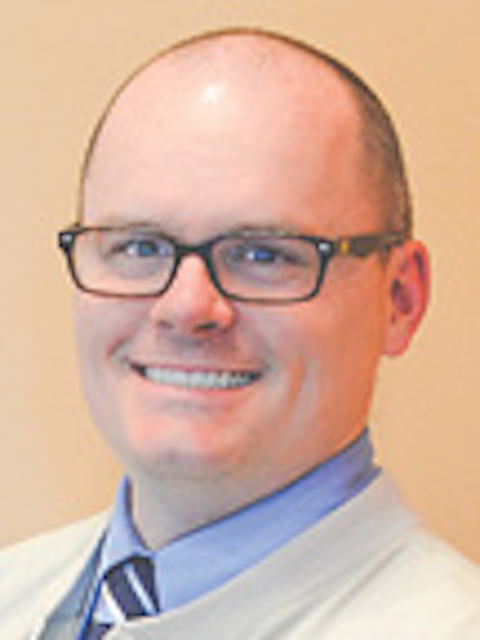 Shawn Van de Vyver, DDS, is a digital dentistry instructor who lectures with his company, V.I.P. Courses, on topics such as in-office milling and dental CAD. Find his course schedule at vipdentalcourses.com, and contact him at shawn@vipdentalcourses.com.