Exercise your options!
Vitique® Veneer Cementation System from Zenith Dental - This new resin cement was developed in consultation with top esthetic dentistry clinicians who felt that a veneer cementation system requires many shades.
Oct 1st, 2005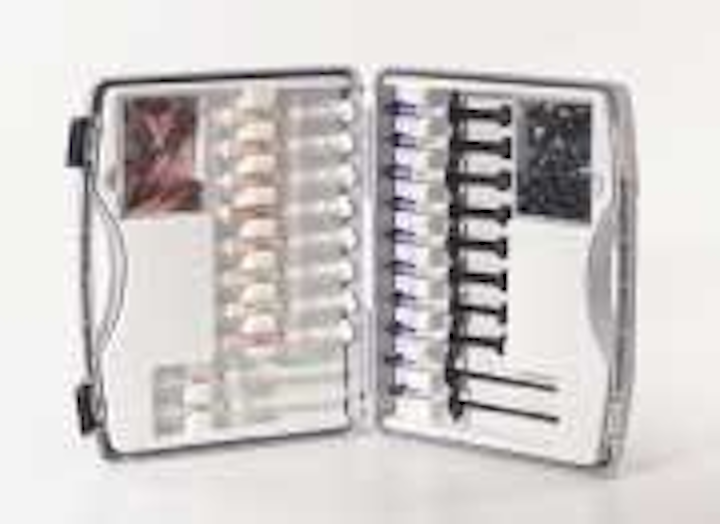 Vitique® Veneer Cementation System from Zenith Dental - This new resin cement was developed in consultation with top esthetic dentistry clinicians who felt that a veneer cementation system requires many shades. The complete Vitique kit features more shades than any other system on the market. These eight shades are complemented by having the same exact colors in a try-in paste and, if you choose the dual-cure option, you can use the catalyst and base try-in paste for the finest color match possible. You are in command of the final color of this cement with no surprises. This cementation system was created with color stability as the number one priority. If you think you need all these shades, then this kit is for you. However, I feel that this complete introductory kit is overkill. I argue with the "top" clinicians all the time about shade. I expect my laboratory to produce the shade I have ordered for the stump shade that I have provided. If it is wrong, the case goes back to the lab. If you are seating crowns or posterior inlays and onlays and need a dual-cure cement, Vitique is still your answer. Zenith Dental has developed the Cata-Lock catalyst dispensing system that allows the catalyst to lock on to the base paste syringe so they are mixed through a mixing tip. This means you get the assurance of a consistent mix each time rather than hand mixing. The Vitique system provides a larger syringe with a unique ribbon tip that quickly places the material on the veneer right where you need it in one pass. My assistant really likes this feature. This is another great product from Zenith Dental! My advice is to buy the starter kit to try the material and then reorder the shades you use the most. Personally, I use the clear shade the most in my practice. Order from your dealer or contact www.zenithdental.com for more information.
SurgiTel® ErgoComfort™ Chair by General Scientific Corporation - This company has been working for years in dentistry to prevent back, neck, and shoulder pain by helping us to be in more ergonomic or comfortable positions as we go about our daily functions with our patients. The key to the ergonomic benefit of this stool is its unique mechanism, which allows the back support and seat of the chair to follow the occupant as he or she leans forward to complete a task. This "free motion" feature allows the ErgoComfort chair to conform to individual requirements for specific activities. The uniform support provided by the mechanism greatly reduces the risk of injury to the lower back and shoulders. The seat and seat back can be raised or lowered to provide a comfortable position at any time. Unique to the ErgoComfort seating system are the Relax and Hydro armrests, which form a shoulder support system that removes the weight of the arms from the neck and shoulders. This alleviates the stress and injury-causing tension that accompanies long procedures. These armrests swing laterally side-to-side and telescope forward and back. The Hydro adds a third dimension through its tension-adjustable up and down motion. I have been using this chair for the past several months and find it much more comfortable than any stool I have used. Order one for yourself and try it for 45 days - if you don't like it, send it back. After that, the chair is covered by a lifetime warranty on the covered parts. Give it a try; I know you will love it! To order, call SurgiTel at (800) 959-0153 or visit www.surgi tel.com for more information.
BD Bard-Parker Protected Blade System from Crosstex International - Do you worry about changing blades on your scalpel as much as I do? I am afraid every time I do it, and it makes me even more nervous to watch my clinical assistants do it. Bard-Parker has solved the problem with the introduction of the Protected Blade System, which helps minimize the risk of surgical blade injury before and after use of the scalpel. This system provides you with an easy way to help comply with OSHA and OSAP standards and federal regulations. Be safe rather than sorry! Your employees will appreciate your concern for their safety. The protective shield is easily activated with one hand (either right or left) with an audible button click and a tactile sensation to confirm that the lock is in place. The system provides all the quality you have come to expect from Bard-Parker, including a stainless steel blade, and a reusable, autoclavable stainless steel handle with conventional weight and feel that is designed for extended life. The blade is always visible through the clear protective shield, and it remains covered during assembly and disposal. The handle is marked on one side with a centimeter scale. The handle comes in three sizes and the protected blades in a variety of sizes and shapes - another great idea from Bard-Parker. Order from your dealer, call Crosstex at (800) 223-2497, or go to www.crosstex.com for more information.
PP46d Digital Photo Printer from Polaroid - As early as 2003, studies indicated that 80 percent of dentists were taking images using some form of digital photography. Those numbers are growing because of the effect of cosmetic procedures. Sending a photo home with your patients can often influence case acceptance and treatment compliance. Instead of interrupting office workflow by using your computer and printer, have a dedicated printer designed for the process. This is a four-pass, D2T2 (Dye Sublimation) printer that finishes with a colorless overcoat to protect the print from the elements and fingerprints. The PP46d has an innovative vertical design that minimizes the footprint in your clinical area. The printer accepts almost all types of memory cards and is USB 1.1-compatible. A built-in LCD allows you to view menus and photos without a camera, so your camera is available for use when you are printing. The Adobe Album 2.0 software is included, and it allows many options for printing. Use it for before-and-after photos of your patients, for lab communication, or for smile walls in your office. The printer is supported by Polaroid technical phone support and comes with a one-year warranty. Your user preferences can be set and the printer then defaults to your preferred mode. You will enjoy the flexibility and versatility this printer gives you, and you can have one in your office for less than $250. To order or for more information, contact www.polaroid.com or call (800) 232-5000.
GingiTrac™ by Centrix, Inc. - Here at last is a cordless gingival retraction system that works in less than five minutes with no tissue or ligament damage! GingiTrac is an effective gingival retraction system that truly harnesses the power of pressure, astringency, and time. Unlike traumatic cord techniques, this system delivers the perfect combination of built-in astringency, gentle retraction, and fast setting times to ensure the most accurate impressions. The technique is quick and easy. After you have finished prepping the teeth, express GingiTrac Matrix into a rigid impression tray and quickly place in the mouth. The matrix material will set in 30 seconds. Then, remove from the mouth, rinse, and dry. Syringe the GingiTrac Retraction material directly around the tooth preparation margin and into the matrix, then reset the matrix impression back over the prepared teeth and have the patient close firmly but not with excessive pressure. Wait 3 to 5 minutes (depending on the amount of bleeding or oozing) for complete set and retraction, then remove the GingiTrac matrix from the mouth. Please remember - GingiTrac will appear to be an exact reproduction of the prepared teeth, but it cannot be used as a final impression because it is not accurate. Now you are ready to take your standard impression with the confidence that it will be perfect when completed. Your lab will love the increased detail in your impressions that results in better models and better finished cases. Order from your dealer or visit www.centrixdental.com for more information.
The "100's of Pearls" series by Michael L. Curtis, DMD - Wouldn't it be great if someone compiled hundreds of the best tips in dentistry, all in one place? Well, look no further. Dr. Mike Curtis has produced four amazing books that are chock-full of great ideas for both the clinical and business areas of your practice. His fast, here's-what-you-need-to-know style cuts through the confusion for clear, unbiased tips you can use immediately. The titles are: 100's of Pearls on Anesthesia & Pain Relief; 100's of Pearls on Endodontics; 100's of Pearls on Financing & Collections; and 100's of Pearls on Fees & Case Acceptance. The format and highlights make information as fast and simple as possible. These books should be in every dentist's office. Order by calling (800) 427-2830 or go to www.100sofpearls.com.