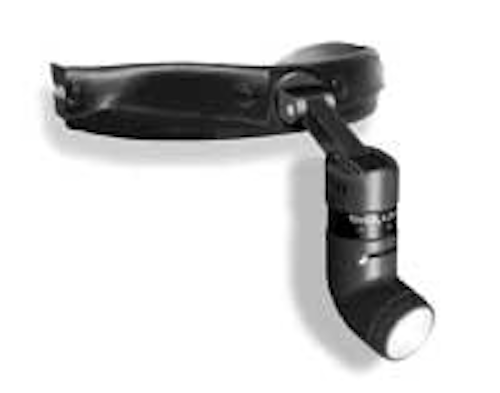 Joe Blaes, DDS
Solid State Procedure Headlight by Welch Allyn. As I was walking through the exhibits at the Hinman Dental Meeting last March, I ran into my friend Jack Connelly. He showed me the latest in advanced lighting technology from the Welch Allyn Company. Just in case you don't recognize the name of this company, you need to know that Welch Allyn is very well known in the medical industry. In fact, the last time you visited your physician, your eyes and ears were most probably examined with a Welch Allyn product. In dentistry, when you need small, well-defined illumination, without the heat of the traditional halogen headlights, look to the leader in illumination to provide the answer — the new Solid State Headlight.
The new headlight feels almost weightless (weighs in at less than four ounces), and it is one of the most comfortable that I have tried. The headband holder is lightweight and easily adjustable for all heads, even my big one. This headlight offers the flexibility of operating from a direct power source or a rechargeable belt clip portable power source. The light source is an extremely bright white light that does not seem to affect the setting time of composites, even without a filter. The light is an LED with a life of 10,000 hours. The light spot is adjustable from 1.5 to 6 inches at a working distance of 16 inches. If you have not tried a headlight for your dental procedures, you will be amazed by what you are missing. I can guarantee you will become addicted to using a headlight to really see what you are doing! Order this great new headlight from your dealer or call (800) 535-6663 or visit them online at www.welchallyn.com for more information.
IPS Empress® Esthetic from Ivoclar Vivadent, Inc. This is an excellent opportunity for you to join the Esthetic Revolution and the trend toward metal-free dentistry. I cannot imagine using porcelain fused to metal crowns any more. I have had too many patients come back with tissue reactions from non-precious metals. There is no reason to put your patients through this. I have been using Empress since it was first introduced. A few years ago, my dental laboratory, Aesthetic Porcelain Studios, began enhancing the esthetics of my Empress restorations by adding porcelain. The new IPS Empress Esthetic was developed by Lee Culp, along with an international team of leading ceramists including Matt Roberts and Jurgen Seger. Culp has designed a wide selection of layering powders to be used with the new Empress Esthetic ingots to create incredibly life-like veneers. So now your ceramist can create pressed and layered restorations that truly mimic the beauty of natural teeth and conserve valuable tooth structure. The IPS Empress Esthetic material's leucite crystal distribution has been enhanced, resulting in improved strength and better optical properties. What this all means is that your dental technician has more tools to deliver the ultimate in metal-free esthetic restorations. Call (800) 533-6825 or visit their Web site at www.ivoclar vivadent.us.com for more information.
StandOut™ from SDS Kerr. In my practice, we have gone to disposable syringes for our wash impression material for a couple of reasons. I find it very difficult to keep the tip in the impression material if I am trying to dispense the wash from a gun with a cartridge and mixing tip. The tip is just too far away to easily control it. The second issue is infection control. How do you sterilize your delivery system? The obvious answer is a single-use system! Kerr has seen the problem and developed a Unidose(r) delivery that gives you and your patients less to worry about. With StandOut, you have nothing to worry about — use it once and throw it away! StandOut is a Tray and Wash system of polyvinyl impression material. The wash comes in the Unidose syringe, and the tray material is available either in the traditional cartridge or the Volume foil pack for use in the Pentamix. 50mL cartridges for multi-unit cases will be available by July, 2004. The first thing you will notice is an excellent, high-color contrast that makes your impressions easy to see and read. The second is the excellent detail of your preparations. The third is exceptional tear strength. You are probably thinking that this new Unidose system makes the cost higher. Not true! StandOut is more cost effective per use than conventional cartridge delivery, and there is less waste than traditional mixing tips. You won't need extra guns and mixing and intraoral tips. The small size of the Unidose delivery tip provides better access and vision and significantly less hand strain during dispensing. Add to all of this no time spent disinfecting cartridges and extruder guns and less time for setup, and you have an ideal situation. StandOut is available in two set times, Fast Set and Super Fast Set. This is one you will want to try! Order from your dealer or call Kerr directly at (800) KERR-123, or visit www.KerrDental.com.
Insure and Prevue from Cosmedent. When you try this resin cement system, you will understand why it has been rated the number-one cement for veneers. I thought I was happy with my resin system for cementing veneers until I tried the new and improved Insure Universal Cementation System. The first thing I noticed was a very translucent clear shade. This is something I require in any veneer cement system I use routinely in my practice. When I try in six or 10 veneers, and the shades are perfect, I want to place those veneers with a cement that will NOT change that shade. The folks at Cosmedent have totally redesigned the dispensing system with unique needle tips that provide pinpoint delivery of the cement and very little wasted material. Insure comes in two great consistencies with decreased stickiness for easier handling characteristics. One viscosity is great for easy cleanup of your veneers while the other offers increased flowability for low-marginal film thickness. Neither one of these viscosities will run all over the place, which makes cleanup a lot easier. You will always be able to see this cement on an X-ray because all the resins are radiopaque and they can be utilized for anterior or posterior porcelain bonding. Add to this great cement the perfect try-in material. Prevue offers a wide range of color versatility with a formula that exactly color matches the seven cements in the Insure System. This guarantees a perfect match every time you cement a veneer. Intermixing the cements gives you a virtually unlimited range of colors. Prevue comes as a water-soluble gel to give your team easy clean up after try in. The material is nonstick to facilitate placement and removal. What a great team of products — Insure and Prevue. To order, call (800) 621-6729 or visit them online at www.Cosmedent.com for more information.
AGFA Dentus® M2 Comfort Intraoral Film from Heraeus Kulzer. This is a great intraoral X-ray film available in F/E and D speeds packaged with extra Softopac® with smooth corners. The inner packaging of M2 Comfort along with improved film identification guarantees easy handling in the darkroom. The Agfa Dentus M2 is compatible with all equipment and all processing procedures. This film will consistently deliver high-quality image sharpness. Order from your dealer, or visit Heraeus Kulzer online at www.heraeus-kulz er-us.com for more information.
Pearl update:
White Towel Services. This company used to be known as "The Wet Towel." Now, there's a new name and some new ideas! Nothing says luxury like a steaming, gently scented 100 percent cotton towel. White Towel Services supplies pre-moistened, individually wrapped, single-use cotton towels that provide refreshing and soothing comfort that is sure to please and impress your patients. The infused essential oils provide the added benefits of aromatherapy. Serve them steaming hot or refreshingly ice cold to offer that "Wow!" experience to your patients. These single-use cotton towels mean no hassle and no worries about laundry or cross contamination. They are available unscented or individually scented. This company also supplies the very best towel warmers. The exclusive Taiji brand warmers require no maintenance, no adding water, no adjusting buttons or knobs. Just load the warmer with the number of towels needed for the day, turn it on and you are ready to serve steaming hot, soothing towels all day long. Make your customer service remarkable by offering a touch of class. Visit them online to order or for more information at www.whitetowelservices.com or call them toll free at (866) 938-8693.