Less is more… as it should be!
The past few years have likely presented challenges for all of us in some form due to the changing economic parameters throughout the world...
Feb 1st, 2012

by Douglas L. Lambert, DDS, FACD, FASD, FASDA, ABAD
The past few years have likely presented challenges for all of us in some form due to the changing economic parameters throughout the world, and more specifically, within our dental practices. Whether it has translated into delaying office upgrades or equipment purchases, refining our business model, or the unfortunate necessity of modifying staffing levels, the impact of global monetary policies have most certainly been felt in every facet of society. Yet it appears that the virtual myriad of esthetic and cosmetic procedures available to patients continues to grow due to rising demand for these services by a health-conscious society that seeks to maintain or recapture its youthful appearance. In dentistry, this can translate into a multitude of options, such as whitening, tooth repositioning, composite bonding and ceramic veneers, and anterior/posterior restorative needs. We continue to see that dental consumers are no longer satisfied with simply having "white" fillings, but look for restorative options that produce nearly invisible restorations that meet their esthetic goals.

Direct bonded veneers before (left) and after.
Frequently, esthetic dental treatment can be viewed as an elective procedure, but its necessity can often be the result of a systemic or genetic condition, dental disease, or unfortunate accident. Regardless of the basis for the procedure, prudent concern should be taken to evaluate the long-term effects of any restorative course. As the dental pendulum swings over the years, more conservative restorative options rise to the top. The terms "do no harm," "minimally invasive," and "less is more" have never held more truth for the dental profession than they do today. Spear outlined four principles of treatment planning, all of which should be held in paramount respect when considering alternatives in daily practice. They are:
Conservation
Function
Esthetics
Longevity
Direct bonded veneers before (left) and after.
First, conservation can be defined as seeking a treatment course that satisfies the mutual goals of the patient and dentist, while posing the least long-term harm to the patient. Second, function relates to the patient's ability to use the restoration in normal daily activities as if it were his or her own tooth. Third, esthetics lends itself to a restoration that should appear inconspicuous when viewed in the mouth. Finally, longevity yields a treatment that should last an acceptable number of years based on the particular treatment goals for the patient.
To this end, clinicians have two categories of restorative alternatives available — direct and indirect materials, both of which have benefits and contraindications. Such considerations include material composition, physical properties, wear characteristics, shrinkage, and compressive strength, among others. Additional factors that may contribute to a clinician's hesitation in selecting a particular restorative modality include the clinician's skill in diagnosing, executing the preparation design to ensure conservation of tooth structure, application of dentinal adhesives, and technique sensitivity involved in placing these materials.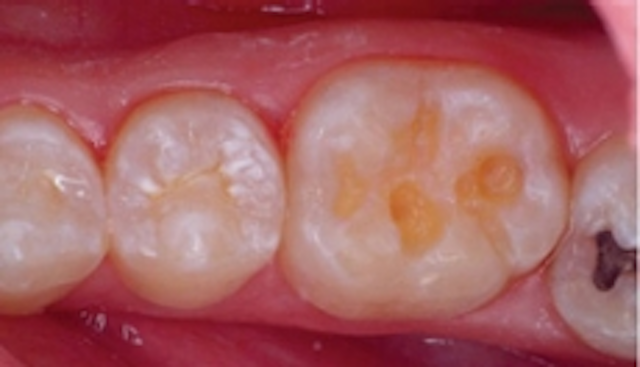 Occlusal prep
Fortunately, dental manufacturers have risen to the challenge and worked diligently to improve the tools at dentists' disposal. For example, significant improvements in our ability to diagnose caries have emerged in various forms, from laser fluorescence (DIAGNOdent, KaVo), and LED fluorescence (Midwest Caries I.D., DENTSPLY/Professional; Spectra Caries Detector, Air Techniques; SOPROLIFE Caries Detector, Acteon), to alternating electrical current impedance (CarieScan PRO, CarieScan Global), and digital radiography with caries-specific software (LOGICON, Carestream Dental).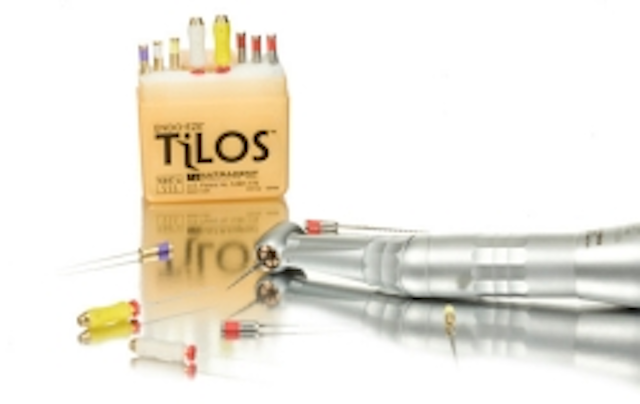 Occlusal composite fill
Additionally, restoring these detected lesions can take on many forms to keep with the minimally invasive theme, including no preparation options such as ICON (DMG/America), to glass ionomers and direct composite resins. Many times, composites offer dentists the most simple and cost-effective way to create esthetic restorations, but not without a significant learning curve. It's been more than 50 years since Buonocore thought of bonding to enamel with the introduction of acid-etching, and though the resin-based fillings of that period were quite inferior to those available today, issues related to material properties and handling characteristics, as well as the clinician's skill, are still key to the success or failure of a composite restoration.
Today's flowable composites allow for more widespread use in both anterior and posterior applications. Some offer larger increment or bulk-fill capabilities due to their low-shrink/low-stress chemistry (SureFil SDR Flow, DENTSPLY/Caulk; GrandioSO Flow, VOCO), while others offer self-adhering properties where a separate dentin-bonding agent is not used (Vertise Flow, Kerr Corp). Not to be outdone, the traditional body composites have been fine tuned to the point where particle size and distribution yield amazingly esthetic results balanced with equally impressive physical properties. These attributes, coupled with innovative and reproducible placement techniques, can elevate the dentist's ability when using direct composites to create successful, long-lasting restorations.
When considering the multitude of options available for esthetic restorative cases, the use of conservative measures in our treatment planning is always a prudent measure. Creating a philosophy and solution that is conservative, functional, esthetically pleasing, and possesses good longevity should be our paramount goal. The use of direct composite resin offers an excellent tool by melding improved dental materials and technology with innovative delivery techniques to help solve these esthetic dilemmas.
Douglas L. Lambert, DDS, FACD, FASDA, FASD, ABAD, graduated from the University of Minnesota Carlson School of Management in 1980 and the University of Minnesota School of Dentistry in 1984. He is a lecturer, author, and independent dental consultant for various manufacturers, and a partner in an esthetic-based practice in Edina, Minn., emphasizing cosmetic, comprehensive, and sports dentistry. Reach Dr. Lambert at ddssmile@aol.com or view his lecture schedule at www.dentalteamconcepts.com.
More DE Articles
Past DE Issues