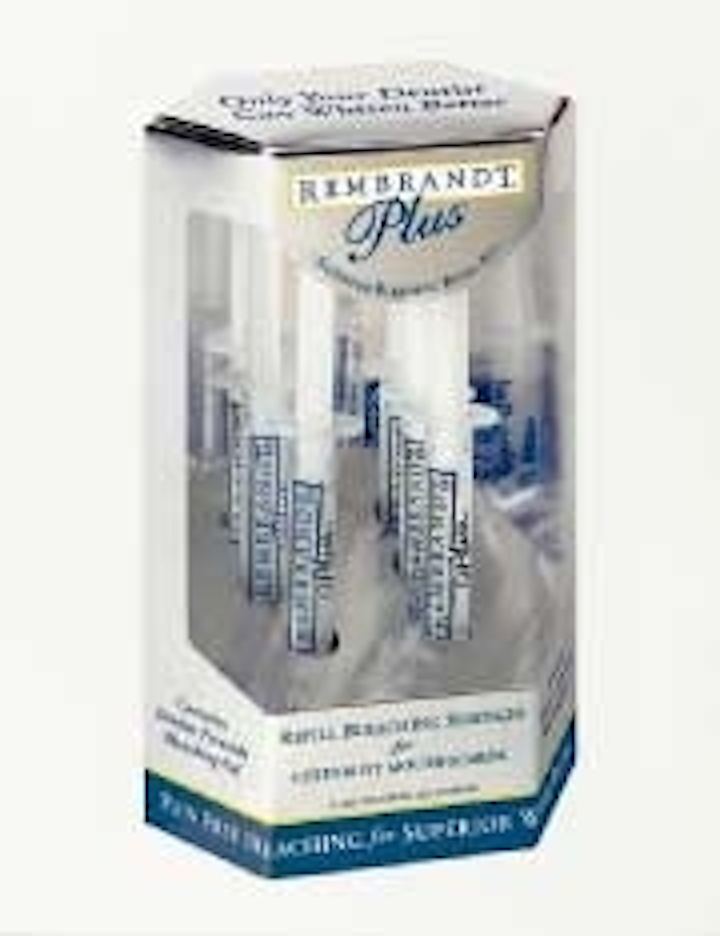 Rembrandt Plus Refill gives your smile a boost
A professionally bleached smile or one brightened by an at-home bleaching kit like the Rembrandt Plus Superior Bleaching System may need a boost now and then. To keep already dazzling teeth their brightest, Rembrandt introduces the Rembrandt Plus Refill Kit for people who already have their own mouthguards for whitening.
The refill kit contains six precision-delivery syringes filled with Rembrandt Lighten Bleaching Gel, the first ADA-Accepted bleaching formula used by dentists, but in a lower concentration.
The refill kit is available in grocery, drug, and mass merchandise stores.
For additional information, call Den-Mat Corporation at (800) 548-3663 or visit www.rembrandt.com.
Double-sided mirror
Hu-Friedy introduces a #5 double-sided mirror (order code MIR5DS) to its line of precision diagnostic instruments.
Like all Hu-Friedy mirrors, the MIR5DS features a clear, distortion-free reflection. The rhodium-coated lenses are scratch-resistant and have a smooth finish for maximum patient comfort. The cone-socket design securely connects the mirror head and handle, and is compatible with all four of Hu-Friedy's mirror-handle options.
The MIR5DS is available individually or in boxes of six (order code MIR5DS/6).
For additional information on the MIR5DS or any Hu-Friedy products, call (800) HU-FRIEDY.
Braun Oral-B 3D Excel
Oral-B Laboratories extends its advanced technology with the introduction of the new Braun Oral-B 3D Excel, a top-of-the-line power toothbrush that is said to remove plaque deep between teeth, leaving a remarkably clean, fresh feeling similar to that experienced after a professional cleaning.
Key features and benefits include double the pulsation speed of the Braun Oral-B 3D - resulting in an intense, yet gentle cleaning sensation during brushing and a more polished feel after brushing; enhanced control - improved features for full control during brushing; pulsation cessation - a pressure sensor automatically suspends pulsations if too much pressure is applied, helping to maximize the brushing experience.
For additional information, call (800) 446-7252 or visit www.oralb.com.
Biogel® Skinsense™ N
Biogel® Skinsense™ N, the newest addition to Regent Medical's full line of Biogel® powder-free surgical gloves, offers powder-free, nonlatex barrier protection and is designed for healthcare workers who care for patients with latex allergies or who choose a nonlatex surgical glove alternative.
Formulated from a proprietary Neoprene™-based manufacturing process, Biogel® Skinsense™ N offers exemplary nonlatex barrier protection with the fit, feel, and comfort of natural rubber latex.
For more information about Biogel® Skinsense™ N or Regent Medical's full line of Biogel products, call (800) 843-8497 or visit www.regentmedical.com.
Professional Crest Whitestrips available
Procter & Gamble recently announced an exclusive offering to dentists - new Professional Crest White-strips - that will provide even stronger results than the kit available for sale directly to consumers.
The Professional Crest Whitestrips kit will include a three-week supply of strips (vs. two for original Whitestrips), an increased level of peroxide, new Crest Dual-Action Whitening Toothpaste, and a Crest Complete Extra Soft toothbrush to keep new stains from forming.
P&G launched its national consumer advertising campaign last month, geared toward the Crest Whitestrips and the Professional Crest Whitestrips. Crest will be partnering with dentists in a number of ways. They include the dentist finder - the Crest Whitestrips Internet site allows visitors to identify dentists offering professional-strength Crest Whitestrips kits. Crest positions Crest Whitestrips as one of many whitening options available to dentists and patients, saying it is 10 times better than the leading whitening toothpaste. P&G also will be providing a wide variety of tools to help professionals build their whitening practices, including continuing education on whitening and practice management.
For more information, visit www.dentalcare.com.
New chair brochure
The DentalEZ Group recently introduced a new brochure showcasing the two DentalEZ brand chairs: the J-Chair and the aXcs Chair. This 16-page, full-color brochure explains the features and benefits of the chairs and shows the upholstery color choices.
For more information or a copy of the brochure, fax your name and address to (610) 725-9894.
mollosil® plus soft reline material
Buffalo Dental introduces mollosil® plus soft reline material in the new Automix 2 cartridge system. mollosil® plus is known for convenient use and for providing years of dependable, soft-reline performance. The new Automix 2 system reportedly improves the performance and convenience of the dispensing system, and helps ensure ideally mixed material with minimal waste.
mollosil® plus is available in intro or refill kits, in Automix 1 or 2 cartridges, directly from your favorite dental or laboratory products dealer.
Contact Buffalo Dental at (800) 828-0203, or visit www.buffalodental.com.
Tie-on Safemask®
Medicom, Inc. introduces the Tie-on Safemask®. Tie-on Safemask® is a fiberglass-free, soft breathable fabric, with strong, full-length sonic ties.
Premier Tie-on Safemask® benefits include fluid-resistant inner and outer layers, with a high BFE that exceeds industry standards.
Color choices include blue, green, and fog-free. Each box contains 50 masks. Medicom products are available through your dental distributor.
For additional information or a sample of your favorite style or color, call (800) 435-9267 or visit www.medicom.ca.
XYLIFLOSS® dental flosser
XYLIFLOSS®, a new patented dental flosser that provides a safe, fast, and comfortable way to floss teeth, was recently introduced to the North American market by XYLIFLOSS Ltd.
XYLIFLOSS® is an innovative product that will change the way people floss forever. It makes the use of dental floss easy and fast, and the special design ensures hygienic use of dental floss.
This dental-care product is said to be the only flosser available with a self-adjusting tension mechanism that makes flossing quick and easy. XYLIFLOSS® is easy to use, with simple operating instructions on the back of the package. It is available in five different colors, and is attractively packaged and priced.
XYLIFLOSS® is a self-contained, hygienic dental flosser that eliminates the need to wrap an excess amount of floss around your fingers. Each unit contains 16 yards of dental floss, good for more than 200 uses - many more than the standard floss container.
For additional information, call (847) 781-3222, (800) 558-5927, or visit www.xylifloss.com.
RelyX™ Veneer Cement
3M ESPE introduces a veneer-cement system with a customer-preferred delivery and color-match system that's easy to use and easy to choose. The RelyX™ Veneer Cement provides simple and efficient bonding of porcelain, composite, and ceramic veneers. The dentist-preferred, nonslump viscosity prevents veneer drift and is easy to dispense, apply, and clean up - traits common to the RelyX™ cement family. The light-cure only, resin-based cement also provides exceptional color stability and simplified shade selection. For more information, call (800) 634-2249 or visit www.3MESPE.com.
Coe Lunar TA system
GC America introduces the Coe Lunar TA Turbo Accelerator Fast Halogen Curing Light. The increased power output curve of 900-1100 mw per sq. cm allows most materials to be cured in 10 seconds. Traditional curing lights emit 300-600 mw and typically cure in 30 to 50 seconds. A new dichroic filtering system removed IR (infrared or heat) wavelengths that could cause discomfort or pulpal damage.
The Coe Lunar TA system features an on-board light meter, a finger-control light timer, and provides easy access for fast bulb replacement. Coe Lunar TA comes complete with standard 13-8 mm turbo accelerator (TA) light guide, eye shield, no-glare cones, and is wall-mount capable.
For more information, call GC America at (800) 323-7063.
PermaCem® Dual
Zenith/DMG has released its PermaCem® AutoMix Permanent Cement in a new dual-cure formulation. It can be light-cured in as little as 40 seconds or allowed to self-cure in minutes, giving dentists even greater speed and flexibility.
PermaCem® is a unique cement that combines all the fluoride-releasing and biocompatibility benefits of a glass ionomer with the insolubility and high strength of a composite. PermaCem® uses Zenith's exclusive AutoMix technology to make permanent cementation of final restorations quicker, easier, and more precise.
The PermaCem® AutoMix Dual Refill Package consists of one 52gm Transparent cartridge, and 40 cement cannulas.
For more information, contact Zenith/DMG at (800) 662-6383 or visit www.zenithdmg.com.
Practice management textbook
EagleSoft, a Patterson Company, is featured in the new textbook Practice Management for the Dental Team. This textbook is a complete manual designed to provide step-by-step instructions for practice management and clinical procedures.
An interactive CD-ROM accompanies every textbook, which is provided by EagleSoft. This CD-ROM acts as virtual practice for users, so that they are able to use EagleSoft's practice-management software and gain knowledge on incorporating new technology into the dental office.
For more information, contact your Patterson representative or call EagleSoft at (800) 294-8504, or visit www.eaglesoft.net.
Dental hand instruments
Tony Riso Company introduces a new line of dental hand instruments to complement its existing line of ultrasonic scaler units and tips. As an introductory offer, the company is offering three hand instruments at no charge, when purchasing any three ultrasonic inserts. The instruments are hollow-handled, lightweight, stainless steel, precision crafted in the U.S., and are available in 24 different configurations. Ultrasonic inserts include the P-100 Perio Series and the I.T.S. implant scaler. Tony Riso Company manufacturers, repairs, and sells all types of ultrasonic dental units, inserts, and tips.
For more information, contact Tony Riso Company at (305) 466-5681.
Aquacream hand lotion
ADM-Tronics Unlimited, Inc. offers Aquacream, a new lotion specially formulated to counter the harshness of chemical agents that may come into contact with the skin.
After washing hands thoroughly, product use entails rubbing a generous amount of the Aquacream in the palm of the hands, then spreading the cream evenly to coat the entire surface of hands. This is followed by rinsing hands with running water and patting them until thoroughly dry. The treated skin becomes smooth, moist, and soft within a few minutes.
Aquacream is available in packaged 16-oz. dispenser bottles, with a minimum order of six bottles. For more details, call (201) 767-0515 or visit www.admtronics.com.
Butler GUM® Toothbrush
Every day millions of germs make the average toothbrush their home. Now there's a toothbrush that gives bacteria an eviction notice. Butler GUM® announces the first-ever antibacterial bristle toothbrush with replaceable heads. The patented antibacterial coating has proven to reduce bacterial contamination on the bristles for 30 days. The replaceable head design makes it easy and convenient to change to a fresh brush month after month. With three replacement heads per package, antibacterial protection will last for 90 days when used as directed.
The toothbrush also features an interdental cut and the Butler GUM® exclusive Dome Trim™ bristle design with raised center bristles, proven to effectively clean below the gumline and reduce gingivitis. Research studies have shown that a standard toothbrush can harbor millions of microorganisms and that those potentially harmful bacteria thrive in the warm, moist environment of the average bathroom.
For more information, visit www.LivingYounger.com.
Scaling kit
Satelec now offers an indispensable tool for use in your everyday practice - a scaling kit. For use with Satelec's ultrasonic units, this set of tips provides: linear tip motion more easily controlled by the practitioner; more controlled spray to reduce any aerosol effect and increase the field of visibility; and automatic frequency adaptation and finer power levels to ensure patient comfort.
The cavitation effect provided by these tips improves scaling efficiency without additional pressure or strain applied by the user. The kit of four tips contains #1 universal, #2 heavier calculus, #3 specific stain removal, and #10P sensitive patients (and children) and shallow-pocket debridement.
For additional information, contact Satelec, Inc. at (800) 289-6367.
CoolBlu curing light
Dental Systems International, Inc. introduces CoolBlu, a cordless blue LED curing light.
This high-intensity light allows for rapid curing times. It is suitable for most dental resins and adhesives. It produces minimal heat to reduce the structural, heat-related stress to bonding material and tooth enamel. No cooling fan translates into quiet dentistry and no spread of aerosol. No UV, laser, or heat means it is safer for the dentist and staff members' eyes. The long-life battery lasts for more than a week before re-charging is necessary.
CoolBlu powers its light through 19 LEDs located in the unit and not in the light guide. The wider tip light guide remains autoclaveable.
For more information, call Dental Systems International, Inc. at (386) 672-5961.
Catalog No. 115
Buffalo Dental's catalog No. 115 displays its complete line of dental products, and includes numerous new photos and fully updated product information. The new and improved layout is said to make it faster and easier to locate products, and is identifiable due to the attractive color image on the front cover.
Catalog No. 115 is available upon request directly from Buffalo Dental at (800) 828-0203 or (516) 496-7200.
For additional information, visit www.buffalodental.com.