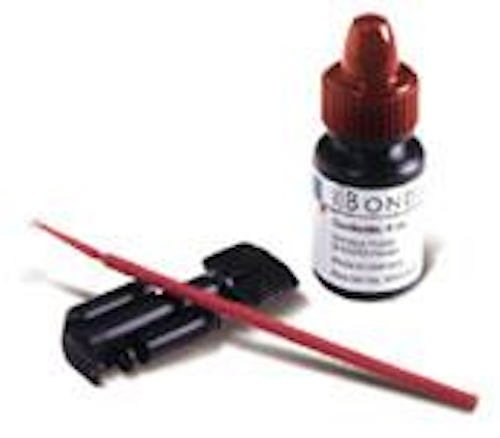 Joe Blaes, DDS
Pearl 1 — iBond™ from Heraeus Kulzer. Self-etch bonding agents require precise adherence to the mixing and application directions to be successful. iBond changes all of that. iBond is the first truly one-step bonding system for use with direct and indirect restorations. It's a simple, one-bottle system that etches, disinfects, desensitizes, primes, and bonds in one step. iBond requires no mixing, which greatly simplifies the bonding process. This product takes an often confusing, multi-step procedure and turns it into a quick, easy solution that streamlines your working process. iBond is not technique sensitive, which eliminates concerns over wet, moist, or dry bonding. This is the only bonding system that includes Gluma Desensitizer to assure maximum patient comfort. Independent studies have shown shear bond strengths in the 25 to 30 MPa range. The exciting news with iBond is its compatibility with so many common procedures. I can use one bonding agent for my direct composite and compomer restorations, as well as cementing my indirect restorations, such as ceramic veneers, ceramic crowns, inlays, and onlays. iBond works as a cavity sealant under amalgam restorations, and it is compatible with plasma-arc curing lights and the new LED curing lights. It's easy to use — just apply three consecutive coats to the dentin and enamel, wait 30 seconds, and light cure for 20 seconds. Using iBond also eliminates postoperative sensitivity. This is because the dentinal tubules are not completely opened and exposed, since you do not completely remove the smear layer and also because you are treating the tooth with the most effective desensitizer available – Gluma.
So there you have it — a product that is easy to use and simplifies your bonding techniques. Order from your dealer, or call (800) 431-1785. Visit www. Heraeus-Kulzer-US.com for more information.
Pearl 2 — Blueline™ from Ivoclar Vivadent. This new product is a response to many requests for a more aesthetic tooth line that still incorporates the best in occlusal schemes and material characteristics. Blue-Line is the innovative new tooth line that combines the best features into one system. This product line features new layering techniques that allow light to be properly reflected so as to match the beauty of natural teeth. Adding more translucency enhances aesthetics to the incisal layers. BlueLine teeth are made from a special new acrylic that resists wear, chipping, cracking, and staining. This resistance to wear helps maintain the vertical dimension built into the denture. You can order the posterior BlueLine teeth in a number of occlusal schemes including monoplane, lingual contact, combination, semi-anatomical, and fully anatomical moulds. Specify BlueLine when you prescribe your next denture. Call (800) 533-6825 or visit www.ivoclar vivadent.us.com for more information.
Pearl 3 — Coding and Claim Submission Manual by Limoli and Associates. Dental Economics columnist Tom Limoli has completely revised his Coding and Claim Submission Manual to include all the most current procedure codes. The spiral bound, color-coded manual is fully tabbed and indexed. It comes with additional descriptions and sample narratives that are indispensable when communicating with insurance companies. This manual will help you and your staff better serve your patients by accurately and comprehensively filing their benefit claims with the appropriate procedure code and narrative attachment. Do yourself a favor and get two copies for your office — one for the clinical team and one for the business team. Order directly from Limoli and Associates/Atlanta Dental Consultants at (800) 344-2633, or visit them at www.LIMOLI.com.
Pearl 4 — Tongue Sweeper® and Tongue Mate® from Biocurv Medical Instruments. These new instruments for cleaning the tongue were designed by a dentist to overcome some of the problems associated with sharp-edged plastic cleaners. There is certainly adequate published data documenting the importance of tongue cleaning. Bacteria cause most oral malodor on the posterior one-third of the tongue. Bacteria and food debris on the tongue may contribute to tooth decay and gum disease. The tongue may serve as a reservoir of bacterial infection for systemic problems including pneumonia, peptic ulcer, and chronic gastritis. The Tongue Sweeper is for at-home use. It's made of surgical quality stainless steel coated with an advanced medical coating called SureCoat™ that makes the Tongue Sweeper super smooth with perfectly rounded cleaning edges that will last a lifetime. It is designed for one-handed use with a soft, rubberized grip for extra control. It fits in standard toothbrush holders. The Tongue Mate designs are meant for in-office use and have a slightly different design but all the same qualities. Both instruments can be autoclaved an unlimited number of cycles and are dishwasher safe for home use. I think you should be prescribing the best for your patients, and this is it. Both come with an absolute, customer satisfaction guarantee, and the materials and workmanship are guaranteed forever. To order, call (800) 589-3043, or visit www.tonguesweeper.com for more information.
Pearl 5 — Creating the Denture Practice of Your Dreams by Ian Shuman, DDS, FAGD. This is a new book and CD written and developed by Dr. Ian Shuman. Shuman is a terrific clinician and speaker and I have always been impressed by his ability to simplify complex procedures. This educational kit on dentures is written in a step-by-step format and organized by appointments instead of chapters. Shuman has included a PowerPoint CD that contains over 120 highly detailed images of his own clinical cases. This complete denture education manual details all the steps that confuse many of us, including: denture duplication, pouring up models without boxing, relining in under five minutes, finding vertical dimension, centric relation, and many other great techniques and tips. To order, call (410) 766-5104, or visit http://www.ianshuman.com/videos.htm.
Dr. Blaes has a general practice in the St. Louis area. He is known for his expertise in dental materials and techniques and his innovative systems designs. Dr. Blaes is a member of the American Academy of Dental Practice Administration. He may be reached at joeb@pennwell.com.