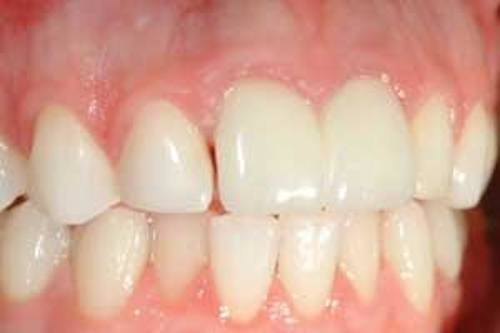 by Gordon J. Christensen, DDS, MSD, PhD
In this monthly feature, Dr. Gordon Christensen addresses the most frequently asked questions from Dental Economics® readers. If you would like to submit a question to Dr. Christensen, please send an e–mail to info@pccdental.com.
For more on this topic, go to www.dentaleconomics.com and search using the following key words: curing lights, resin restorations, tooth sensitivity, high intensity lights, Dr. Gordon Christensen, diastema, porcelain–fused–to–metal crown.
Q Occasionally I see patients with a piece of ceramic fractured from a porcelain–fused–to–metal (PFM) crown or bridge or a space between two PFM crowns. I have some questions about these frustrating problems. What commonly causes the fractures, and what can I do so the restorations will hold for a reasonable period of time? Additionally, can I fill a diastema that has developed between two PFM restorations?
A Numerous factors can cause fracture of a piece of ceramic from a PFM restoration. The fault may be caused by the patient, technician, or dentist.
Patient–caused fractures: The ceramic material fired or pressed onto the surface of a metal framework to make a PFM crown has known strength and measurable bond to the metal. If the patient accidentally places too much load on the restoration, it will fracture. The same phenomenon is present for natural teeth. A hard piece of candy or ice, a cherry seed, or a chicken bone can certainly break a piece of enamel away from the underlying dentin. The same forces will break a PFM restoration.
Patients should try to avoid excessive forces on their teeth. Many of the foods patients eat routinely will break teeth. Examples are hard candy, corn nuts, ice, hard nuts, popcorn hulls, and numerous other foods. Advise them to avoid these foods completely, or soften them first by holding them in the mouth until the saliva makes them soft enough to chew.
Roughly one–third of the patient population has bruxism or clenching. This condition is highly destructive to natural teeth and all types of restorations, including PFM crowns and fixed prostheses. Patients usually cannot control their bruxing/clenching habits. I suggest making resin occlusal splints for these aggressive chewers as soon as their destructive habits are observed.
Technician–caused fractures: When a PFM restoration is returned to the dentist from a dental laboratory, it is impossible to see what is underneath the shiny external ceramic. If the metal substructure has not been built up to resemble a miniature tooth, with similar anatomy to the expected anatomy of the restoration being made, the external ceramic will probably be too thick.
The result is relatively unsupported external ceramic. If the external ceramic is thicker than 1.5 to 2 mm, the likelihood of fracture during service is high. This challenge requires a discussion with your laboratory technician to ensure that the frameworks for either PFM or zirconia–based restorations are being made with an optimal design.
If the external ceramic has voids or cleavage lines, it cannot have optimum strength. If the ceramic was underfired, the strength will be compromised.
The technician can cause significant strength problems in the external ceramic. Dentists cannot control these errors other than meeting with technicians to discuss any potential strength challenges.
Dentist–caused problems: Several dentist–caused problems are commonly observed. Many restorations are too high when tried into the mouth. Dentists usually adjust the external ceramic to provide harmonious occlusal contacts on the restorations and unrestored natural teeth.
Aggressive adjusting causes minute fractures in the ceramic surface that can later lead to major chipping or fracturing of the ceramic. The ceramic surfaces should be finished and polished to provide optimum smoothness and strength. The following is a technique proven to provide external ceramic surfaces almost as smooth as fired ceramic:
Carefully adjust the surface of the ceramic with a fine diamond or disk.
Use progressively smoother disks until the ceramic surface is smooth to the eye.
Use the three levels of Brasseler (Savannah, Ga.) Dialite diamond finishing and polishing wheels. The surface will appear shiny to the naked eye.
Follow with diamond polishing paste on a brush. A well–proven example product is Diashine from VH Technologies (Bellevue, Wash.).
The surface produced by the preceding technique will remain smooth as it continues to serve in the mouth. Allowing PFM restorations to remain in supra occlusion places excessive forces on them and can cause fractures.
What to do for a ceramic fracture or to fill adiastema between two PFM restorations
Redo the restoration: This alternative is usually best; however, it is the most expensive one. If the restoration is one single unit, I prefer to redo the restoration. It is about as time consuming and expensive to redo it as it is to repair it, and the potential for long–term service is better if the restoration is redone.
Make a repair with resin–based composite: Most dentists have experienced repeated failures with this technique, but if done carefully with optimum materials, it provides at least interim service. An example patient is shown in Figure 1. A space developed between the natural lateral incisor and the implant–supported crown on the right central incisor. The following procedure was accomplished on the distal surface of the crown on the right central incisor:
Carefully roughen the ceramic with a large particle–size rotary diamond instrument where the fracture has occurred or the additional contour is needed.
Sandblast the ceramic surface in the location where the repair is needed, or etch the ceramic with hydrofluoric acid. A proven acid product is available from DenMat (Santa Maria, Calif.) called PorceLock. Either sandblast roughening or hydrofluoric acid etching provides roughness that is capable of retaining the resin repair material.
Place silane on the surfaces to be repaired (Fig. 2). A proven silane product is Interface from Apex Dental Materials (Lake Zurich, Ill.).
Place a thin layer of unfilled resin bonding agent on the prepared ceramic surface.
Place the resin–based composite material of your choice on the surface of the ceramic.
Finish and polish the restoration.
The resulting restoration is often remarkably undetectable for a few years (Fig. 3). However, differences in the coefficient of expansion and contraction between the ceramic and the resin may produce staining around the margins. Infrequently, if the ceramic has not been roughened thoroughly, the resin will debond from the ceramic surface.
I consider the technique using resin–based composite to be an interim repair. Patients should be advised that eventually other treatment might be necessary.
Make a repair with an "overcrown": The most reliable repair is the fabrication of an "overcrown." I suggest this technique be accomplished only for multiple–unit prostheses in which an apparent traumatic fracture of ceramic has occurred. If the fracture is a debonding of the ceramic from the underlying metal, redo the complete restoration, because debonding will probably occur with other parts of an inadequately fabricated prosthesis. The overcrown procedure follows and is shown in Figure 4.
Using a diamond bur, cut the ceramic from the surface of the defective abutment crown or pontic. The ceramic should be removed in a way that allows the overcrown to draw from the metal substructure.
Make an impression of the prepared substructure and surrounding restorations and teeth.
Have your laboratory construct a PFM overcrown using noble or base metal as the substructure. These categories of alloy bond more adequately to some resin cements, such as Panavia F from Kuraray America (New York, N.Y.), than high–noble alloys. Although base metal bonds very well to Panavia and other cements, avoid using base metal in patients with known metal sensitivities.
Sandblast the metal of the defective prosthesis and the overcrown.
Seat the overcrown with a strong cement, such as Panavia F, which has been proven over many years to bond to properly prepared base and noble alloys.
The repaired prosthesis will have significant strength and will be surprisingly esthetically acceptable. I have experienced very few failures using the overcrown technique as described.
Some of the materials and techniques necessary to repair ceramic fractures are shown in our new popular video, V1934 "Complex Oral Rehabilitation," now available from Practical Clinical Courses. Contact PCC for more information at (800) 223–6569, or visit us online at www.pccdental.com. This video shows me accomplishing a full–arch rehabilitation with PFM crowns, step–by–step, in close–up detail.
Dr. Christensen is a practicing prosthodontist in Provo, Utah, and dean of the Scottsdale Center for Dentistry. He is the founder and director of Practical Clinical Courses, an international continuing–education organization initiated in 1981 for dental professionals. Dr. Christensen is a cofounder (with his wife, Rella) and senior consultant of CLINICIANS REPORT (formerly Clinical Research Associates), which since 1976 has conducted research in all areas of dentistry.