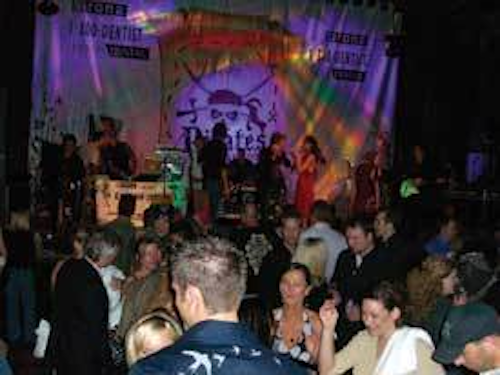 by Paul Feuerstein, DMD
As a general practitioner, I think I have hit a temporary standstill in regard to new gadgets in the practice. The last few meetings (New York, Boston, Chicago, and Atlanta) have not introduced any new revolutions. Let me qualify that by saying that I have seen a few new soft-tissue lasers and a new microscope/loupe but nothing that would change my practice. On the horizon, there are some great new CAD/CAM products and amazing conebeam CT units and software that I will report about soon. But for now, I have seen only refinements of items that are already on the market.
There also are amazing corporate shifts taking place. Based on this, the old saying that "you need a scorecard to know who the players are" comes to mind. While interesting, most of this does not have a direct impact on the actual clinical practice - even though awareness is necessary in terms of who is distributing what. There are some politics in the background, and there are some camps who espouse radical responses to corporations. As consumers, we should be informed.
But I suggest you read the reports carefully, sorting through the online chatter as best you can. We have to understand that companies who manufacture and sell products are not just there for fun. While trying to make a profit, their business decisions sometimes can be viewed as unpopular. It is easy to throw pot shots from the bleachers, where most of us sit. To be honest, we have little control over this situation anyway. In terms of fun, many of these companies reward customers with nice events at dental meetings or other venues. People who were at the Chicago Midwinter meeting know that they should thank Nobel Biocare, Sirona, 1-800-DENTIST, Discus, Biolase, and a few others.
Let's take a few moments to reassess what products we use and to check the systems in our offices. Much of the simple technology that was introduced in my office has been taken for granted. In some cases, it even has been overlooked. In addition, because of some staff changes, enthusiasm was missed initially. For example, when I first purchased the DIAGNOdent, everyone was trained and shown how to use it. We included it as part of our routine. When a new hygienist came on board, the first objective was to get that person familiar with patient flow, office procedures, and patients. As an aside, we added, "Oh, by the way, we have a DIAGNOdent."
Similar circumstances delayed use of the digital camera, patient education systems, and some clinical protocols such as the use of Arestin. We also get complacent with patient flow if the office is busy. But if a slowdown occurs, there is a mad scramble. Most practice-management systems have report generators that are either unused or just printed and stored in binders. These reports are often reviewed only quarterly.
A simple report such as the "overdue recall report," or a report on patients who have not been in for more than a year, generates much new production. It also locates problems of patients who might have departed the practice (they do not always let us know).
Some even have died. When generating this report, you should be able to exclude patients who are out due to collection or patients who, for whatever reason, you might not wish to return. Recently, I read about an office that sends recalls to its full-denture patients after a few years. Many of these people have dental insurance, so why not schedule them for an annual exam? Since there are oral cancer screening systems (such as ViziLite Plus and VELscope), this could become a remarkable service.
A loose-fitting set of dentures could become a source of chronic irritation. Although not a specific cause of oral cancer, it can be a contributing factor. In addition, patients might not be aware that dentures can be relined, repaired, or replaced. Beyond this, perhaps patients are not wearing dentures because they are frustrated with them.
This is an opportunity for an implant overdenture consultation. Some of us use mini-implants, which could be a far less expensive alternative for a patient who just assumed that implants cost several thousand dollars. Most people assume that if you have no teeth, you will need one implant for each tooth missing. They never have heard of an overdenture - or even thought about it.
Although practice-management systems have reports, there are some new third-party products that can be helpful in examining your records. One, which works with several systems, is Demand Force. Since it is Web-based, you do not download any software. Demand Force reads your files and reports to you "live."
While the program is too comprehensive to detail in this column, it coexists with your practice-management software and helps reactivate patients, sends appointment reminders, sends and analyzes patient satisfaction surveys, and more. I am just scratching the surface For complete information and demonstations, go to www.demandforce.com.
Another new program is Patient Activator. It also reads your database and has many services for the practice. The first time the program is used, the database is checked for accuracy. The program even fills in e-mail and cell phone numbers of patients. Patient Activator has a comprehensive marketing program, including print mail and e-newsletters. The Web site (www.patientactivator.com) will give you more information than I can include here.
Another company in this arena is Elexity (www.elexity.com). Also Web-based, the program works with your practice-management system, and includes patient retention and appointment reminders among its features.
If you want a complete financial analysis of your database, such a system is available. Sikka (www.sikkasoft.com) software, which previously has been reviewed in this column, digs into the financial side of the database by helping to determine fee schedules and practice trends. I would be remiss in omitting it from this discussion.
If the practice continues to operate, there is room for improvement. Systems may be outdated. There comes a time to reevaluate where you are in the practice. Many dentists hire consultants to do this at a great cost. Unfortunately, by the time they are contacted, there often is little they can do to right a sinking ship. But if a practice is running smoothly and you want to reach the next level, perhaps one of the products discussed could be helpful.
Let me mention one amazing product that I saw in February in Chicago. An Austrian company, Life Optics, has developed a pair of head-mounted electronic loupes called the Varioscope. These loupes reminded me of "Robo Cop" - when you put them on and look at a patient's mouth, you gaze through an eye-mounted video screen that zooms then quickly auto focuses on the area in which you are working.
Original scopes were used in brain surgery, which requires precise vision. They range to 9x, and the image is sharp. Since I wear 2.5-3x loupes, it took little time for me to become accustomed to these on the typodont. If I have an opportunity to conduct a clinical demonstration, I will report on the results. Various models of the Varioscope range in cost from $11,000 to $30,000, depending on features. There are descriptions and videos on the company's Web site (www.lifeoptics.com).
This year should bring many new high-end, high-tech products, so be sure to watch the pages of this column.
P.S. Most of you who read this column know that column titles are generally song titles. This column title is dedicated to the memory of Brad Delp.
Dr. Paul Feuerstein installed one of dentistry's first computers in 1978. For more than 20 years, he has taught technology courses. He is a mainstay at technology sessions, including annual appearances at the Yankee Dental Congress, and he is an ADA seminar series speaker. A general practitioner in North Billerica, Mass., since 1973, Dr. Feuerstein maintains a Web site (www.computersindentistry.com) and can be reached by e-mail at drpaul@toothfairy.com.