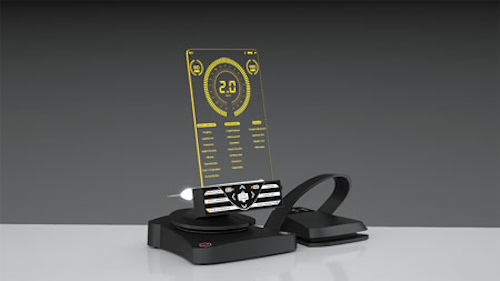 In the market for a laser? Dr. Stephen Gordon says, "I've owned a few lasers over the years and have learned that researching answers to these questions up front makes the difference between a device you use and a device that sits in a corner."

---
When making the decision to purchase new technology for the dental office, several important decisions must be made. I've owned a few lasers over the years and have learned that researching answers to these questions up front makes the difference between a device you use and a device that sits in a corner. I'm currently using the new Gemini 810 + 980 soft-tissue diode laser (Ultradent Products Inc.) because I was able to get satisfactory answers to these important questions.
Will there be a good return on investment?
The onscreen display shows a total of 19 preset dental treatments-eight general dentistry procedures, seven orthodontic procedures, and four hygiene procedures (table 1). Before we owned a soft-tissue laser, many of these dental procedures could not be conveniently performed. With the Gemini laser, many of the patients who previously would have been referred to specialists can now be treated in-office.
Table 1: Preset dental procedures listed on the Gemini laser onscreen display
General dentistry: Troughing, gingivectomy, Class V gingivoplasty, implant recovery, incision/excision, operculectomy, fibroma, frenectomy
Orthodontics: Cuspid exposure, molar exposure, hyperplasia, implant recovery, aphthous ulcer, frenectomy, gingivoplasty
Hygiene: Sulcular debridement, aphthous ulcer, herpetic ulcer, hemostasis
Will the ongoing costs be reasonable?
Yes, expenses just include the reasonable cost of single-use disposable laser tips.
Does this technology have a minimal learning curve?
The large visual display clearly shows the available procedures (figure 1). A wireless Bluetooth foot pedal eliminates cords that could easily get in the way in the tight space of a dental operatory. The single-use, preinitiated tips eliminate a step to allow more efficient use of the laser.
Currently, other dental soft-tissue lasers are either 810 nm or 980 nm. The Gemini laser uses both wavelengths: the 810 and 980. You have the ability to perform procedures with either wavelength alone or with both together. The efficiency of your dental procedure is improved when using both wavelengths.
Figure 1: Large visual display clearly shows procedures.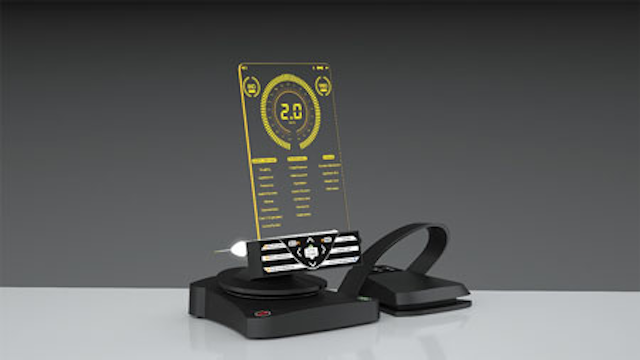 Another benefit to this laser is proprietary superpulsed wavelength modification, which significantly reduces tissue heating or scorching. The laser is always in this pulse mode, so the gingival tissues look great immediately after the procedure. There is significantly less postoperative discomfort for patients, and healing times are much faster. When performing esthetic anterior tissue reduction and recontouring procedures, I can immediately show the results to patients without their seeing anything but their good-looking, height-reduced gingival tissues (figures 2 and 3).
Figure 2: Before
Figure 3: After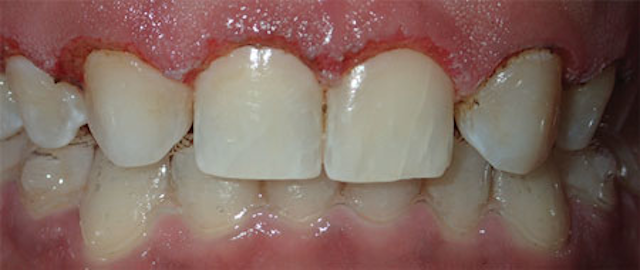 I also like the brightly lit handpiece. As we currently use brightly lighted LED dental handpieces, the lighted laser handpiece helps us see areas where we may not be able to adjust the overhead light or headlight to accommodate good visualization.
Upgrading your practice with a dental laser will open your mind to new procedure possibilities. I specifically like dental troughing procedures used for crown and bridge hemostasis. A main benefit is that the laser allows me to reevaluate my tooth preparation in a bloodless field so that I can modify and improve my tooth preparation design. This makes me a better dentist. I also enjoy using the laser for uncovering overgrown tissue on an implant healing cap. You can quickly and easily remove this overgrown tissue with a laser, unlike using an electrosurge unit that could cause dental implant problems should you accidently touch the healing cap or implant with the active electrosurge tip.
I perform about one frenectomy per month, which equates to 12 more per year than I did before owning a soft-tissue laser. The laser light cauterizes blood vessels to reduce postoperative bleeding and nerve endings to reduce postoperative sensitivity. It also sterilizes the site, thereby reducing postoperative infection.
So, if you're bringing a laser into your practice or even upgrading your current laser, I urge you to research the product specifications that matter most. You should be excited about the host of new procedures that can be done and existing procedures that can be done better. Weigh the costs and learning curves of investing in this technology. With careful consideration, I think you'll find that a diode laser such as the Gemini laser will be one of the devices that successfully integrates into your daily workflow.
---
Stephen J. Gordon, DDS, practices dentistry in downtown Chicago. He taught restorative dentistry at the University of Illinois College of Dentistry for 19 years. He lectures extensively on minimally invasive dentistry, integration of technology into the dental office, digital radiography, soft-tissue laser dentistry, PerioProtect nonsurgical periodontal therapy, ozone use in dentistry, and dental insurance. Dr. Gordon performed a live endodontic procedure at the Greater New York Dental Meeting.