Pearls for Your Practice
Joshua Austin, DDS, MAGD, reviews the Goby electric toothbrush, Lava Esthetic fluorescent full-contour zirconia from 3M Oral Care, and the Microlux 2 transilluminator from AdDent.
Nov 9th, 2017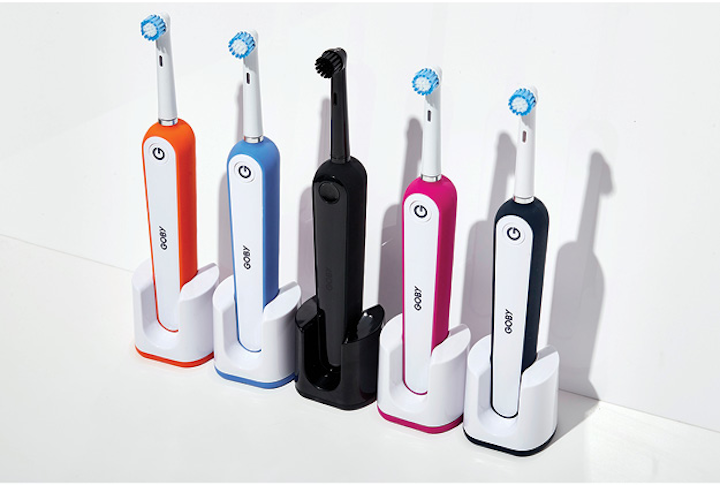 Goby electric toothbrush
I check social media way too often—always pulling down to refresh, have to see what's new. During the past couple of years, I have noticed a toothbrush company that uses social media to market to the public. The company markets an "affordable electric toothbrush." It has one of those hip one-word names. What surprised me about this "affordable electric toothbrush" was that it actually runs off of a couple of disposable batteries. That is not an electric toothbrush. That is a manual brush that makes noise. A real affordable electric toothbrush is Goby. Yes, Goby also has a cool one-word name . . . but this company is the real deal.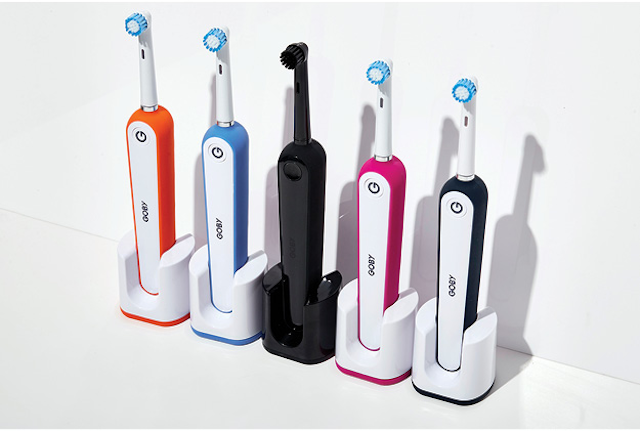 Goby is a rechargeable, electric-powered toothbrush, much like some of the more expensive ones on the market, and it can hold a charge for up to two weeks. It has a circular, oscillating brush head. As with any good toothbrush, the bristles are soft, polished, and end rounded for consistent plaque removal and gingival safety.
Goby is available in five different colors. The colored section of each toothbrush is rubberized to give the user a slip-proof grip. The all-black toothbrush is Goby's best-selling brush. In fact, it sells so well that Goby charges $10 more for it, and it is still the best seller!
The real key to Goby's success is the subscription toothbrush head service. For a few bucks apiece, Goby autoships a fresh brush head with free shipping. We know that most patients don't change their brush heads often enough, so this is a great way to remind them. When a new one shows up at your front door automatically, it makes it easy not to end up with a ratty old brush head.
Goby electric toothbrushes run $50 each to the public. The company now has a professional services department that can set you up with Goby toothbrushes at a fraction of that price with your name and logo on them. Sell them in your office. Give them away as prizes. At the cost at which you can get them as a dentist, your options for practice marketing are endless. What a fun and relevant reward for your patients!
I have been using a Goby myself for a couple of months now. Mine is orange because I went to the University of Texas. (Hook 'em!) I have been surprised at the quality of the toothbrush's construction and the clean it gives me. The charge is quite impressive too. I usually get by with two charges a month. I recently ordered 10 to sell and give away in my practice, and I am excited to see how people will respond to this hip approach to an electric toothbrush. Line-drive base hit for Goby!
3M Lava Esthetic full-contour zirconia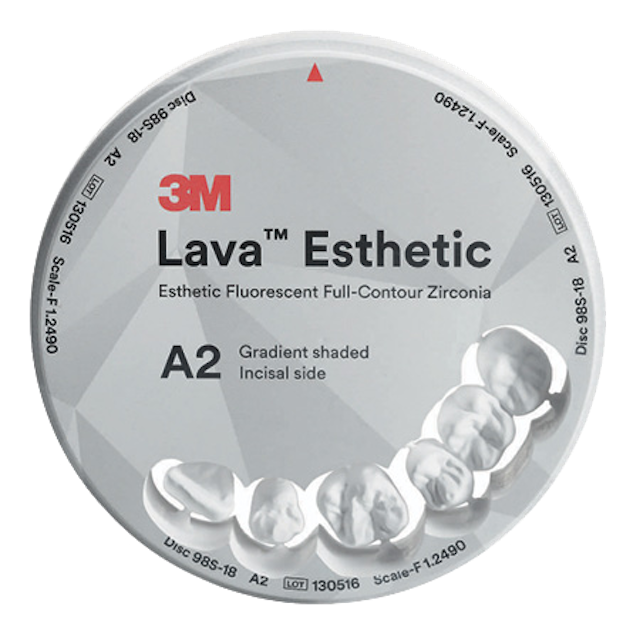 Let's climb in our DeLorean time machines and travel all the way back to the mid-aughts. That's what we are supposed to call the 2000s, right? It sounds weird. Anyway, it was the era of ceramo-metal with porcelain-fused-to-metal crowns everywhere!
Then 3M Oral Care came along and changed the game with the first iteration of Lava. For the first time, we had a tooth-colored material strong enough to serve as a coping, even in the posterior. Feldspathic porcelain was then stacked on top of it. The results were strong crowns that gave us translucence similar to natural teeth.
The original Lava restorations were not without problems though. The veneering porcelain was subject to chipping and fracture, so the original Lava took a back seat as lithium disilicate and other companies' full-contour zirconia took over. Sure, that full-contour zirconia was ugly—but it was white.
The demand for an esthetic full-contour zirconia material grew. 3M Oral Care heard that demand and released Lava Esthetic earlier this year. Lava Esthetic is the first zirconia with inherent toothlike fluorescence. That fluorescence goes a long way to help with matching natural teeth. Unlike the first Lava, Lava Esthetic is a full-contour zirconia that can be used in both anterior and posterior restorations. Three-unit anterior and posterior fixed partial dentures are also possible, provided there is a single pontic attached to adjacent crowns. Lava Esthetic is also indicated for inlays and onlays.
This zirconia is durable as well. With an 800 MPa flexural strength and a minimum wall thickness of 0.8 mm, you can rely on this material for brawn and beauty. 3M Oral Care recommends cementing Lava Esthetic restorations with RelyX Unicem 2 self-adhesive resin cement, which containsmonomers to help bond to the monolithic zirconia of Lava Esthetic.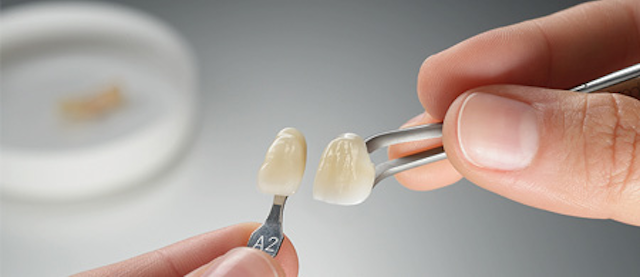 Recently, I did an anterior case with Lava Esthetic. The patient had broken three of her six lithium disilicate restorations. It was apparent that she needed something stronger; however, she still had high esthetic demands. Aurum Ceramic Dental Laboratories in Washington State did the lab work for the case, and it turned out beautifully. Minimal adjustment and polishing and easy delivery made this case a slam dunk. Aurum did a tremendous job with the shading of the restorations but told me that 3M Oral Care makes it easy because of the shade options available for Lava Esthetic.
When you combine the strength and esthetics that Lava Esthetic provides, it is easy to see how this has become a staple indirect restoration material in my practice. Line-drive triple into the gap that rolls to the wall for 3M Oral Care!
Microlux 2 transilluminator by AdDent Inc.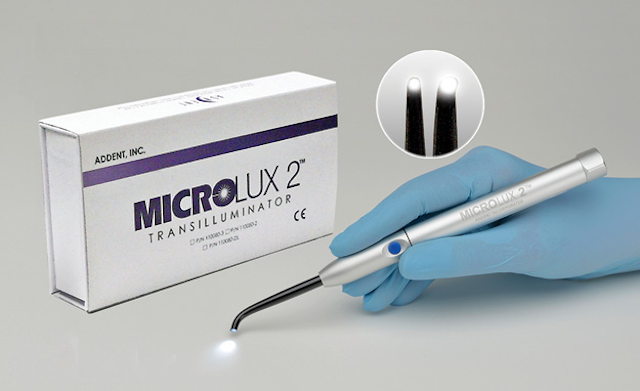 Cracked and fractured teeth make me look dumb. They make me look dumb all the time. Sometimes a cracked tooth is an easy fix, and a simple crown does the job. Sometimes a visit with my friendly local endodontist is the key. And sometimes nothing but cold steel and sunshine can cure the ailing tooth crack. Cracked teeth make us guess, and I don't like that. Radiology is mostly useless, beyond showing us the tooth that is split in half and displaced, but that's an easy extraction diagnosis from across the room. I needed something to help me visualize cracks and fractures in teeth, and the Microlux 2 transilluminator from AdDent is just what I needed.
The Microlux 2 is about the size of a Sharpie permanent marker, a tiny dynamo that is low on cost but big on functionality. The different tips allow it to be used for multiple applications. With the 3 mm tip, the transilluminator can be used to diagnose anterior caries. The 2 mm or 3 mm tip can be used to identify posterior caries. The Endo Lite tip goes into the sulcus to help us identify and diagnose those pesky fractures I was complaining about earlier. Sliding the Proximal Caries tip under the contact point and viewing from the occlusal can help you find posterior caries. Using the 3 mm tip during an endo access can help you identify and locate all the canals. Finally, the Perio Lite attachment lights up at different depths. It's like having a light-up perio probe—cool!
This is one of those inexpensive but endlessly useful pieces of equipment. I bought a single Microlux 2 that I moved from operatory to operatory. After a few weeks of that, I ended up getting one for every room. We use them all the time. I love the different tip options that expand its applications. I love that it runs using AA batteries, so I don't need another charger around the office. I love that it won't break the bank. And I love that it is durable and ergonomic, so it will last for a long time.
The Microlux 2 has become one of those products that I don't want to practice without. I specifically bought it for cracked and fractured teeth, but it has become much more useful as I have learned its different applications. Start with one, and soon after, you will do like I did and get one for every treatment room in your office. It will become something you use frequently as an adjunct to radiography for many diagnoses. Double down the first base line for AdDent!