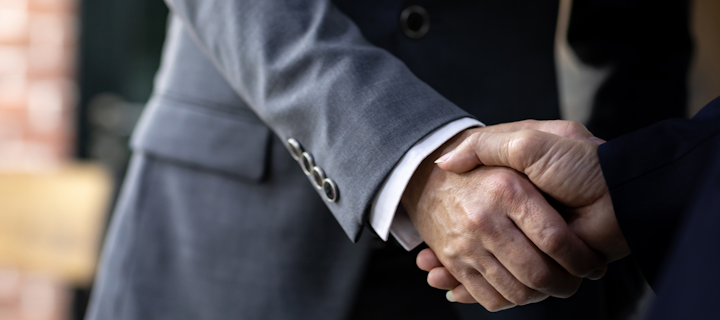 © Vichaya Kiatyingangsulee | Dreamstime.com
How many times have you asked, or been asked, the question: "Should I buy that office? It's a good deal!" Well, my friends, welcome to the world of mergers and acquisitions (M&As). Whether you are a new dentist, an experienced dentist with the desire to own a dental practice, a practice owner, or a group practice owner, expansion may always be on your mind. 
Growth is wired in our DNA. We've always wanted bigger land, access to clean running water, a sunnier environment, and greener pastures. This natural passion seamlessly translates to the dental industry. We're always looking to positively impact more lives in our communities, provide a better life for our families, and obtain a higher net worth. 
Expansion in the dental industry usually happens by four methods:
Growing the current business (same-store growth)
De novo practice (starting a new dental office)
Mergers or partnerships (buying into or merging with an existing office or group)
Acquisition (buying an existing office)
Let's explore the pillars of growth and expansion by M&As.
Step one: Define the mission
From the beginning, you should have a clear answer to these questions:
Why am I doing this?
Does it match my mission, vision, core values, objectives, and goals?
Will it help my net worth and enterprise value?
How much time, money, and effort in investments are required from my team and me?
This is the most important step but the most ignored. As humans, we are more inclined to make decisions based on emotional factors than objective, data-driven facts. Just because it's a good deal doesn't mean you have to invest in it. 
Step two: Pre-letter of intent (LOI) due diligence
Before you start investing significant time and money on gathering data, paying attorney's fees, and sending an LOI, you will want to make sure the potential office fits your minimum criteria.
I have used and modified the checklist in Figure 1 throughout my years of involvement with M&As, and it works perfectly before moving to the next stage. The checklist provides the essential data I need to decide if I should send an LOI. 
This step is where you start working on obtaining financing for the purchase. Financing is a topic of its own that I will discuss in detail in a future article.
Step three: LOI
This is where it gets serious. You are officially letting the seller know that you have serious intent to buy the practice. Here are a few things you need to know about an LOI:
It is generally nonbinding. You do not have to buy the office, and the price can change after the due diligence process. 
There are a few clauses that are binding, including maintaining confidentiality, no use of trade secrets, nonsolicitation of patients and team members, and keeping the office off the market for a limited time. The seller also has to provide accurate data to the best of his or her knowledge. 
The seller cannot discuss the details of the office with anyone but the buyer and his or her team. The office has to be completely off the market during the validity of the LOI.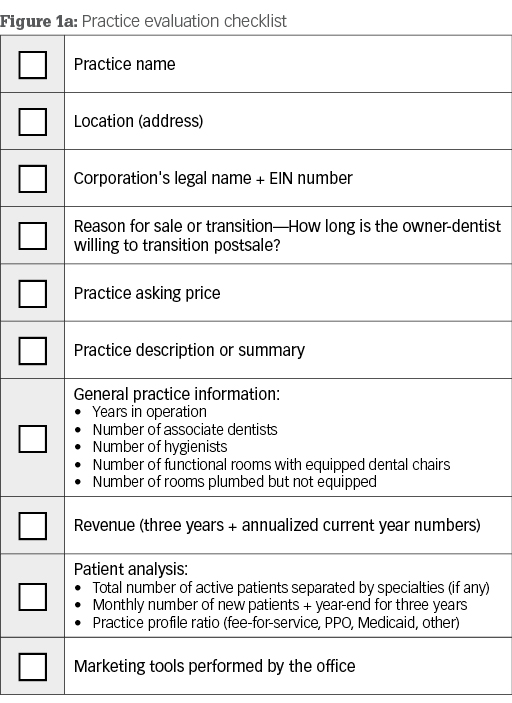 Step four: Post-LOI due diligence
Once the LOI is signed, you can invest in a deep-dive due diligence process. There is an extensive checklist that I use for post-LOI due diligence. For the sake of this article's length, however, I will summarize the components here. You will need to gather more data about these items:
Strategic alignment: your mission, vision, values, objectives, goals, alliances, vendors, patient base, referring doctors,  interviews with key decision makers, and more.
Operational details: human resources handbook, job descriptions, checklists, auditing process, accounts payable, accounts receivable, aging accounts, suppliers, vendors, IT equipment and network settings, software and licenses, building and construction details, lease details, compliance, procurement, clinical schedule, lab procedures, credentialing and fee schedules, revenue cycle management, liability insurance, emergency procedures, after-hours patient care, and more. 
Financial: profit and loss sheets, balance sheets, tax returns, cash flow analysis, loans and debt schedules (long-term and short-term), credit card statements, projections, break-even analysis, and more. 
Legal: lawsuits, regulatory compliance with all bodies governing dentistry (OSHA, HIPAA, OIG, Medicaid, state dental board, American Dental Association, and Workforce Commission), pending legal actions, and more.
Step five: Asset purchase agreement (APA) and employment agreements
While working on the letter of intent, the legal teams of the buyer and the seller are working on the APA. The APA should outline all aspects of the transaction/transition. This is usually a painful step where there is a lot of back-and-forth between the buyer and seller. 
This is also the same step where employment agreements are negotiated and created between the current dentists (including the seller if he or she is staying on board to work as a dentist posttransaction) and the new employer (the buyer). 
Step six: Closing and wiring the funds
This is the happiest step for both the seller and the buyer. The seller receives enough funds to relieve some of the financial stress, if any. The buyer is excited to start a new page with a new practice, patients, and team. 
The six steps covered in this article should help you go from a dreamer to a performer. The difference between successful people and others is that successful people take action. Taking action with guided, calculated steps ensures the best result based on science and experience. Remember, dentistry is a health-care profession with the main goal of delivering the best quality dental care to the community. However, it has to be profitable to maintain growth, quality of care, and sustainability. You must approach the business aspect of dentistry the same way you approach the clinical aspect—with high quality and efficiency in mind.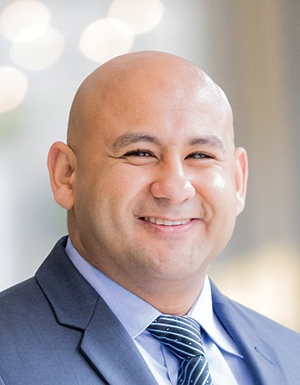 Tarek Aly, BDS, MBA, CVA, is a graduate of the faculty of dentistry, Alexandria University in Egypt, with a certificate in periodontics and oral medicine. He has an MBA from Stephen F. Austin State University in Texas and is a certified valuation analyst. Dr. Aly is the chief operations officer and co-owner of OrthoDent Management LLC (11 dental practice locations) and Modern Smiles (six locations) and president and founder of Precision Advisory LLC.