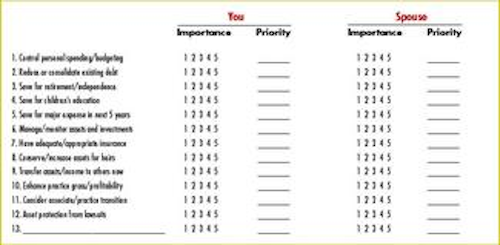 Rick Willeford, MBA, CPA, CFP
It's like losing weight or getting in shape. You know you need to do it, but you just can't muster the enthusiasm to get started. I'm talking about financial planning. Like losing weight and getting in shape, there is no quick fix — it may be a lifetime struggle. The process looms too large, so you put it off for another day.
You have heard that the best way to eat an elephant is one bite at a time. Perhaps we can sneak up on financial planning the same way — in little steps. A first nonintimidating step might be to see if you (and your spouse) can identify a few immediate issues ... and, if you are married, see if you concur.
Our clients fill out a list similar to the table below, where they not only identify what issues are important but also set the priority for just the top two or three. Usually, too many things are important, so you get bogged down and take the rest of the day off. But when you prioritize just the top few issues, then you are in bite-size mode, and you don't have to face the entire list of "important" things at once. If you are married, I suggest that you photocopy the table and make separate lists, then compare results.
Once you have broken the ice and concurred on a few top issues, then you have to decide if you want to tackle those issues yourself, or if you need to get a coach — a combination hand-holder, professional nag, and financial adviser. You are looking for someone with a broad background, not just an investment adviser and certainly not someone who just sells financial products. You are looking for a true financial planner, who can deal with taxes, retirement plans, investments, insurance, and perhaps some family counseling. (I hesitate to use the term financial planner because it has become corrupted. For instance, have you noticed that there are no more stock brokers or insurance agents? They all have become "financial planners.")
After you get started, you may find that financial planning is not as difficult as you were afraid it would be, again much like exercise. You will often find that the general feeling of angst at not knowing where you are or where you are going will be replaced by a sense of direction as you head for the first milestone.
Then, it's back to the list ...
Raymond "Rick" Willeford, MBA, CPA, CFP, is president of Willeford & Associates, CPA, PC, and WillefordCPA Wealth Advisors, LLC. As a fee-only adviser, he has specialized in providing financial, tax, and transition strategies for dentists since 1975. Mr. Willeford is the president of the Academy of Dental CPAs, an associate member of AADPA, and a member of Linda Miles' Speaker and Consultants Network. Contact him by phone at (770) 552-8500 or by email at rickw@willefordcpa.com.