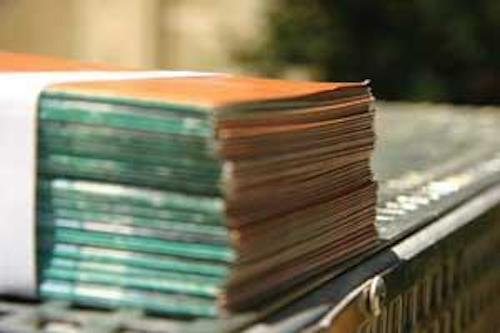 by Jeffrey B. Dalin, DDS, FACD, FAGD, FICD
Good dentist-patient communication is essential to the health of a dental practice. If you want to educate, encourage referrals, and build strong relationships, you need to regularly keep in touch with patients. There are many ways to do this.
One way is through a practice newsletter. Another is the use of a dental feature magazine. A new and growing way is through the use of online patient communication software. With these tools, you can inform patients about your practice and the services you offer, as well as any new technologies and products. By doing this, you can increase the demand for these services and maximize practice income.
Examples of newsletters can be found at Patient News Publishing (www.patientnews.com) and Hycomb Marketing (www.hycomb.com). These newsletters will educate and help you communicate with patients. A good newsletter needs editorial content that can be personalized to suit the needs of your practice. It can be used with the existing patient base or be sent to prospective patients.
A newsletter can increase the lifetime value of patients, combat naturally occurring attrition, and help promote the specific services you want to provide. It will introduce existing and elective services and help referral growth. A good newsletter also can help with branding, and increase awareness of dentistry and of your practice in the community. You have a great amount of flexibility with a newsletter. You control how much you want to write and how much you want to use from other writers.
"A newsletter empowers dentists with direct communication with their patients, consistently strengthening relationships, building patient loyalty, and generating quality referrals," said Joanne Bishop, vice president of Patient News Publishing.
"The key to this equation is the personal touch woven throughout the newsletter," she added.
"If you want patient response, you need to ensure that your message is relevant to you, your practice, and your patients," said Karen Galley, president of Patient News Publishing.
"The more you personalize your newsletter, the stronger the bond you create," she continued. "Your patients get to know you on a personal and professional level as you build confidence and trust, securing their loyalty and motivating referrals. In the current economic climate, it is essential that you maintain a consistent presence with your patients and the neighborhood surrounding your practice. Consider your newsletter as the conversation you don't have time for and can't afford to miss. In fact, right now, an increase in direct mail efforts will give you the advantage over your competition. You can trigger new patient interest with the latest research on the mouth/body connection and the long-term impact of not maintaining oral health now."
A new product that recently appeared on the dental scene is called HealthySmile Magazine from Zoasis Corporation (www.healthysmilemagazine.com). This is a 40-page magazine with customized front and back pages that is sent to patients. Editorial content is consumer-oriented and pro-dentist. Each issue has a good helping of dental content, and also contains human interest and general wellness stories. Content is reviewed by a board of advisors.
The magazine's main objective is to clearly explain to patients the importance of developing a close relationship with their dentists. A celebrity cover feature draws the patient into the magazine, where universally identifiable wellness topics — such as fitness and nutrition — engage and hold the readers' interest. Sprinkled generously between these basic wellness articles are features and focus pieces on the issues, conditions, and services that dentists care about and want to promote.
Online patient communication software is a new and exciting development in the dental field. Patient communication via e-mail and/or text messages is a dream come true for many practices. It's inexpensive, simple, immediate, interactive, and the results are easily measurable.
Examples include Smile Reminder (www.smilereminder.com), Demandforce (www.demandforce.com), Dentigram (www.dentigram.com), Dental Senders (www.dentalsenders.com) and LighthousePLZ (www.lighthouseplz.com).
These programs integrate with an existing practice-management software system and automatically gather patient information, such as e-mail addresses, cell phone numbers, birth dates, and appointment schedules. The software then personalizes and delivers individual messages according to the specific delivery settings of your practice. These messages can include customizable mini-newsletters or group messaging, recall messages, appointment reminders, patient surveys, follow-up care, premed alerts, product and service marketing, birthday wishes, and more.
Many of these programs provide real-time reports based on patient feedback. These reports enable a practice to track performance over time. These systems do vary as to how far they will integrate with practice-management software.
"Our system enables practices to increase revenue, streamline efficiencies, and build patient loyalty," Jim Higgins, CEO of Smile Reminder, said. "Based on purpose-driven technology, we equip practices with a 'high-tech' solution that does not sacrifice the 'high-touch' personalization when communicating with patients. Our messaging solutions include every type of personalized patient e-communication, including appointment reminders, confirmations, recare/recall, new patient referrals, birthday wishes, holiday wishes, surveys, newsletters, and customized promotions.
"This can reduce no-shows, fill late cancellations, reactivate lost patients, and increase internal marketing avenues. We recently enhanced our messaging solution with SmileDash, an online patient interaction suite. Patients can now interact with their provider online in a secure environment to pay bills, view Invisalign ClinChecks and photographs and radiographs, submit questions, and download forms at their convenience. This kind of personalized interaction takes the patient experience to a new level. We are excited about including it alongside our Smile Reminder messaging," he added. AS you can see, you have many choices regarding ways to stay in contact with patients. It is important that you do so in this economic climate. This is not a time to "cut corners." You need to increase patients' education and satisfaction levels. You could realize significant returns on your investment as you discover increases in services delivered, case acceptance, loyalty, and referrals.
Jeffrey B. Dalin, DDS, FACD, FAGD, FICD, practices general dentistry in St. Louis. He is the editor of St. Louis Dentistry magazine, and spokesman and critical-issue-response-team chairman for the Greater St. Louis Dental Society. He is a co-founder of the Give Kids A Smile program. Contact him at jeff@dfdasmiles.com.