Can we purge old ideas with a little hot air?
With a rapidly growing number of dentists adopting the use of air-abrasion technology, practitioners are beginning to establish a new standard of restorative care through minimally-invasive dentistry or "MID."
Mar 1st, 1997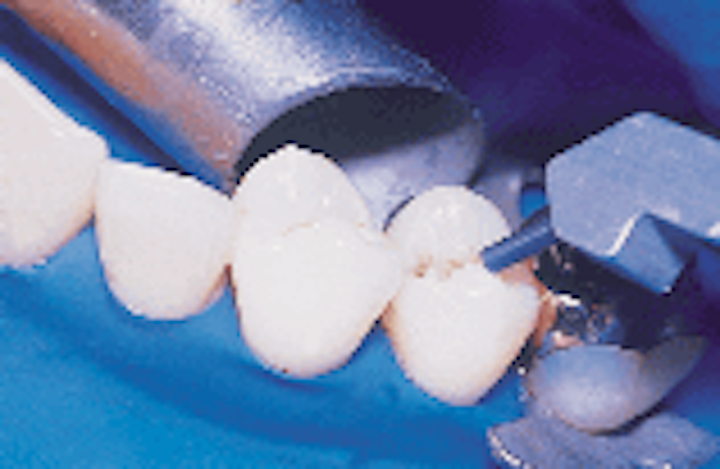 Air-abrasion technology promises to redefine clinical preparations.
Stewart Rosenberg, DDS
With a rapidly growing number of dentists adopting the use of air-abrasion technology, practitioners are beginning to establish a new standard of restorative care through minimally-invasive dentistry or "MID."
The tremendous improvement in modern-adhesive restorative materials, combined with new techniques and philosophies of preparation made possible by air abrasion, are enabling clinicians to restore teeth to-as near as possible-original form and function.
With high efficiency, clinicians are removing only the pathology and the bare minimum of healthy, surrounding tooth structure. Indeed, they are achieving a level of conservative care for the benefit of patients never dreamed of in the past.
To understand what we have developed as the new standard, we must purge old habits and ideas ingrained in all of us, as a result of our dental-school training, whether you graduated in 1966 as I did or are still in school today. We all were taught to do G. V. Black preparations to restore carious lesions. Well, G. V. Black died in 1915. What else are we doing clinically today that was valid this century, other than G. V. Black preparations, that still is considered state-of-the-art today? Not very much!
So, why are we still doing G. V. Black preparations? Why did Dr. Black do this type of preparation? He developed his preparation for two reasons. First, he recognized that amalgam, the restorative material of choice, had to be thick enough and wide enough in bulk to hold up long-term under occlusal forces. So, no matter how small or shallow the area of decay, we must remove enough additional tooth structure to provide undercuts to hold the restoration in place and make the cavity big enough to give us the bulk of materials we need.
Secondly, there were no X-rays available to Black, so he needed to remove significant tooth structure just to make sure he removed all decay, hence "extension for prevention."
We don`t have to do that anymore, thanks to improved diagnostic abilities and adhesive-resin restorative materials that require us to remove only the pathology and nothing more. So, why overprepare teeth needlessly and weaken them?
There is another important factor in our destruction of sound tooth structure . . . the high-speed handpiece.
Unfortunately, every time we sink a bur into a tooth, we cause microfracture of enamel, due to the vibration of the drill. What do you think would happen if you attempted to drill a hole in your window with a drill? Obviously, you would crack or shatter the window. Air abrasion causes no vibration or pressure and, as a result, no fracturing or weakening of the tooth.
So, we overprepare the tooth, thus weakening it. We further insult it by plugging amalgam into the preparation because, over time, expansion of the material due to thermal changes in the mouth causes cracking or fracturing of cups, marginal ridges, etc.
Consequently, current thinking among those of us who embrace this new standard is, that whenever possible, use air abrasion rather than the high-speed drill and remove only the smallest, necessary amount of tooth structure. It is this philosophy that led to the development of the "Class III-Class II" preparation.
Although I have been teaching it throughout the world in my seminars and getting the credit for it, it was developed by Dr. Kim Kutsch of Albany, Ore., a practicing general dentist and president and founder of Kreativ, Inc., the manufacturer of the Kreativ Air Abrasive machine that I use in my practice.
The concept is to treat the occlusal decay, if present, as a separate lesion from the interproximal caries, detected by radiographic examination, to preserve as much healthy tooth structure as possible.
A pioneer and innovator in the fields of laser dentistry, air abrasion and other high-tech dental instruments, Dr. Stewart Rosenberg helped formulate the protocol for CO2 laser use in dentistry. He is a founder and past president of the Academy of Laser Dentistry, a Master of Laser Dentistry, a fellow of ICCMO, AGD, ASLMS and AALD. He is an active member of the American Academy of Cosmetic Dentistry, the American Equilibration Society and many other organizations. In addition to maintaining a busy practice in cosmetic and laser dentistry in Laurel, Md., he is an attending doctor at Johns Hopkins Hospital, where he treats drug-induced hyperplasias and mucositis in cancer patients. He lectures regularly throughout the world on the integration and marketing of high-tech dentistry into the dental practice and is an editorial advisor and frequent contributor to many dental publications. He was appointed chairman of the Advisory Council for High-Tech Dentistry for the Samuel D. Harris National Museum of Dentistry. Dr. Rosenberg may be reached at 9101 Cherry Lane, Suite 202, Laurel, Md. 20708; by phone at (301) 776-3300 or fax at (301) 725-1372.
The Power of Air
Air abrasion is used in occlusal preparations. A Kreativ Mach 5 with a .014-inch diameter and 45-degree angle tip is used with 40 pounds of air pressure and a power flow of 3. The completed preparations (right) reveals that, although decay was removed in the mesial fossa and in the central groove and distal fossa of the second bicuspid, the solid bulk of healthy enamel was left intact to maintain tooth integrity. Each preparation took approximately 10 seconds, and no local anesthetic was necessary.