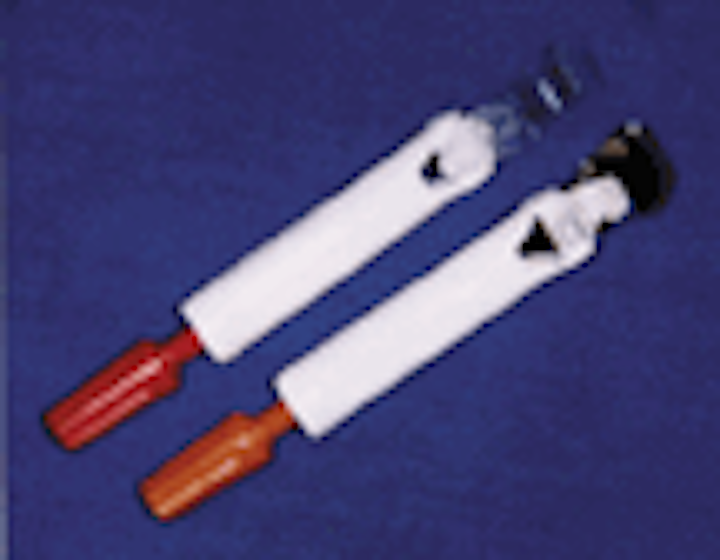 Joseph Blaes, DDS
Pearl 1 -
Omni-Matrix™ by Ultradent Products. This is not a new product, but it is now being distributed by Ultradent. It is a versatile, disposable matrix system that features a unique articulating head, providing you with a universal matrix for right or left, upper or lower, facial or lingual.
The contoured body does not have an exposed screw mechanism to catch the lip. It comes preloaded with either an ultra-thin (.001) metal band, a precontoured mylar band, a pedo metal band (.0015), or a regular (.0015) metal band.
When you look at the cost of cleaning and sterilizing, a throw-away matrix system makes a lot of sense.
For more details or to order, call Ultradent at (800) 552-5512.
Pearl 2 -
"Virtuoso Veneers" from the Master Touch Video Series. I probably have watched more continuing-education videos over the years than anybody I know. I spent a couple of days getting rid of the outdated ones. Some go back as far as the seventies. My, things have really changed since then!
I find that most videos are disappointing for two reasons: One, it is hard to see the detail necessary to duplicate the procedure in the operatory, and two, I am forced to sit and watch for five minutes while someone removes an old amalgam. The cooking shows do a much better job than we do: Mix up the batter, put it in the pan, put in the oven, and, magically, a finished cake appears back on the counter.
The first two videos from the Master Touch Series present a simple and a complex veneer case from start to finish. The simple case is one you could start on next week by following the principles outlined in this 30-minute video. The complex case presents principles that will enable you to treat the cases that have rotations or teeth that are buccally or lingually inclined.
By now, you are probably wondering who the clinician is for these great new videos. Since I had such a hard time finding videos that had good content and excellent visuals, I decided to do my own. This two-part video training program features Dr. Joe Blaes! Clinically, I am one of the best-kept secrets in cosmetic dentistry. I have been doing cosmetic cases since the early 1980s when I stopped using amalgam in my dental practice. Over the last 20 years, I have treated thousands of patients and have developed some very easily learned principles that produce predictable results.
In this two-part program, you will learn these principles and much more. The clinical dentistry has been artfully captured with the most amazing clarity. You will be able to see everything and feel like you are looking right over my shoulder.
Experience this clinical mastery through the highest quality video technology possible. Watch me use the materials and techniques that I have written about in this column. Learn how to diagnose the case, visualize the result, manage the preparation appointment, prep the teeth and protect the tissue, take impressions, work with the lab, and cement the case. Empower yourself with the skills you need today.
Call (800) 803-6786 to order. Tell them I told you to call for special pricing. Your satisfaction is guaranteed! I know you will find these videos educational and entertaining!
Pearl 3 -
Accudent System 1 and System 2 from Ivoclar. Take complete control of your full-denture impressions with System 1. Take complete control of your partial-denture and immediate-denture impressions with System 2. With both of these great impression systems, your first impression will be your last. I have been using these impression materials for eight years now and would not use anything else.
Each system comes with it`s own set of special trays. You will get incredible detail and perfect border molding with these two materials.
I have found that I can cut two appointments out of my full-denture and partial-denture production. Now that is really a cost-savings!
It is extremely important to follow the instructions to the letter. If you do, you will get excellent results. If you try shortcuts, you will have problems. A couple of tips: Water temperature is critical and different for each system. Pour the impressions immediately for very best results.
For more information or to order, call Ivoclar at (800) 533-6825.
Pearl 4 -
Deliver-Eze™ Composite Finishing Strips by Axis Dental. As you read the name of this product, you are probably thinking, "So what? Who needs another composite finishing strip?" You probably have a drawer full of them.
This one is different, so read on!
That drawer full of the finishing strips is a clinical assistant`s nightmare! They are really hard to keep organized. Deliver-Eze™ is a unique delivery system of matrix bands and composite finishing strips in both coarse and fine grits. The convenient thumb roller on the top of the package is perfect for advancing the proper amount of material that you need. A cut-off button facilitates easy cutting of the material - you don`t need to look for scissors or a bard parker. The matrix band material is ultra thin (.005 mylar) and is transparent and tear-resistant.
The finishing strips come in white coarse grit and a green fine grit. The colors make for easy identification of the grit. Both of the strip materials are ultra thin and flexible, making it easy to access interproximal areas.
The Deliver-Eze™ system is ideal because it saves on the use of material and prevents cross-contamination of the remaining material. The three cartridges can be fitted into a handy dispenser that completely organizes this aspect of doing composite restorations.
To order, call your dealer. For details, call Axis Dental at (888) 654-2947 or visit www.axisdental.com.
Pearl 1
Pearl 2
Pearl 3
Pearl 4
Dr. Blaes has a general practice in the St. Louis area. He is known for his expertise in dental materials and techniques and his innovative systems designs. He writes and lectures on "How To Increase Productivity and Profitability." Dr. Blaes is a member of the American Academy of Dental Practice Administration. He may be reached at (573) 686-2388.