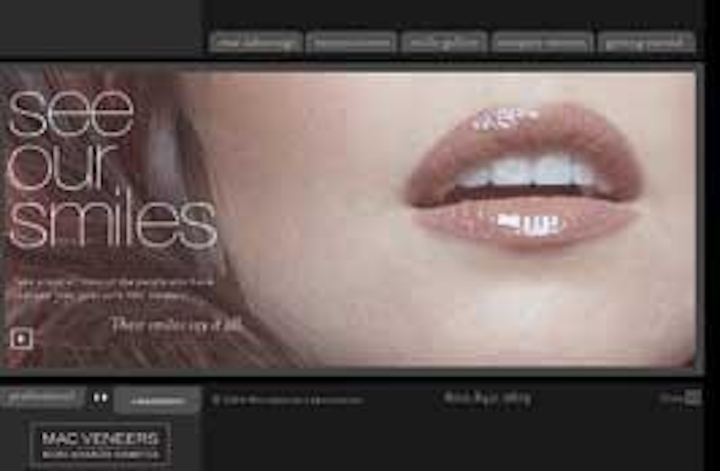 Cosmetic dentistry is booming as more and more Americans turn to simple dental procedures to drastically improve their smiles and lives. Previously thought of as something only for the rich and famous, cosmetic dentistry has become a common option for people who want to correct a problem with their teeth or simply improve their smiles.
As consumer awareness and demand for cosmetic dentistry grows, dental companies and laboratories are searching for new ways to market their products directly to consumers in order to capitalize on an industry that analysts predict will reach $7.9 billion by 2008.
Until recently, dental companies followed the traditional formula of marketing their products to dentists, then relying on the dentists to introduce a product to the consumer. However, much like the rise of direct-to-consumer advertising by the pharmaceutical industry in the 1990s, a few dental companies and laboratories have expanded their marketing efforts beyond dentists, reaching consumers directly.
MicroDental Laboratories recently launched a consumer campaign for MAC Veneers™, the lab's premium restoration that marries beauty and technology. Looking to create more consumer demand for the veneers and to help grow private practices, MicroDental is creating a co-op marketing program for dentists. This program will be included in locally tailored versions of national advertising and public relations campaigns. This type of direct-to-consumer marketing initiative signals a trend that is positive for the industry, especially for dentists. Once consumers are exposed to the possibilities of cosmetic dentistry and understand their options for "want-based" services, dentists only stand to gain. Dentists who are properly trained in these types of procedures and can present a proven track record for success (i.e., patients providing testimonials) stand to see their practices grow in the next few years.
It definitely takes money, but companies that advertise to consumers create a greater demand, and help drive more people to look into cosmetic dentistry. Dentists may not have the budgets for their own consumer marketing campaigns, but they can co-op with dental industry companies - manufacturers, laboratories, educational institutions, etc. - to pool their resources, thus boosting awareness of the entire industry.
"In the past, consumers relied exclusively on their dentists to inform them about new products and advances in the industry, as well as make recommendations on what works best for them," MicroDental CEO Fred Walke said. "That's starting to change now that dental product companies are introducing their brands directly to consumers. Our campaign is designed to introduce a wider range of consumers - from first-timers to people who have had work done before - to cosmetic dentistry and our MAC Veneers, encouraging them to consider our products even before they enter the dentist's office."
However, it's not as simple as placing ads, then watching the dollars roll in. The campaign must capture consumer interest, clearly explain various cosmetic dental treatments and products, and educate consumers on how products differ. Education is key to allowing consumers to make wise choices about their cosmetic dental treatment.
While reaching out to the consumer is important, it is even more important to remember that, ultimately, dentists are still the ones who must stand behind and use the products. So, any direct-to-consumer campaigns should involve dentist endorsements and industry credibility to be truly successful.
For companies that have earned industry credibility, dentists are discovering ways to co-market with them to help increase their business. As consumers begin to request dental products by brand name, dentists are working alongside those brands by promoting them in various ways, such as via signage and pamphlets in waiting rooms, and in advertising. Today, teeth-whitening has entered the mainstream; veneers will follow closely behind.
Dr. Christopher Pescatore lectures worldwide on topics such as state-of-the-art esthetic procedures, techniques, and materials. He holds a U.S. patent for a nonmetallic post system to restore endodontically treated teeth. He is the former clinical co-director and current featured speaker at the Las Vegas Institute for Advanced Dental Studies. He has a full-time practice in Danville, Calif., dedicated exclusively to esthetic dentistry. He can be reached at (925) 362-9330 or at chrisdmd@aol.com.