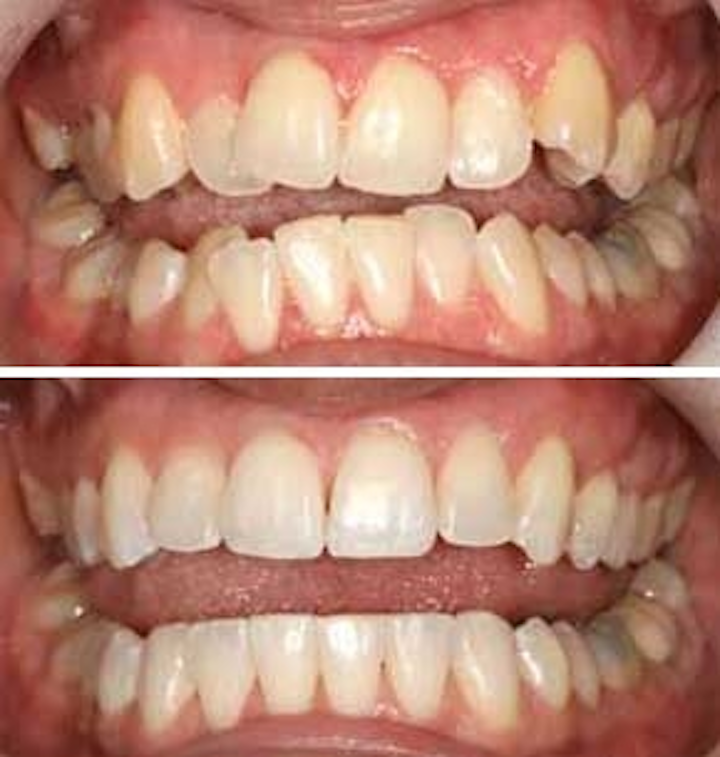 by JoAnn Martens, DDS
I have a confession to make; I used to be scared of orthodontics. As a GP, I left dental school with no practical knowledge about how to move teeth orthodontically. The sum of my orthodontic experience in dental school consisted of my trying to bend stainless steel wires in the ortho lab ... and failing miserably! Apparently, wire bending wasn't something at which I was particularly talented. Surely, I concluded, I will never move teeth because I am "orthodontically challenged."
Over the years I took many continuing education courses and greatly expanded my dental knowledge, but I continued to steer clear of ortho because I considered it to be too complex and mysterious. This was my mindset when I first heard about the Six Month Smiles® Short Term Ortho System. After dabbling in clear aligners with mixed results, I was open to a more predictable fixed option for moving teeth.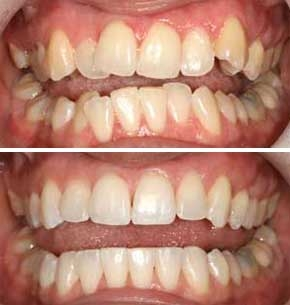 Results after six months and whitening
I attended the training seminar in Chicago with Six Month Smiles clinical director Dr. Ryan Swain. The training was incredibly practical and focused because he taught in a clear, concise, and inspiring way. I kept wondering why my dental school professors made these orthodontic concepts seem so complicated, while Dr. Swain presented them so sensibly.
The system provides general dentists with a focused way to orthodontically treat adult patients in an average treatment time of just six months. No wire bending needed! The Straight Wire archwires have shape memory that allows the wires to gently guide the teeth into alignment.
In addition to thorough clinical training, I learned about other important topics such as consultations, patient communication, scheduling, and marketing. The two-day hands-on seminar provided me with all the knowledge and information I needed to seamlessly integrate the system into my general dental practice. Six Month Smiles makes cosmetic orthodontics predictable, fun, and easy to learn, as well as profitable.
I took my primary chairside assistant to the training seminar and we both left with confidence, optimism, and a reinvigoration we hadn't felt in many years. My patients are excited about having a simple way to change their smiles in a short period of time. With this system, brackets and wires blend in with the surrounding tooth structure inconspicuously, which contributes to the positive patient experience.
I charge $3,900 to $4,500 per case, and the doctor chairtime is minimal. I've met many dentists over the years who attempted traditional orthodontics in their practices but were unsuccessful. The chairtime associated with years of orthodontic treatment makes profitability difficult in a general practice. Most of the Six Month Smiles procedure is delegable, so my assistants perform the bulk of the work while I continue to see patients in other rooms.
I have been able to easily and quickly add revenue to my practice and increase my own productivity. I have easily added more than $100,000 to my bottom line each year since becoming a provider in 2008. What's more, patients have been easy to find. Most of them come from within my own practice, while others find me on the Six Month Smiles website or are referred to me by colleagues.
The satisfaction I have experienced has been overwhelming. I knew I had come across something truly special when I treated Deb, a 53-year-old woman whose teeth were extremely crooked, and she rarely smiled. Her oral hygiene was terrible because she had suffered a stroke that left her without the manual dexterity to clean her crowded and malpositioned teeth. I knew that I could use the Six Month Smiles System to help her in a powerful way.
Deb came to me after seeing a local orthodontist for a consultation. He told her it would take two to three years for her to complete comprehensive orthodontic treatment. Deb simply was not interested in wearing braces for that long and didn't consider it to be a viable option. She asked me, her general dentist, if there was anything I could do to improve her smile. I told her I could take an impression that very day and begin treatment with Six Month Smiles. She was thrilled!
Within two weeks, I received the Patient Tray Kit™ from the case processing facility. It contained everything I needed to treat that particular case. The brackets were strategically positioned for me and included in ortho bonding trays that allowed for reliable, stress-free bonding of the brackets. This is very easy and was one of my favorite appointments.
After initial placement of her braces, we saw Deb every four weeks for her adjustments. It was rewarding to watch her progress. As her teeth began to straighten, I saw a transformation take place in her. She was becoming friendlier, more outgoing, and she no longer held her hand in front of her mouth when talking or smiling. Her treatment was completed in just about six months. The day we removed her braces, she looked in the mirror and cried; it was the first time in her life that she wasn't embarrassed to look at her smile. What a life-changing experience for both of us!
This outcome, combined with similar experiences I've had over the past three years, has given me a sense of purpose that, as a clinician, I hadn't felt before. Becoming a part of the Six Month Smiles movement has been one of the best investments I have ever made. My practice benefits, my team benefits, and most importantly, my patients benefit. I still can't bend stainless steel wires, but I can happily say I don't need to! As a general dentist, I now have the increased capacity to create great looking smiles and truly make a difference in the lives of my patients.
JoAnn Martens, DDS, has served patients in the greater Madison area through her general dental practice in Waunakee, Wisc., for more than 25 years, and has spent hundreds of hours advancing her dental knowledge. Contact Dr. Martens at dkjo@itis.com.
For more on this topic, go to www.dentaleconomics.com and search using the following key words: orthodontics, aligners, productivity, general practitioners, Dr. JoAnn Martens.