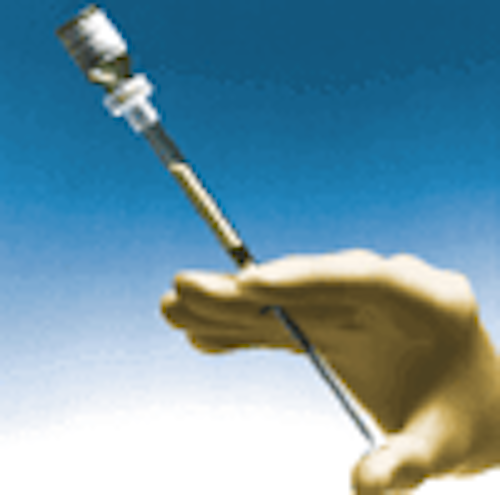 Joseph Blaes, DDS
Pearl 1 - OsteoGraf/LD by CeraMed Dental. One thing that all extraction sites have in common is that there will be a loss of bone volume and dimension if the socket is not grafted. The restoring dentist should be responsible for ridge preservation and creating a good pontic site. This pure, porous, synthetic form of hydroxylapatite has been around for a while, but, unfortunately, suffers from a low level of awareness in the marketplace. It was previously known as Gen-Graft. It is probably one of the best-kept secrets in dentistry. When used as a bone-replacement material in extraction sites, OsteoGraf/LD has proven very effective in preventing alveolar ridge resorption and eliminating prosthetic problems associated with compromised esthetics of final restorations. This product has several unique qualities when compared to other similar products. First, it is the easiest product to use. OsteoGraf/LD is supplied in sterile 1- and 3-gram vials (I favor the 1-gram size), which can be reautoclaved up to three times. The vial interconnect accepts three different-style syringes that can be loaded easily with OsteoGraf/LD and then placed in the extraction site. You only use as much as you need since the vial now can be sterilized and the remaining material used again. The material is extremely easy to handle and will stay where you put it after preparing the extraction site. The best news of all is that OsteoGraf/LD is very economical. The cost of the material is approximately $40 per gram, and an average of 1/3 to 1/2 gram is needed per extraction site. Compared to similar products on the market, OsteoGraf/ LD is significantly more economical. Ridge resorption should be a thing of the past, because this should be your product of choice when grafting extraction sites. The technique is easily learned and will add only a couple of minutes to your extraction procedure. There is essentially no learning curve involved. Any dentist who can remove a tooth can easily place OsteoGra
Pearl 2 - Take 1 From Kerr. Kerr has introduced a new hydrophilic vinyl impression material that is being marketed in a creative way - an action character named Captain X-Act. The impression material comes in an intro kit packaged in a lunch box, together with an action figure of Captain X-Act. What fun! Actually, Take 1 is a serious entry into the impression-material field with a new hydrophilic formula that will make great impressions even in the wettest of fields and a fantastic impression in a dry field. It comes in a nice variety of washes and tray materials to suit every technique. A free-flowing wash material comes in a fast and regular set that can be combined with a regular- or fast-set tray material or a rigid fast-set tray material. I favor the medium monophase fast-set material with the fast-set tray material. In my hands, I got the best results with this combination. Take 1 resulted in excellent impressions in areas that I would consider compromised by blood and saliva. I normally would not take an impression in a contaminated field like that, but Take 1 performed very well and produced an excellent impression, particularly with the combination that I described above. Give Take 1 a try. Order from your dealer or call Kerr at (800) KERR 123.
Pearl 3 - Calibra From Dentsply Caulk. This is a new esthetic resin cement from Dentsply Caulk that has been in research for quite some time. I am excited about it, because it can be used for crowns, bridges, inlays and onlays, and veneers. Calibra comes in a five-shade base system which is light-curable. Also included are a regular-viscosity and a high-viscosity color-stable catalyst for dual-cure capability when you need it. This material uses the proven Prime & Bond NT bonding system in either a light-cure or a dual-cure system. The proven simplicity of the Prime & Bond NT two-bottle dual-cure system takes out all the guesswork. I used this material at the Tennessee Dental Association meeting in Nashville recently when I needed to recement a veneer on my wife, Sue. It dispenses and mixes easily and is easy to load into the veneers and crowns. Handling overall is superb! Your restorations will stay put with Calibra. This is a complete system that satisfies all esthetic needs. The Operatory Kit (one syringe of translucent base and one syringe of light-shade base) comes close to what I requested from Caulk. Perhaps someday we will be able to buy a kit of three or four syringes of translucent base with a couple of syringes of catalyst. Then we will have a kit to cement veneers without changing the shade that we have ordered from the lab. Call your dealer to order Calibra.
Pearl 4 - Versaflo by Centrix. Are you tired of trying to disinfect your flowable composite syringe? Maybe you should look for a replacement. Versaflo is a practical solution to a light-cured flowable composite in a prefilled tip. Its versatility and ease of use can`t be beat. Versaflo is the new single-dose, light-cured flowable composite that has a wide range of uses. It has a great viscosity that does not slump, and the material stays where you put it. Couple this with great shades and you have an unbeatable filling material for your conservative Class I preps, small Class III, and Class V restorations. Versaflo is compatible with all composite bonding agents, and it contains fluoride. The Centrix Single-Dose Needle Tubes make precise placement easy. Their disposability eliminates cross-contamination. Use Versaflo for luting porcelain veneers, filling bubbles in temporary crowns, pit-and-fissure sealing, and more. Call Centrix at (800) 235-5862.
Dr. Blaes has a general practice in the St. Louis area. He is known for his expertise in dental materials and techniques and his innovative systems designs. He writes and lectures on "How To Increase Productivity and Profitability." He may be reached at (573) 686-2388.
Pearl 1
Pearl 2
Pearl 3
Pearl 4