A Texas-sized transformation
Dr. Shirley Cagle took a gamble with her practice by taking a stand for her family. The gamble paid off.
May 1st, 2007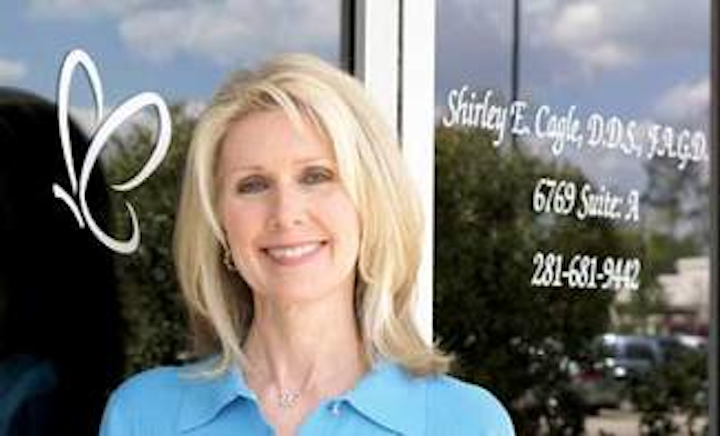 by Kevin Henry
Dr. Shirley Cagle took a gamble with her practice by taking a stand for her family. The gamble paid off.
Perhaps it's fitting that a butterfly serves as one of the symbols for Dr. Shirley Cagle's practice. After undergoing a transformation of her own three years ago, the dentist who calls The Woodlands, Texas, home has emerged stronger and more excited about her future.
Make no mistake about it - family comes first for Dr. Cagle. A successful Houston practice meant little to her seven years ago when her daughter, Madison, then in first grade, began having migraine headaches. After three years of almost constant discomfort, and exhausting all possible treatments including high doses of medication, Dr. Cagle decided to try having Madison wear an occlusal appliance at night. Madison had a great amount of relief from her new appliance and was able to decrease her medications. Dr. Cagle credits her Pankey Institute training and focus on occlusion for that.
Although the headaches were greatly reduced, they were still part of Madison's life.
Dr. Cagle realized that she may need to play a bigger role in battling her daughter's almost-constant discomfort.
"It was a 20-mile one-way drive for me every day to my practice, and the distance started to be very difficult because of her headaches," Dr. Cagle recalled. "I was thinking about giving up my practice, so I could be closer to her."
Teetering on whether to change her professional life completely, fate intervened for Dr. Cagle. Her husband found a piece of open property in The Woodlands, two minutes from her home.
"I decided that, for my family's sake, I needed to move the practice," she said. "I wasn't sure that it was the best thing for the practice, but it was best for my family. I didn't know how many of our current patients or team members would travel to the new office, and I wasn't sure that I would be able to keep my relationship with my lab technician, who was housed in the same building as we were. It was a tough decision, but I had to do it."
In February of 2004, Dr. Cagle moved into her new five-operatory, 2600-square-foot office. She celebrated her birthday on her first day in the new practice, but the building's grand opening wasn't the best present she received that year.
"The week we moved into the new office, Madison didn't have a headache all week. That was amazing, because even though she stopped having severe migraines, she had never gone that long without even a small headache."
"Fortunately about 60 percent of our patient base moved with us from our old location. Two-thirds of our current new patients come from referrals from existing patients while the rest come from specialists we have built a strong relationship with over time."
And what makes her practice stand out from so many others that have popped up in The Woodlands?
"My Pankey Institute training has helped me develop a vision and differentiate my practice," she explained. "I am fortunate to be able to chose the procedures I enjoy and refer the others to the excellent team of specialists I work with. This is a benefit for me and my patients.
"Everything is based on function and health in my practice, and the entire staff is conscious of this throughout procedures. It works for me and is the foundation of our office.
Part of that vision also includes a patient-first philosophy.
"We ask questions because we want to know what our patients' expectations are," she explained. "We don't want to bombard them with too much information, so we let them do most of the talking and we listen."
Building relationships is important to Dr. Cagle, as evidenced by her team members. Four of the ladies have worked with Dr. Cagle for more than 10 years, and there is a combined 185 years of experience in the practice. And the lab technician that Dr. Cagle was worried about losing with the move? Thanks to a lab facility built specifically to accommodate the John Choate Lab representative, the relationship is still intact and thriving.
"When Debbie Hall is scheduled in our office she has access to a porcelain oven, sandblaster, and materials and having her there is a huge benefit for the patients," Dr. Cagle said. "Patients appreciate it because they don't have to reschedule if we are seating a large case or just one central incisor. They can have shade-changes done in our office and the work can be performed there as well."
Also helping in shade-taking process is the design of the office. Neutral colors play a big role - as do the black scrubs and white coats worn by everyone - and the practice has a modern feel thanks to what Dr. Cagle calls a "clean, open, and new" design. She credits her interior designer, Barbara Schlattman, for pulling the colors and textures together creating a soft, calm feel to the office. The only thing not neutral in the practice is the lavish artwork on the walls, commissioned by Dr. Cagle from a patient.
Also new to Dr. Cagle's practice with the move were digital radiographs. She had considered the transition to digital for some time, and planning the new office made the decision very easy.
"We knew that digital radiography would be very important for our new practice. The monitor located on the operatory chairs enables the patients to see and take ownership of their dental needs. They are able to take a print home of the radiograph or intraoral photograph if there are any questions. Seeing the problem makes a huge impact." The new digital pan-oral radiographs enable patients to see clearly areas of their TMJ and possibly even plaque located in the carotid artery. The response to the new technology has been extremely positive."
Making an impact on Dr. Cagle is the reaction she sees when she is able to change someone's smile and help them obtain optimum oral health. It is that ability to change people's lives that keeps her excited about her profession.
"The butterfly we have on our door is contemporary and sophisticated and a symbol of change and transformation," she said. "Patients come into our practice, have esthetic and restorative treatment and they are changed. I love what I do, and I am very thankful that I am able to do it close to my home.
"My advice to dentists who are looking at building a new practice is research their equipment purchases. Don't make snap decisions. Make sure what you're buying is best for you and your patients, not just an impulse. Most importantly, choosing a location close to your home and community will bring great benefits professionally and personally."
Shirley Cagle, DDS, FAGD
Sterling Ridge Medical Plaza
6769 Lake Woodlands Drive, Suite A
The Woodlands, TX 77382
Phone: (281) 681-9442
E-mail: scagledds@sbcglobal.net