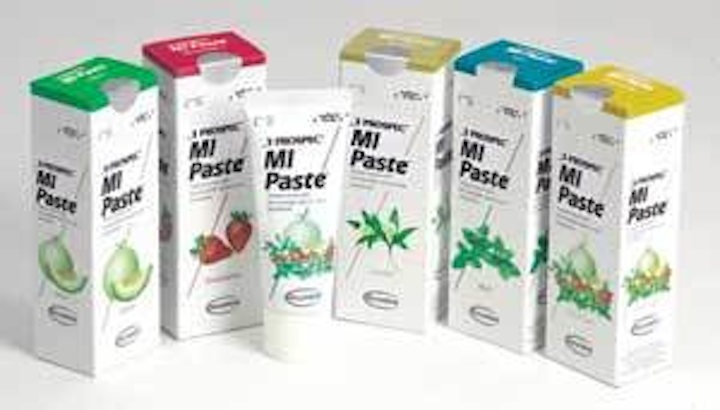 There is no question we live in an amazing worldas it relates to dental technology and materials and our ability to treat patients. Adhesive resin materials and techniques are a significant accomplishment for us to practice minimal intervention and conserve tooth structure. The minimally invasive approach to dentistry is here, and we practice it every day. How do we take this approach to the next step and go beyond bonding? It is my dream to treat diseased tooth structure without using invasive techniques.
Allow me to introduce you to the wonderful world of remineralization. Let's start with this common scenario. You or your hygienist is doing a clinical exam on a patient with some decalcified white spots on a number of teeth. These may be due to wearing orthodontic appliances, a high sugar diet, heavy plaque buildup, or a reason not readily apparent. What about the patient you and your hygienist consider a high caries risk? In addition to the white spots, this patient has a problem with dental hypersensitivity. We all face this clinical scenario daily. What is our solution? I would venture to say that many dental practitioners turn to watchful waiting to see what happens with these white spots, which feel rough and possibly spongy to an explorer. They have not cavitated and it is hoped they won't. I completely understand this dilemma. After all, if it ain't broke, why fix it?
If you perform an invasive procedure into these white spot lesions - and the tooth is a virgin one - you will have to restore it, and the restoration will have to be repeated a number of times during the patient's lifetime. It will get bigger and possibly involve the pulp someday. If you do nothing, chances are the lesion will cavitate anyway, but you don't feel right cutting into the tooth right now. This is where the wonderful world of remineralization comes into play.
These white spots really are the precursors to dental caries. They are produced by acids released by the bacteria that attack the enamel, which leeches out apatite-forming calcium and phosphate ions from the tooth and causes demineralization. This eventually leads to the destruction of the enamel subsurface that is seen as white spots. There is a mineral imbalance that, if left alone, will lead to bad things. The natural balance has shifted with the demineralization occurring over remineralization.
Now let's really introduce you to the wonderful world of remineralization. It has been known for years that amorphous calcium phosphate (ACP) can restore this mineral imbalance by providing the necessary calcium and phosphate ions to rebuild the tooth surface. These ions can be put back into the tooth surface by adding ACP to the patient's saliva, thus increasing the amount of calcium and phosphate ions available to the tooth. Let's not forget the important role of fluoride. The more calcium and phosphate ions that are around, the more fluoride that gets absorbed and the stronger the remineralized enamel will become.
Molecular delivery system
The trick here is to get the calcium and phosphate ions delivered to where they are needed most - on the enamel surface. There must be a molecular delivery system to get this ACP to the tooth surface. Thankfully for patients, this technology exists. Recaldent™ is derived from the milk protein casein. We've known for many years that milk has a tooth-protective effect. Research from the University of Melbourne, Australia (Dr. E. C. Reynold's group) has shown that casein phosphopeptide (CPP) can carry the amorphous calcium phosphate and bind it to enamel, dental plaque, and soft tissue, which will then deliver calcium phosphate ions exactly where they are needed. Numerous studies have proven the effectiveness of Recaldent (CPP-ACP) in preventing and reversing early carious lesions. Recaldent also is very effective in occluding open dentinal tubules to eliminate dentinal hypersensitivity.
Prospec™ MI Paste™ by GC America is the first professional product to include the amazing technology of Recaldent. It is a water-based, sugar-free cream that is applied topically to the tooth surface. This allows precarious lesions to be treated medically instead of surgically, a major advancement in the minimally invasive treatment of these lesions. We have a huge paradigm shift in the way we should be thinking about treating these white spot lesions. We can literally remineralize and repair enamel in the patient's mouth, without resorting to any kind of tooth preparation.
MI Paste has become an integral part of my daily treatment. Here are some examples of where I use and dispense MI Paste. We know that tray and in-office whitening causes significant sensitivity, even with the best desensitizing formulas of whitening gels. I include MI Paste with every whitening treatment that I provide to eliminate the sensitivity and remineralize the enamel.
Any patient with white spot decalcification, whether from orthodontic appliances, fluorosis, or dental erosion, is fitted with a custom tray to be used with MI Paste. If a patient has general hypersensitivity for any reason, he or she also receives a custom tray to be used with MI Paste. After scaling and root-planing, patients' teeth are polished with MI Paste and given the rest of the tube to take home.
Protecting the margins of restorations
Many patients are undergoing full-mouth reconstructions and extreme makeovers. We need to do everything we can to protect the margins of these restorations, whether they are heavily invasive crowns or veneers or minimally invasive Lumineers™. If decay is going to happen, it will be at the margins. If patients invest thousands of dollars to restore their oral cavity, the least we can do is provide them with long-term protection, much like an insurance policy or maintenance plan. These patients are prime candidates for a custom-tray application with MI Paste. We dentists are so proud of our beautiful esthetic results that we forget what can happen to the smile in the future. Our responsibility continues for that dental patient.
The cost of the MI Paste custom-tray system is easily integrated into whitening, esthetic procedures, and periodontal-procedure fees. Our typical fee for custom-fitted trays is $75 to $100 for the tray and two tubes of MI Paste. We then provide MI Paste to patients at cost because we believe it is such a great service and demonstrates our commitment to their overall and dental health. We want the smiles we create to last a very long time.
From both a clinical and practice-management perspective, using this new minimally invasive paradigm can be a terrific addition to current techniques. The success of a clinical case is not measured only on the day you seat the case, but on what the smile looks like in five to 10 years. Remineralizing white spots, eliminating dentinal hypersensitivity, and ensuring long-term wellness are within the realm of today's dental practice.
Dr. Louis Malcmacher is an international lecturer and author known for his comprehensive and entertaining style. An evaluator for Clinical Research Associates, Dr. Malcmacher is a consultant to the Council on Dental Practice of the ADA. For details about his speaking schedule, Dr. Malcmacher can be reached at (440) 892-1810 or via e-mail at dryowza@iname.com.