Pearls For Your Practice
Pearl #1-PerioGlas by Block Drug Corp. (Figure 1) Tooth removal causes unavoidable and unpredictable shrinkage of bone and soft tissue. As restorative dentists, we are more often than not confronted with a poor pontic site, which results in an unesthetic re-placement. I was referring out all my extractions, but now I am doing them myself. I made the decision that I was going to be in control of ridge preservation, because I know more about esthetic ridge design. I have come across another great
Oct 1st, 1996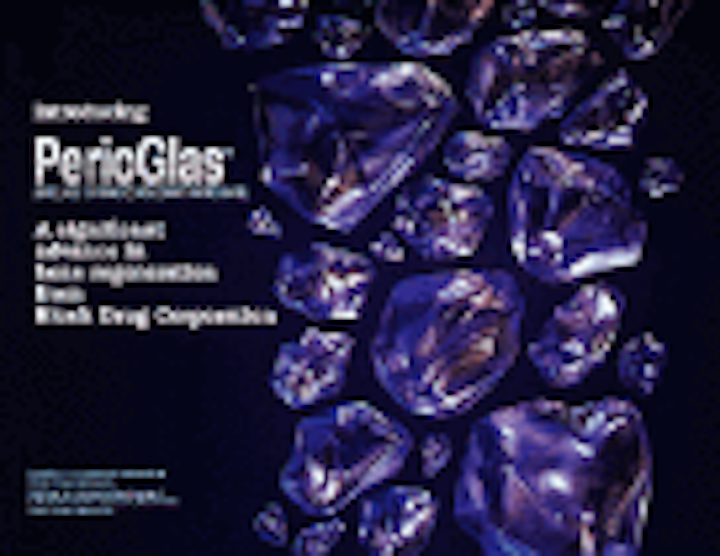 Joseph A. Blaes, DDS
Pearl #1-PerioGlas by Block Drug Corp. (Figure 1) Tooth removal causes unavoidable and unpredictable shrinkage of bone and soft tissue. As restorative dentists, we are more often than not confronted with a poor pontic site, which results in an unesthetic re-placement. I was referring out all my extractions, but now I am doing them myself. I made the decision that I was going to be in control of ridge preservation, because I know more about esthetic ridge design. I have come across another great product to get the results you want. PerioGlas is an osteoproductive ceramic material used for bone regeneration. The material is fast and easy to use. The material comes in a sealed container and takes only seconds to prepare. It contains a broad particle-size range of 90 to 710 microns to optimize compactibility. The material will bond to both bone and soft tissue. PerioGlas is easy to mix, and the material will not slip off instruments when you are picking it up or transporting it to the mouth. It is easy to pack with an instrument. Since it is hemostatic, as you pack the material, the bleeding in the extraction site stops. This prevents the material from being dislodged by subsequent bleeding. You can use a cotton roll to blot the material and further pack the site. The material will not float out of the defect site. It is unaffected by adjacent suctioning. PerioGlas definitely is a material that you will want to try if you are concerned about ridge preservation. I have found it to be fast to use with predictable results. Order from your Block Drug Dental Consultant or call (800) OK-BLOCK.
Pearl #2-The Easy Pneumatic Crown and Bridge Remover by Dentco (Figure 2). This crown and bridge remover actually is a handpiece that connects directly to your 2/3-hole- or 4-hole-style connector. The remover comes with three hooks to cover all situations and is activated by a button on the side of the handpiece. The re-mover`s gentle, pneumatic operation is swift and subtle, so the cement bond gets the impact, not the patient. You can use a fine-tuning adjustment to give you complete control. Patients seem to tolerate the procedure very well and quite often do not know that the crown or bridge is out. I have found that it works well on bridges and on crowns if you can get hold of a margin. The remover is completely autoclavable and comes with a 30-day trial. Call Dentco Research & Development Corp. at (800) 454-9244.
Pearl #3-Sajen Skin Protection Treatment by Sajen Laboratories. This is a new treatment for chronic contact dermatitis that I came across last winter. We all have been using it at the office with great results. This is a new technology that goes beyond traditional barrier creams and moisturizers. Sajen penetrates deep into the tissues, where it provides a protection treatment in the skin, not on it. Since it is absorbed into the skin, it does not get washed, scraped, scrubbed or worn off, nor does it leave a greasy or slippery feeling. A nickel-sized application, four times a day, can protect your hands from most skin irritants. Call Sajen at (800) 887-2536.
Pearl #4-Filpin and Filpost by Filhol Dental. This is a great titanium pin and post system that is available from your dental dealer. The pins are easy to place and easy to bend once they are in place. The posts can be bent prior to placing into the canal for a custom-placed post. It`s a very easy-to-use system. Call Filhol at (800) 910-2050 for more information.
Pearl #5-Precision Bluwhite Diamonds by Precision Rotary Instruments (Figure 3). If you like reusable diamonds, then you need to try this line of quality diamond instruments. The diamonds are supplied in kits or as single units, and the assortment of sizes and shapes is outstanding. I was particularly impressed by the porcelain veneer preparation kit and the porcelain finishing kit. The latter provides a number of sizes and shapes to help in quickly finishing veneers and all-porcelain crowns. Call Precision Rotary at (800) 882-3470.
Dr. Blaes practices in the St. Louis area and has developed every type of dental practice from solo to a 10-man group. He is known for his expertise in dental techniques and his innovative systems designs. He lectures, writes and conducts "in-house" seminars. He may be reached at (314) 843-3300.
Figure 1
Figure 2
Figure 3