Pearls For Your Practice
Pearl #1-The Block Inlay Bridge by Aesthetic Porcelain Studios (Figure 1). We all have been searching for the conservative, esthetic inlay bridge for years. I had limited success with the Maryland bridge, and the esthetics certainly left something to be desired. Today, patients are be-coming more and more demanding. They question why we must prepare teeth for full coverage, and they expect the same vitality, chroma and hues that they have in their veneers or all-ceramic crowns in their crown and
Jul 1st, 1996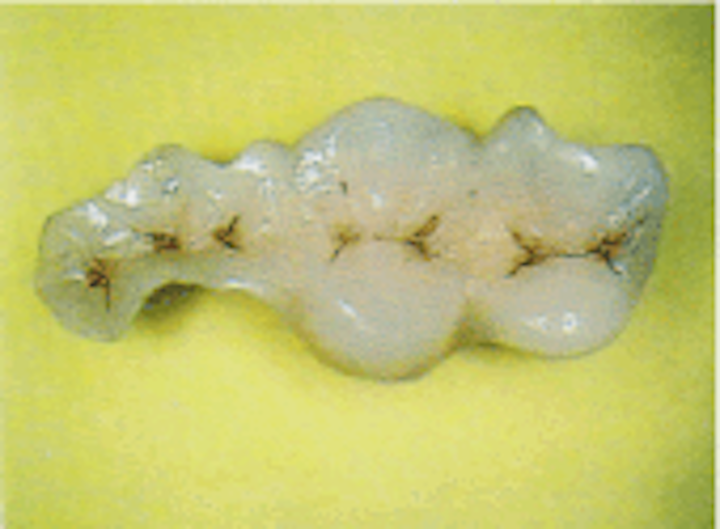 Joseph A. Blaes, DDS
Pearl #1-The Block Inlay Bridge by Aesthetic Porcelain Studios (Figure 1). We all have been searching for the conservative, esthetic inlay bridge for years. I had limited success with the Maryland bridge, and the esthetics certainly left something to be desired. Today, patients are be-coming more and more demanding. They question why we must prepare teeth for full coverage, and they expect the same vitality, chroma and hues that they have in their veneers or all-ceramic crowns in their crown and bridge restorations. They also question the appearance of metal margins on porcelain-fused-to-metal cases. The Block inlay bridge solves these problems. The inlay bridge has a metal substructure that is embedded in the porcelain (or composites) for strength. Your preparations are the same as a gold inlay bridge, but with no undercuts, and they must be parallel. I have seated a number of these bridges, and they are fantastic. David Block has come up with a winner. I have even used the bridge in the anterior and have achieved optimal esthetics with the proper preparation of the teeth. To date, David has fabricated more than 1,000 of these bridges with a zero-breakage factor. The next time you are looking for an alternative, call David at Aesthetic Porcelain Studios at (800) 544-9605.
Pearl #2-Power Lite 100 From Spring Health Products (Figure 2). If you are looking for a new curing light with some great features, look no further; this is it! This curing light features a 12-volt, 100-watt lamp, which gives an extremely bright light. It`s brighter than any other light on the market. There is a 10- to 90-second digital countdown ti-mer, controlled and set by an on/off rocker switch, which is very handy. It will operate continuously for 15 minutes or more, allowing you to bond full-mouth brackets or upper and lower anterior veneers. Fan-recycling will be a thing of the past. The curing light does not get so hot that it is uncomfortable to handle, as some lights do. It comes with mounting brackets and an autoclavable, 11 mm light guide. Also available are 13 mm straight, 8 mm curved and 3 mm curved, autoclavable light guides. A radiometer is attached to the unit and is removable to test other lights. All of this costs much less than you would expect to pay. Ask your dealer or call Spring Health Products at (800) 800-1680.
Pearl #3-Retrac by Centrix (Figure 3). If you hate packing cord, you are going to love Retrac! From single crowns to multiple units, Retrac gives you full gingival retraction plus tissue management in one simple technique. The material uses the simple bite pressure of your pa-tient, along with the astringent ac-tion of potassium aluminum sulphate. There are no dangerous chemicals or messy clots to rinse out. You will get clean, dry, well-retracted preps, ready for your final impression. I have observed that this technique is much less traumatic to the patient than packing cord, particularly when doing multiple preps. The gingival tissues recovered much faster and there was no postop sensitivity. Retrac was introduced at the Chicago Midwinter, so I have been using it only a short time, but it sure looks like a winner. Retrac Putty and Paste come packaged in premeasured, single-dose cups for clinical applications up to a quadrant. If you hate packing cord, you need to try Retrac today. It comes with a money-back guarantee if you don`t like it. How can you lose? Order from Centrix at (800) 235-5862.
Pearl #4-Omni-Matrix by Innovadent Technologies Ltd. This is a versatile, disposable matrix system, featuring a unique articulating head so that it fits from the facial or the lingual. The contoured body does not have an exposed-screw mechanism to catch the lip. It comes preloaded with either a metal band or a precontoured mylar band. Each unit is for single use only. If you are in the market for a good, disposable matrix system, give this one a look. I think you will like it. Order from your dealer or call (800) 574-9186.
Dr. Blaes practices in the St. Louis area and has developed every type of dental practice from solo to a 10-man group. He is known for his expertise in dental techniques and his innovative systems designs. He lectures, writes and conducts "in-house" seminars. He may be reached at (314) 843-3300.
Figure 1
Figure 2
Figure 3