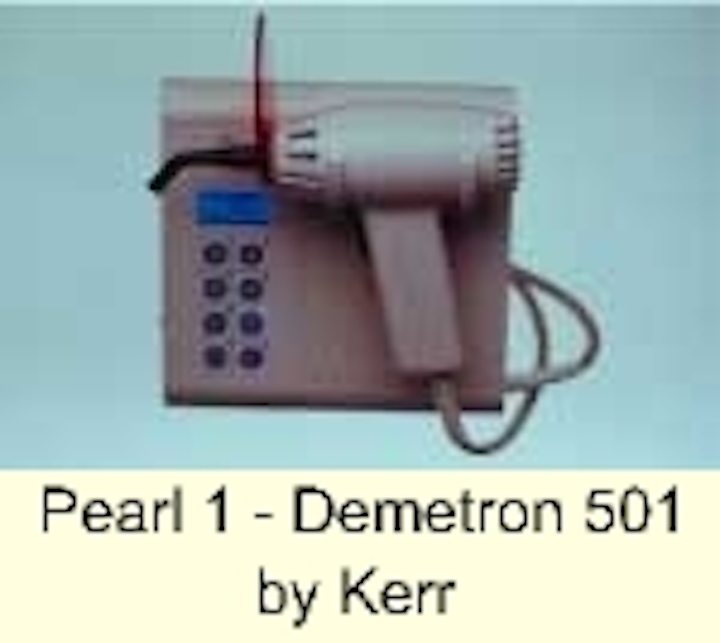 Joseph Blaes, DDS
Pearl 1
This pearl is a departure from the normal format. However, I think it is important for you to know that two products that I have previously written about in "Pearls" have been given prestigious awards for the year 2000.
REALITY has awarded its coveted Product of the Year 2000 to the Demetron 501 by Kerr.
REALITY has awarded the New Product of the Year 2000 to Dentsply/Caulk's Esthet*X.
Both of these products have been given REALITY's Five Star Award.
Congratulations to Kerr and to Caulk for producing two very fine products that are certainly worthy of these awards.
For more information on REALITY, visit www.realityesthetics.com or call (800) 544-4999.
Pearl 2
High-Speed Hand pieces 649B and 647B by KaVo. The ultimate air-driven handpieces have arrived! KaVo handpieces have become known for their torque and durability. These new handpieces are no different in that they have all the power you could want from an air-driven handpiece. It was hard to go back to my old handpiece after using these. The KaVo handpiece has become the one that many dentists use to compare all others.
One of the greatest features that KaVo has is the Multiflex Coupler. This is the core component for absolute flexibility, because it allows a wide range of KaVo instruments to be easily connected to any type of dental unit. This coupling is a 360-degree, full-rotation coupler with a quick-disconnect and light. Every coupler features an anti-retraction valve, which prevents the backflow of potentially contaminated water into the tubing. You can use many different KaVo products on this one coupler, so life in the treatment room becomes much simpler.
Both of these handpieces have that optimum balance between speed and torque that provides a faster, more consistent cut. Isn't that what we all are looking for? These handpieces run quietly and have optimal irrigation from a precise spray that affords better visibility. The cellular optic glass rods have a five-year warranty and are brighter, with no deterioration of intensity after repeated sterilization.
KaVo also offers a comprehensive factory repair service with genuine KaVo parts. In the interest of saving a few dollars, we often make the mistake of repairing precision high-speed handpieces with parts that compromise the performance. Take a KaVo handpiece out for a test spin, and I am sure you will be impressed.
Contact KaVo by visiting www.Kavousa.com, or call (888) 528-6872.
Pearl 3
Vision Flex Snap-On Disc by Brasseler. This is what I have been waiting for ever since the Vision Flex disc first came out. Vision Flex discs help in shaping and refining porcelain, but they have been difficult to work with because of their diameter and the fact that they are available only in straight handpiece varieties.
Well, the wait was worth it! The folks at Brasseler have come up with a really nifty Vision Flex snap-on disc with a rubber center that allows the disc to stop spinning if it gets caught. What a great idea! This eliminates the possibility of the disc jumping from the tooth and into your finger or the patient's lip. Mandrels are available for friction grip, right-angle, or straight handpieces.
The performance of these discs matches the earlier versions. Now they are simply more user-friendly. Use them for shaping and contouring embrasures and other shaping on anterior teeth.
Another new Brasseler product is the Incisal Embrasure Shaping Disc. This disc is designed to create natural-looking, symmetrical incisal embrasures. It does a fine, quick job - faster, better, and easier! The disc comes in fine grit for straight handpieces.
Contact Brasseler by visiting www.brasselerusa.com, or call (800) 841-4522.
Pearl 4
Ribbond-THM® Reinforcement Ribbon by Ribbond, Inc. Most of you probably already know what I have just found out - that Ribbond is the product of choice when you need to reinforce composite. Now that product has been improved by the introduction of Ribbond-THM®.
First of all, if your reinforcement ribbon unravels at the ends where you have cut it, you are using the wrong product. Ribbond is a lock-stitched, woven polyethylene-fiber ribbon that is very tough and enhances the durability of whatever you are using it for. This weave also protects against fractures, which are the number one cause of failure of this type of product.
Ribbond is bondable because the polyethylene fibers are plasma-treated to allow the dental resin to bond to its surface. Glass fibers are bondable to composite resin only with silane surface treatment. The fiber color is neutral and easily manipulated because there is no fiber memory. It is biocompatible and comes in an array of width choices. The multidirectional poly ethylene Ribbond-THM® fiber weave contributes to the multidirectional resistance to forces, which transfers the stresses throughout the fiber network. In other words, this is one tough material that is easy to work with and will make your splints and bridges better than ever before!
This one is a no-brainer. If you are not using this material, you should be! Contact Ribbond, Inc., at ribbond@ribbond.com, or call (800) 624-4554.
Pearl 5
PerioAdvocates™ Comprehensive Periodontal Examination Chart by OMNII Oral Pharmaceuticals. The simple, neat, and concise format of this chart is an aid in case presentation, because it is easy to evaluate the pertinent data. It is excellent for tracking clinical changes, the key to case management and intervention.
The chart meets AAP standards for record keeping and makes patients active participants in their own oral health. It also promotes whitening and other cosmetic procedures.
This chart was developed by Bev Maguire, RDH. Her "Diagnosis-Driven Hygiene" column appears monthly in Dental Economics. Be sure to read this month's column for further details.
For additional information on the Comprehensive Periodontal Examination Chart, call OMNII at (800) 445-3386.
Dr. Blaes has a general practice in the St. Louis area. He is known for his expertise in dental materials and techniques and his innovative systems designs. He writes and lectures on "How To Increase Productivity and Profitability." Dr. Blaes is a member of the American Academy of Dental Practice Administration. He may be reached at (573) 686-2388.