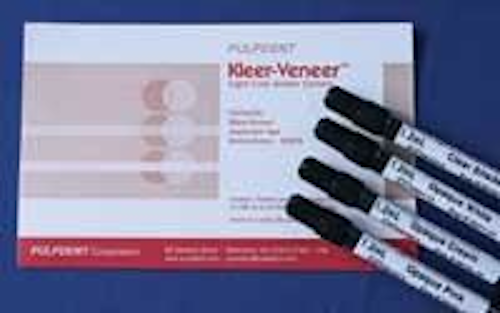 Kleer-Veneer™ Cement from Pulpdent — After more than 30 years of cementing porcelain veneers, we finally have a cement that is truly clear. Pulpdent has researched and produced the first crystal clear cement that will not alter the final shade of the veneer. Kleer-Veneer light cure veneer cement allows accurate visualization of the veneer and precise shade verification before light curing. No more try-in pastes to check the shade. Kleer-Veneer has three additional shades that neutralize the existing tooth color: cream, pink, and white. Kleer-Veneer cements are self-adhesive and require no bonding agents or silane for enamel and ceramic surfaces. So this technique deletes two steps from my veneer cementation protocol — placement of bonding agent on tooth and porcelain. The sheer bond strength is 20 MPa to enamel and ceramic surfaces. Another advantage of Kleer-Veneer cement is the sticky consistency, which holds the veneer in place without drifting, floating, or moving. The film thickness of only nine microns provides a precise fit with perfect adaptation to the tooth. After using this veneer cement, I am going to redo my veneer cementation video to show this superior technique using an outstanding, fully researched product that I believe will withstand the test of time. Order from your dealer, call (800) 343-4342, or visit www.pulpdent.com for more information.
The Perio Protect Method® — This treatment utilizes a patented and custom-made medical device, called the Perio Tray®, to deliver antimicrobial medication interproximally and subgingivally to kill the bacteria that cause periodontal disease. The FDA has cleared the Perio Tray® as a medical device to place solutions of the doctor's choice into periodontal pockets. One of the tests completed to the specifications of the FDA, and required for clearance, showed that the Perio Tray® could deliver a tracer (sodium fluorescein) into the sulcus or maxillary periodontal pocket and maintain it there. The frequency and duration that patients wear their trays depend on the severity of their disease. This is discussed in detail in the certification process, but for most patients it is a matter of minutes each day. The frequency and duration of treatment are modified as healing occurs. Patients return to your office according to a recall system built into the Perio Protect Method to have their healing evaluated and to revise their wearing instructions. In many states, hygienists manage the method under the doctors' supervision. This frees dentists to provide optimal care to a greater number of patients. One of the many advantages to the Perio Protect Method is that daily use of the Perio Tray® allows patients to overcome crevicular flow since the medications are reapplied frequently by the patient with this easy and comfortable patient-delivery method. Research shows that when a low concentration of hydrogen peroxide is delivered subgingivally and interproximally at set intervals with the Perio Tray®, the medication can penetrate the bacterial biofilm, control the infection, and allow the host to heal. You must take a certification course before you prescribe a Perio Tray® for the patients in your practice. Certified dentists send periodontal probing evaluations to one of four dental laboratories that are registered with the FDA for the manufacturing of the Perio Tray®: Space Maintainers of California, Space Maintainers of the Midwest, Great Lakes Orthodontics, and Space Maintainers of the Southeast. They use the best quality materials to customize each tray according to the probing evaluations, and produce the most effective seal to deliver medications into the sulcus. You will be amazed at the results from the Perio Protect Method. Call (866) 693-3400 or visit www.perioprotect.com for more information and to get scheduled for a certification course.
G-Cem Self Adhesive Resin Cement from GC America — I wrote about this product when it first came out in a capsule delivery system. It combines the proven technologies of 7th-generation resin adhesives with the exceptional properties of hydrophilic, biocompatible resin-modified glass ionomer cements. From a trusted source, GC America (GCA), comes a true innovation in restorative cements, bi-layer bonding. This produces bond strengths to the restoration that are as strong as the tooth structure. It is now available in an easier-to-use automix delivery system. G-Cem's unparalleled self-adhesive properties seal and protect the tooth while eliminating sensitivity, whether the prep is moist or dry. It allows you to quickly and efficiently handle a variety of restorations with far better results — generating more satisfied patients. It is the only self-adhesive resin cement that actually improves bond strengths to the dentin, enamel, and zirconia restoration after thermocycling. Now that G-Cem Self Adhesive is available in the automix delivery system, cementation becomes much easier, faster, and better. With this technique, there is no etching and no bonding. Simply put a tip on the automix syringe and dispense the cement into the crown. Seat the crown and light cure for quick cleanup, or leave the material to self-cure. Either way it forms a strong chemical bond, sealing and protecting the tooth from external stimuli and eliminating the risk of postop sensitivity without worrying about whether the tooth prep is moist or dry. Compare G-Cem to other popular resin cements and I think you will find it is clearly better. I am using G-Cem as my go-to cement for crowns, bridges, inlays, onlays, and endodontic posts. Order from your dealer, call (800) 323-7063, or visit www.gcem.com for more information.
Atlas Narrow Body Implants by Dentatus — I have used a number of mini implants and wanted to attend a Dentatus implant course. But my travel schedule and the course schedule just did not match. I mentioned this to a friend who said he would be happy to take the course and then let me sit in when he did a case. So, this Pearl is written by Dr. Norman Freiberger, dental director of the geriatric center at SSM St. Joseph's Health Center in St. Charles, Mo.
The hands-on course on Dentatus narrow body implants was presented by Keith Rossein, DDS, editor of Implant News & Views. The course covered diagnosis and placement of four Atlas implants available in lengths of 7, 10, and 14 mm, and in diameters of 1.8, 2.2, and 2.4 mm. These implants can be placed on both the upper and lower arches, but the conventional, wider endosseous implants are recommended for the upper arch with sufficient bone volume (minimum six). There are approximately 15 mini implants on the market with each having a particular use and indication. But the Atlas implant design and technology are distinctly different. There is no need for copings, O-rings, or cements since the denture is retained by the resilient Tuf-link™ silicone liner. The placement of four Atlas implants 10 mm from the mesial of the lower cuspids protects inadvertent placement into the mental foramenae. The horizontal and vertical parameters must be determined before selection of the length and diameter of the implant. The vertical determination is somewhat arbitrary and can be confirmed with conventional X-rays or cone beam technology. The horizontal width in the atrophic mandible is more critical because of little or no alveolar bone. The decision to inaugurate mini implants into a denture practice entails certain risk factors. First is the patient's health and well-being and whether he or she smokes. Second, informed consent covering the advantages and disadvantages (risks) of this option/service should always be presented to the patient. Third, a slow-driven motor with no more than 1,300 to 1,500 rpm must be used to prevent overheating of the bone (compression/necrosis). Selection of the components is critical, too, to prevent perforation. These are caveats that must be considered when embarking on this much-needed service for the unhappy lower denture wearer. I know that I shall select my first patient carefully and offer the person all the caveats that I can think of ... and then do my first case. It will be a learning experience for both of us, and I look forward to the challenge. I encourage DE readers to attend a Dentatus Atlas HOW™ (Hands-on Workshop) to help the many patients who need this type of service to improve their overall health and happiness.
Thanks, Norm, for a great Pearl! For more information, contact Dentatus at www.dentatus.com.
Now Available For CDT-2009-2010, Limoli and Associates Newly Updated and Revised: Dental Insurance and Reimbursement Coding and Claim Submission Manual — My good friend Tom Limoli has published the most authoritative and reliable manual on the market today. What code do I use to document and bill the patient's benefit plan? Now updated for CDT-2009-2010, Dental Insurance and Reimbursement Coding and Claim Submission manual is packed with additional descriptors and sample narratives to assist me in streamlining my coding accuracy so that the patients receive all the benefits due them. The manual is conveniently spiral-bound for both the business and clinical team. Your coding and documentation challenges will be things of the past if you order your copy today! In my office, I have two copies — one for the front office and one for the clinical area. Nobody does it better than Tom Limoli! To order your copy, go to www.limoli.com or call (800) 344-2633. For one-on-one insurance information, contact Tom at Atlanta Dental Consultants at the same telephone number. Remember, Tom Limoli has the best information about the insurance industry.