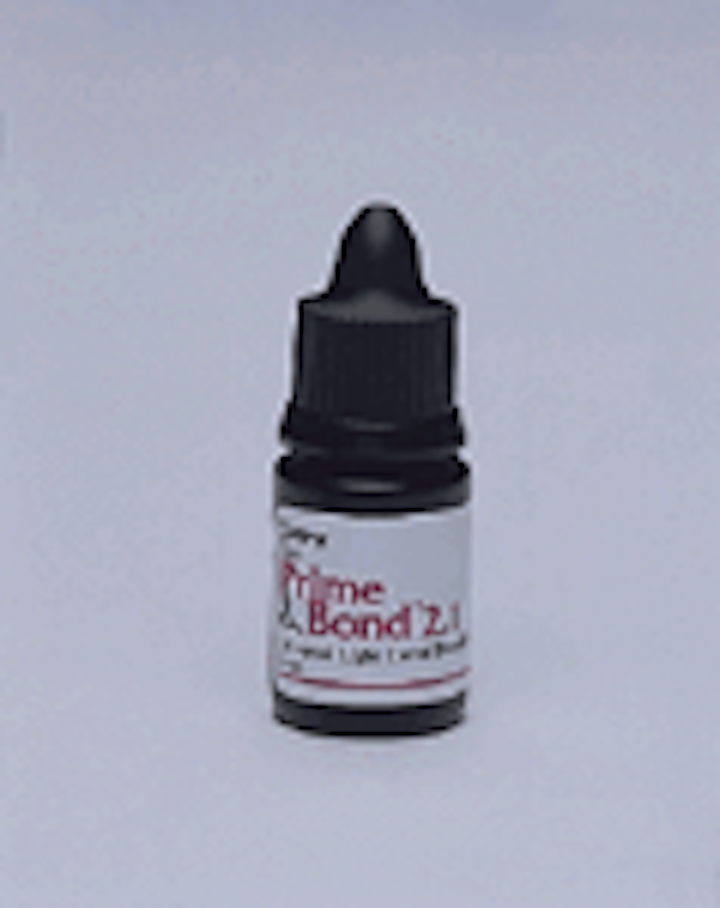 Joseph A. Blaes, DDS - Editor
Pearl #1 - Prime & Bond 2.1 by Dentsply/Caulk (Figure 1). As most of you know, Prime & Bond 2.1 has been my bond of choice since it came out. However, I always had a problem with their delivery system for the material. About a year ago, the people at Caulk said they were working on a new bottle. I kept asking at each meeting when it would be ready. Great news! The new bottle is on the market. Prime & Bond 2.1 adhesive is in a new easy-to-squeeze bottle that gives you single-drop control. I know that this took a long time in coming, but Caulk had a problem finding a material that would protect the Prime & Bond 2.1 formula as well as the original glass bottle did. The new tri-laminate plastic bottle with a special barrier layer provides you with the benefits of an acetone solvent system with the convenience of a plastic dispenser. Who says manufacturers don`t listen to customers` complaints? For additional information or to place your order, contact your dealer.
Pearl #2 - Easy Tray by the Easy Tray Company (Figure 2). This product has been around for a while, and I am sure that a lot of dentists already are using it, but I just "discovered" it as I was walking through the exhibits at the California Dental Association meeting in Anaheim. I usually have avoided custom impression trays because of all the steps and stinky materials involved in making them. When I need one, I send it off to the lab to have it fabricated and that gets expensive. This Easy Tray material has greatly simplified the process of making custom trays. The process was invented and is marketed by a dentist, Dr. John Wagner, and his wife, Nancy, out of Seattle. This new tray is not an acrylic, so there is no mixing, no smell, no liquids spilling and no mess! This is a thermoplastic material that is supplied in the shape of upper and lower base plates. It is made moldable by placing it in water over 190 degrees for about 15 seconds. The water can be boiling and you can leave the material in the water for hours with no change - it just stays soft. Amazing! Or, you can soften it in a bowl of water and zap it in the microwave for a couple of minutes. Unlike acrylic, you are not racing a set time, so you can start and stop during the construction of the tray. You can reuse the excess. I make most of my trays in the mouth using a disposable fluoride tray for a spacer. It is quick and easy and the tray is ready in less than one minute. I can make a full-arch tray or just cut the amount I need to make a quadrant tray. I mold the material in the mouth and then remove it and cool it under cold tap water. Dry the tray and paint it with your usual tray adhesive. It is comfortable for the patients, and I use about one-third to one-half as much impression material as I do with a stock rim-lock tray. And, we don`t have to worry about getting the trays back from the lab and cleaning and sterilizing them. Wow! That really saves some time and eliminates a messy job for th
Pearl #3 - Predictable Complete Dentures by Dr. Joseph J. Massad. If you have problems getting consistent results on your complete-denture patients, then this is for you. I quit doing dentures many years ago because I could not get consistent results. Then implants came along, and I was doing dentures again. I needed help, so I went to one of Dr. Joe Massad`s seminars. He presented an extremely organized procedure for producing a predictable complete denture. Now he has put the technique on video. This two-tape series carries his lecture to a new level of excellence. This is a professionally done, well-edited video that presents Dr. Massad treating a patient in his office. The step-by-step presentation is easy to understand and follow. If you want to begin getting consistent results with your complete-denture patients, order this videotape. It is, without a doubt, the very best complete-denture course that I have ever seen! Dr. Massad covers everything from the patient exam all the way through the denture delivery. For additional information or to place your order, call (800) 800-3115 and ask for extension DE.
Dr. Blaes has a general practice in the St. Louis area. He is known for his expertise in dental materials and techniques and his innovative systems designs. He writes and lectures on "How To Increase Productivity and Profitability." He may be reached at (314) 434-6808.
Figure 1
Figure 2