Pearls for Your Practice
Joshua Austin, DDS, MAGD, reviews Prime&Bond Elect, a universal dental adhesive bonding agent from Dentsply Sirona; G-Cem LinkForce, a dual-cure adhesive resin cement from GC America; and WEO Media, which offers a range of dental marketing services.
Sep 1st, 2018
Prime&Bond Elect universal dental adhesive from Dentsply Sirona
The most important clinical decision that any general dentist makes is choosing a bonding agent. This may sound a little aggressive, but it is true. Bonding has permeated everything we do in dentistry. There are few procedures in my practice that don't involve some sort of bonding. We have to make the right choice when it comes to bonding agents. The good news is that there are many great bonding agents on the market. One of the newest is Prime&Bond Elect by Dentsply Sirona.
Prime&Bond Elect has several novel features that make it an ideal choice. It is a universal bonding agent. This means a couple of different things for you and your bonding protocol. First, you can choose the best etching method for the case you are working on. This is a huge advantage, in my opinion. I almost exclusively use a selective-etch method. The selective-etch technique ensures a strong long-term bond to enamel and dentin. Selective etch means that I etch only enamel with phosphoric acid etchant. In a selective-etch method, the dentin is etched by milder, less harsh etchants in the universal bonding agent itself. This prevents the activation of matrix metalloproteinases (MMPs) in the dentin that can degrade the dentin bond over time. Enamel doesn't have MMPs, so we can freely use strong phosphoric acid etchant without any fear of ill effects.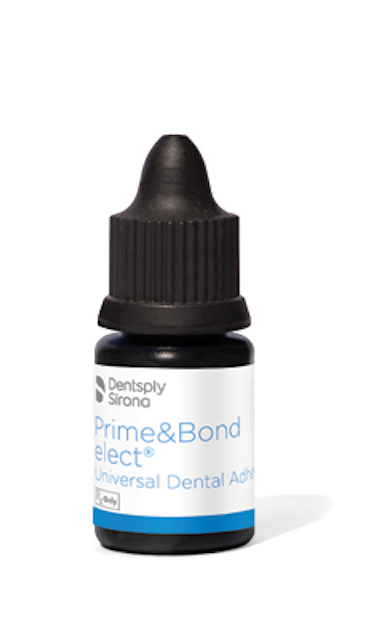 Another advantage of universal bonding agents is their low film thickness, which allows these bonding agents to be used with indirect restorations as well. Prime&Bond Elect pairs well with Calibra Ceram resin cement (Dentsply Sirona). This prevents the need for an additional activator—another bottle of stuff you don't need around your office!
Another feature of Prime&Bond Elect is the PENTA (dipentaerythritol pentaacrylate monophosphate) chemistry it relies on. Most universal bonding agents use the MDP monomer (10-methacryloyloxydecyl dihydrogen phosphate). The MDP monomer has been an asset to bonding for many years, but it has only one chemical linkage between the phosphate group bonded to the tooth and the vinyl group bonded to the resin. With the PENTA chemistry, there are five polymerizable vinyl groups in one molecule. If one bond linkage breaks, there are four more to carry the load. This redundancy gives us a strong bond over time that we can rely on.
I have found Prime&Bond Elect to be an excellent bonding agent for a general and restorative dental practice. It has universal applications, high bond strengths, and very little postoperative sensitivity. It cures colorless, so it won't influence shading for esthetic restorations. Its ability to pair with Calibra Ceram has made it possible to keep only one bonding agent in the entire office. That flexibility and simplicity is what I crave in my restorative dental materials. Triple into the left-field corner for Dentsply Sirona on Prime&Bond Elect!
G-Cem LinkForce dual-cure adhesive resin cement by GC America
I've written before about the need for a workhorse cement in your practice. You need a cement for everyday, single-unit indirect restorations. You also need a cement you can rely on when more retention is vital. Those cases call for an adhesive resin cement with high retention that works with all of the popular indirect restorative materials. It wouldn't hurt if it were esthetic too. That is a lot to ask of a single cement, but fortunately, G-Cem LinkForce by GC America comes through.
The strong retention you can achieve with G-Cem LinkForce can really be broken down into three individual products coming together to deliver a strong clinical result. The first product is G-Premio Bond. Thanks to three key monomers (4-MET, MDP, and MDTPi), G-Premio Bond truly is a universal adhesive bonding agent. The 4-MET provides adhesion to enamel and dentin. The MDP adds a bond to resin and nonprecious metals. The MDTP covers the bond to precious metals. Those three monomers give G-Premio Bond the ability to bond to any material or substrate. Its three-micron film thickness helps prevent seating issues during bonding. G-Premio Bond is definitely a key to the success of G-Cem LinkForce.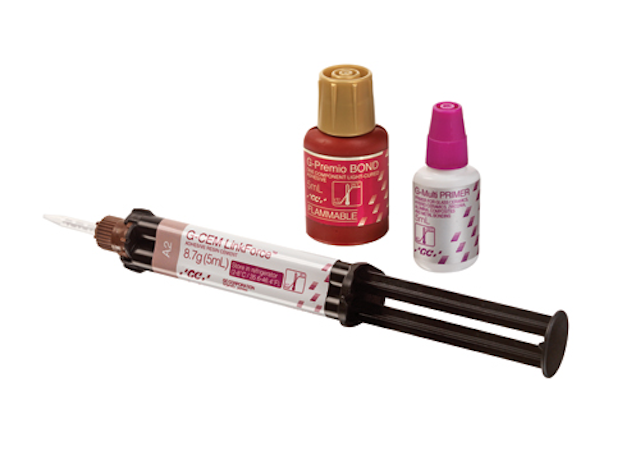 The second product that influences G-Cem LinkForce's strength is G-Multi Primer. Unlike G-Premio Bond, which is applied to the tooth, G-Multi Primer goes on the inside of the crown. This helps ensure a strong, stable bond to any restoration. With silane, MDP, and MDTP, any indirect restoration you can make can be bonded.
Third, we have the G-Cem LinkForce cement itself. This dual-cure resin cement has a very low film thickness, which makes seating the restoration a breeze. Its high tensile bond strength on many types of restorations and substrates makes our decision making easier. If we have a short, overtapered, or nonretentive preparation, we can count on G-Cem LinkForce.
Esthetically, G-Cem LinkForce is a great choice because it comes in four shades (A2, opaque, bleach, and translucent), and try-in pastes are available. The color stability is tremendous, so you don't need to worry about esthetics over time.
I don't want anyone reading this to make the mistake of thinking that all adhesive resin cements are easy to use. They are not. They never are. G-Cem LinkForce is not a cement you can just squirt in a crown, forgetting about the details. This material requires several steps, all of which are technique sensitive and need to be carried out using good isolation. In the adhesive resin cement category of products, G-Cem LinkForce is among the simplest to use. However, its success will depend on your isolation and following the protocols.
For clinical situations where you need maximum retention (short preps, overtapered preps, veneers, Maryland bridges, etc.), G-Cem LinkForce is an excellent choice! Single through the hole between shortstop and third base for GC America!
Note
i. 4-MET: 4-methacryloxyethyl trimellitic acid; MDP: 10-methacryloyloxydecyl dihydrogen phosphate; MDTP: 10-methacryloyloxydecyl dihydrogen thiophosphate
WEO Media dental marketing
My dad was notorious for how long he would wait to buy a new car. In his eyes, a car needed at least 150,000 miles before he would even think of replacing it. Even then, he was always fully prepared to walk away from the dealership at any time during the car-buying process.
I understand where he was coming from. My car is a 2015 model. It has only 30,000 miles on it. There is no way on earth that I needa new car. Sure, I would love a heads-up display or the new Apple CarPlay system. But I don't need those things. I can drive my car for another 10 years and have all I need. Unfortunately, the same is not true of your website. Your practice can't afford to wait that many years between website rebuilds.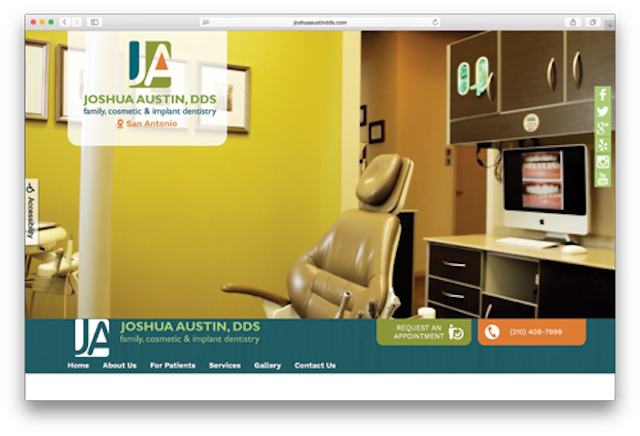 Our websites have become more than marketing tools. They are a must. Your practice must have a website. It must be optimized for search engines and mobile devices. The things your website must have change much faster than the things your car must have. Google changes its algorithm constantly. Over the span of three to five years, a total overhaul of your website will be required to stay up-to-date. I recently underwent this process with WEO Media.
I liked my previous website. It was fine . . . from appearances. The problems were under the hood, so to speak. The site had been built by a decent-sized company five years ago. It was programmed using the search engine optimization (SEO) principles of that time, but it was rendering me almost invisible in today's Google climate.
I reached out to WEO Media because of the company's relationship with Nobel Biocare, a company I trust very much. I went through the entire redesign process, and within six weeks, I had a new, beautiful, up-to-date website. Because of that, I am now consistently on the first page for many popular dental search terms in my area.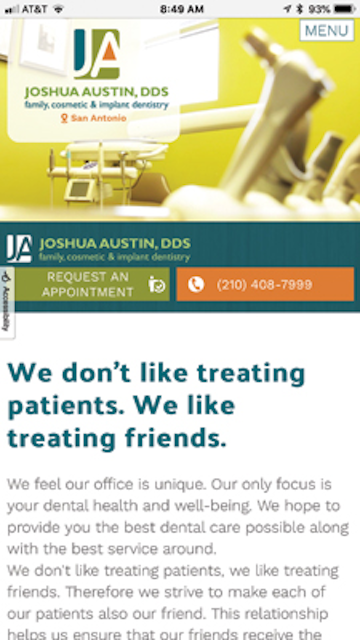 WEO Media is also a full-service dental marketing firm. With a portfolio of services, including websites, SEO, pay-per-click, photography and video, social media, direct mail, and website chat, WEO Media has a product that can help you, no matter the state of your practice. In addition to WEO Media's relationship with Nobel Biocare and the California Dental Association, Cellerant Consulting has given WEO Media its Best of Class Technology Award for three consecutive years.
The best way to check into the state of your website and find out what WEO Media can do for you is to ask for a free online marketing assessment of your practice. Simply email info@weomedia.com to get started. WEO Media has greatly improved the digital presence of my practice. It has helped more eyes see my practice's website, and my website turns more of those eyes into butts in my dental chair. Opposite-field double for WEO Media!