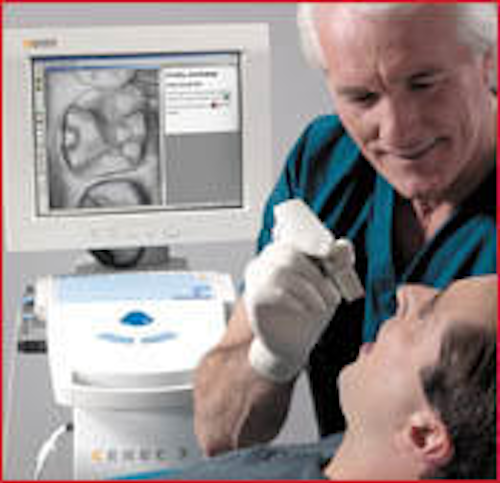 Precision
Comfort
Savings
Satisfaction
"Wish list" technology is affordable and profitable.
by Joe Blaes, DDS
New technology has changed the way most of us practice dentistry. Clearly, it has enhanced the level and quality of service to our patients. Year after year, however, we see the same technologies listed on doctors' "wish lists." We can only surmise that doctors are aware of these technologies, but can't decide whether to purchase them now, or later, or never.

The reasons for incorporating new technology are many, and vary from dentist to dentist. Usually there are several questions or motivating factors that help steer the decision. These questions include:
Is the new product or procedure an improvement over my current way of doing things?
Will it add to my overall job satisfaction and enjoyment?
Are there any tangible benefits of this new technology for my patients?
Is it cost-effective and profitable?
On the one hand, if a particular technology is available that will help you do a procedure remarkably better, easier, more cost-efficiently, better serving the needs of patients, utilizing your time to an optimal level, and reducing stress for all concerned, can you really afford to wait any longer?
On the other hand, perhaps you see the benefits but are deterred by the learning curve associated with learning a new technology. Old dogs can learn new tricks, as you will discover herein.
I have interviewed four practitioners who are at four different stages in the life of their practices. The stages differ by age, experience, and financial ability. Each one decided to take a computerized milling device off of their wish list and make it an effective and profitable component in their office. We hope to show that the technology is within the reach of most if not all dentists, no matter where you may be in your career.
If you're able to overcome some outmoded paradigms, and if you're ready to get out of the "dental doldrums," you can experience new excitement and a rejuvenation of your entire practice. This effect is mirrored in your patients and staff members who will notice your "up" mood.
I'm going to introduce four dentisrs who own this new technology, and let them enlighten and educate on the benefits and how they made this amazing technology affordable, profitable, and fun for their practices.
Now that you know a little bit about these dentists, let's explore the underlying reasons why each one chose to implement a computer-aided chairside restoration system in the first place.
Whom did you contact first?
Dr. Tabor: My Patterson representative. After two demos, I still had "sticker shock." A whole year later, I went to an ADA technical meeting, and finally got over the cost issue and whether I could become proficient at using it. I have employees who have been with me for 10 and 15 years, so I wanted their input as well. We all went to a third demonstration, and I realized that it could pay for itself just by using it.
Dr. Hyman: My state dental association. I was looking for information because I had an incident where one of my best patients came in for a quadrant of onlays, and the temporaries kept breaking and coming out.
Then his wife came in the next week and needed the same thing. She said she'd love to get it done, but her busy schedule would not allow her to come in for the three or four visits that the case required. It just broke my heart, and I said to myself, "I've got to do something, because I've got people who want this kind of dentistry but can't come back repeatedly."
Dr. James: I had contacted my Patterson rep a week prior to the KDA meeting. He advised me that there would be a demonstration at the meeting. My staff and I first saw the new technology in action at the meeting. We were all very enthusiastic about it, and even though the purchase decision was mine, having the support of my staff members was vital.
Dr. Fox: I went to a demonstration where a dental school put on a lecture and explained how the machine worked, and it just got me very excited. After 22 years, I was getting a little tired of dentistry. So I decided that I was either going to quit, or I was going to have to make some serious changes in my office. I bought the machine and some other high-tech tools, and I'm having an absolute ball now!
What does this new technology allow you to do that you couldn't do with traditional dentistry techniques?
Dr. Tabor: Everything fits better — one one-hundredth of a millimeter accuracy assures that. There's no messy impressions, it greatly conserves tooth structure, and my patients love it. It's easier on them because they only have to get numb once, and the crown is done! I don't work any harder or longer, just differently.
Dr. Hyman: From my clinical point of view, I was trying to find reasons not to do a full crown. Now I've got technology that allows for less-invasive preps and more conservation of existing tooth structure.
Dr. James: My production has risen dramatically since the addition of this technology. Although the "bottom line" is critical, this type of dentistry has brought the fun back into my practice!
Dr. Fox: I don't do the crowns like I used to. Before, when someone would come in with a broken buccal cusp, for example, it was automatically a crown. Now, I can do a nice MOD buccal onlay and I know it's going to serve the patient extremely well. .
What is the learning curve with this new system?
Dr. Tabor: First, you have to look at it from a different perception of how something is done — which is very different than how you learned it in dental school. You have to learn how to perceive 3D representations of preps. I'm 52 years old, but it only took me two to three months to master the basic technique.
Dr. Hyman: It took me about 25 units or around two weeks to get really comfortable with it. You just need to take the time to practice, and accept that you may have a few failures at first.
Dr. James: To help me with the learning curve, I worked with models on my first several restorations. I also chose my first restorations carefully. I would prep, impress, temporize, and send the patient home. I made the restorations at my own pace, away from the patients, then had them return for the seating. This helped to get rid of the time pressures associated with learning something new.
Dr. Fox: I think that realistically, it takes a good fifty or so restorations to really feel comfortable with it. There is a lot to learn. At first, you're going to have a few failures, and you have to admit that you did something wrong — because the machine is only going to do what you tell it.
In addition to "black and white" concrete savings, what value does your practice receive from any secondary benefits?
Dr. Tabor: Patients are enamored with the technology. And since they can have a crown in just one appointment, it's attractive to busy people who may not have had the time otherwise.
Dr. Hyman: Because I was the first in my city to have one, my practice was featured on TV and in business and professional magazines. It generated a huge interest in my practice and the benefits we can offer.
Dr. James: In addition to the obvious benefits, we have received many quality referrals from satisfied patients who see our office as being on the "cutting edge" of technology. In health care today, there is an obvious perception by the public that newer technologies are indicative of more sophisticated services.
Dr. Fox: You know, everybody talks about "wow" factors in their practice, and there is nothing bigger than this. When I sit down next to my patient and design the restoration on the machine, they look at me like, "How does this guy do all this stuff?" It makes me feel good as a dentist because they think you're doing tremendous things for them. They wonder how you learned to do it all. And, they are fascinated by the machine. They love to watch the restoration being milled and get it all done in one appointment.
How has it broadened your practice as a whole?
Dr. Tabor: Patterson sponsors system study clubs four times per year. The feedback is terrific. It's a wonderful way to bounce ideas off other docs and learn more and better ways of doing things.
Dr. Hyman: Big time! I was getting burnout from 13 years of traditional crown and bridge. The machine has completely changed that.
Dr. James: Patients are excited by the benefits, and it has increased referrals and production for my other services.
Dr. Fox: I really enjoy the system. I'm providing a wonderful service because I'm not doing as may crowns — I'm doing more conservative restorations, and patients love that. I work just two and a half days a week now. All I do are these special restorations — about 18 to 20 a week. At this stage in my career, it's provided me with a lifestyle — as I'm getting a bit older — that is absolutely wonderful. I've got lots of time to go and do what I like in my off-time.
What advice would you have for other dentists to help them acquire items from their "wish list"?
Dr. Tabor: Don't wait! The CEREC is the way of the 21st Century. Patients will be seeking out dentists who can deliver 21st Century dentistry: no numb lip twice, no two trips, no nasty impression material, no temps falling off, all with one one-hundredth of a millimeter accuracy.
Be willing to look at new perspectives in practicing dentistry. The CEREC has challenged and reinvigorated my practice after 25 years. There's excitement with my auxiliaries because of bonuses from increased production. And, I haven't worked any harder or longer — just differently.
Dr. Hyman: Attack! Just buy it! Every day you wait, you're throwing away thousands of dollars and millions in goodwill. And, it's a lot of fun to use.
Dr. James: You will save time, room setup and materials costs, and enjoy your practice more!
Dr. Fox: I would say: "Stop thinking about it any longer — just do it!" It is the most profitable thing I've ever done in my office. And I've done studies on the per-hour production figures of doing amalgam fillings, composites, traditional crowns, and CEREC restorations. My production per hour is the highest with CEREC. And aside from the money, it's a fun thing to do and very enjoyable. You're providing patients with a superior service.
Dr. Mark Hyman has practiced since 1986, including a two-year residency in Jerusalem, Israel. He maintains a general practice in Greensboro, N.C. Dr. Hyman has a special interest in cosmetic and family dentistry, and is an adjunct associate professor at the University of North Carolina School of Dentistry. Dr. Hyman is a board member of the University's Dental Foundation. He also is an instructor at the Pankey Institute for Advanced Dental Education and lectures internationally.
Dr. L. Michele James is a 1994 graduate of the University of Louisville and has been in practice for seven years, specializing in cosmetic and reconstructive dentistry. Dr. James is a member of the American Academy of Cosmetic Dentistry and the American Academy of Computerized Dentistry.
Dr. Richard Fox is a general practitioner with an office in Waterford, Mich., a suburb just northwest of Detroit. He has been in practice for about 25 years. Dr. Fox is truly passionate about dentistry and delivering the best results for his patients. He is a member of the ADA, the Michigan Dental Association, and the Oakland County Dental Association. Dr. Fox is a member of both the American and International Association of Computerized Dentistry.
Dr. Mike Tabor has been in practice in Hendersonville, Tenn., for 26 years. He is a fellow in the American and International College of Dentists, and is a master in the Academy of General Dentistry. He is president of the American Board of Forensic Odontology, and serves as chief forensic dentist for the Tennessee State Medical Examiner. Dr. Tabor is a member of the American Academy of Cosmetic Dentistry and the American Academy of Computerized Dentistry.