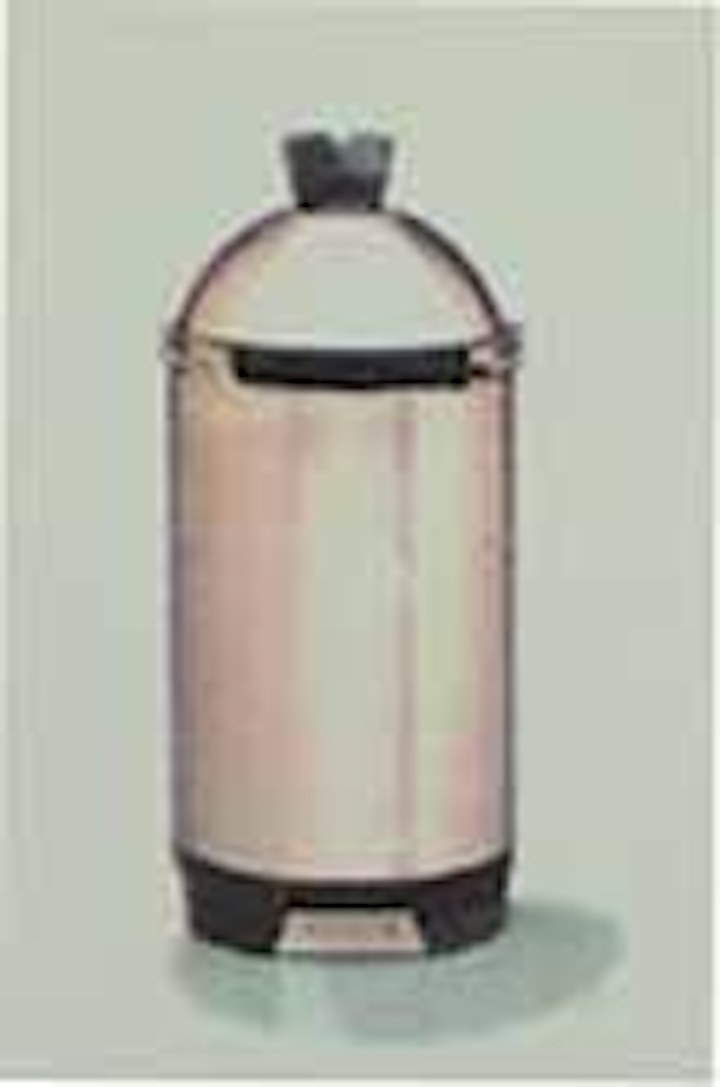 On-site medical waste destruction
Medical Innovations, Inc., introduces the logical alternative to the medical waste carrier. The Medical Waste Machine replaces ongoing medical waste removal cost and disposable sharps container purchases, both of which increase periodically and become a cost to the dental office forever.
The system improves the office's liability situation because there are no sharps on site due to the sterilization process which converts the medical waste to ordinary waste immediately. The procedure is easier, quicker, and more cost-effective than disposable sharps containers. The system also makes an important environmental contribution because the waste going to the landfill is not only reduced in volume by an average of 75 percent, but is sterile as well.
By saving dental offices money, eliminating their liability and paperwork, and improving their environment, the Medical Waste Machine offers an unequivocal number of advantages over medical waste carriers.
For information, call (508) 358-8099 or (866) 223-5858.
Bisco introduces Tyrian SPE etchant system
BISCO has introduced TYRIAN™ SPE, a universal, no-rinse, self-priming etchant intended to be used with BISCO's single bottle adhesives, ONE-STEP® or ONE-STEP® PLUS. TYRIAN SPE also is effective when used with ALL-BOND® 2. Until the introduction of TYRIAN SPE, the self-etching products were limited to use only with light-cured materials. The TYRIAN/ONE-STEP system is universal in its application, bonding light-cured, dual-cured, and self-cured composites and cements for direct and indirect restorations. The sheer bond strengths achieved with TYRIAN and ONE-STEP are equal to those achieved with conventional phosphoric acid and ONE-STEP in both enamel and dentin.
TYRIAN SPE does not employ the "wet-bonding" technique, so the question of "How moist is moist?" is eliminated. Since there is no need to rinse TYRIAN SPE after etching, chair time is reduced. The unique purple color assures a complete mix and complete coverage of the preparation. The color disappears as TYRIAN SPE interacts with tooth structure and excess is blotted.
TYRIAN SPE is available in both self-mixing unit-dose and two-bottle systems.
For more information about TYRIAN SPE, ONE-STEP or ONE-STEP PLUS, call BISCO at (800) 247-3368 or visit www.bisco.com.
Dentsply Professional introduces Stylus™high-speed handpiece
Dentsply Professional is proud to announce the introduction of the Midwest Stylus™ high-speed fiberoptic handpiece. The introduction of the Stylus represents a giant leap in technology, durability, research and development, and clinical performance in the handpiece category.
The Stylus produces over 15 watts of power in a mid-sized head, allowing greater intraoral access and flexibility without sacrificing cutting ability or performance. The Stylus also features four-port water spray and fusion optics technology, which provides improved bur cooling and enhanced visibility of the operating field.
Finally, the Stylus is available in the clinician's choice of bearing technology. The Stylus with EasyCare™ technology features pre-lubricated, grease-packed, sealed bearings, which continuously lubricate the handpiece for maintenance-free convenience. The standard Stylus requires a traditional maintenance regimen, but comes with an industry-leading 18-month warranty.
Three years in design and quality testing, the Midwest Stylus truly offers the greatest collection of features and benefits ever found in a high-speed handpiece.
For more information, call DENTSPLY Professional at (800) 800-2888 or visit www.professional.dentsply.com.
The Periotome Kit from A. Titan
The Periotome Kit has been developed to assist in the atraumatic extraction of teeth prior to the placement of implants. The three handles feature fixed tips, are 100 percent stainless steel, and manufactured in Germany. The set of three instruments includes the P100 (narrow blade), P200 (wide blade), and P300 (angled blade), providing easy access to all areas of the mouth. The blades are all slightly rounded, yet have a sharp edge on the end, and are all paper-thin to slide easily below the gumline.
During application, slide the Periotome blade of your choice along the tooth, inserting it into the periodontal ligament. With an up-and-down motion, move the blade around the tooth, successfully severing the periodontal ligament. When the periodontal ligament is severed, space has been created around the tooth preparing the site for a simple and easy extraction using A. Titan's Implant Extraction Forceps Kit. All instruments are available exclusively through A. Titan Instruments.
For more information on the Periotome Kit, call (877) 284-8261 or visit www.atitan.com.
Integra unveils ViperRay
The revolutionary ViperRay Digital X-ray sensor is designed to provide optimum image quality coupled with maximum comfort, durability, and integration.
ViperRay, which is developed by the same team that created the revolutionary Vipersoft imaging solution and ViperCAM intraoral camera, is designed to provide superior image acquisition, maximum patient comfort, exceptional durability, and unequalled integration.
As with its other imaging solutions, ViperRay digital X-ray sensors are designed to work with whatever software a dentist might have. Whether it's Vipersoft or any of a dozen other solutions, a dentist using ViperRay can have the confidence that the sensor will work seamlessly with whatever practice-management software happens to be installed.
The end result is quicker diagnosis, enhanced patient communication, and the financial savings from eliminating the on-going use of film and chemicals.
ViperRay uses a CCD-based chip, which is proven to produce less image capture noise or feedback than CMOS chips. The result is a crystal-clear X-ray image. The CCD chip design also produces images that remain vivid and clear even when magnified - a rarity in digital X-ray quality.
ViperRay is available in three sizes - corresponding to #0, #1, and #2 dental film - creating an ideal solution for any patient, regardless of age.
Because digital X-ray sensors must stand up to the rigors of repeated daily use, ViperRay is constructed of highly durable materials and top-of-the-line connectors. ViperRay will withstand the extreme usage, wear and tear, and repeated handling demanded by a busy practice.
ViperRay is available now and is sold through local independent resellers. Call your local representative to order ViperRay or (877) VIPER-GO (847-3746) for more information.
KaVo introduces multipurpose device
KaVo America is introducing its new air-scaler, the SONICflex 2003L. Attaching easily to the MULTIflex coupler, the SONICflex is portable and can easily be removed for sterilization purposes. The SONICflex now features a power adjustment for three different performance levels - 50 percent more powerful than the previous SONICflex model sold by KaVo. The controllable power enables the operator to treat sensitive patients more carefully and to treat large amounts of calculus with more power.
It also works great with the various diamond-coated tips for fast and exact finishing of preparation margins. The new scaler also is whisper-quiet and features a durable cellular optic glass rod which withstands repeated sterilization without light degradation. In addition, it has a new improved grip with Plasmatec coating which is comfortable to hold and very hygienic. Various tip sets are available for scaling, root-planing, minimally invasive tooth preparation, and more.
For more information call KaVo at 888-KAVO-USA (528 6872) or visit www.kavousa.com
Altair headlight-mounted video system
High Q puts the power of video at the tip of your optics with ALOS - The Altair Line-of-Sight Video Headlight System. Now you can capture complete procedures - hands-free - on video in vivid color and excellent clarity.
Mounted on the Altair SA Fiber Optic Headlight, the ALOS system moves with your line of sight capturing what you see as you see it. For educating the patient during examinations; teaching students or colleagues at the university or in study clubs; or for promoting new techniques and procedures, the ALOS delivers a view that, until now, was only yours.
The ALOS features a lightweight design (just 7 ounces), a 1/4" CCD video camera, automatic iris and white-balance adjustments with manual override, and on-screen control menus.
Equipped with both standard composite and Super VHS video output, the ALOS system allows you to run your video images to virtually anything that will accept a video feed from a VCR and monitor to computer with capture card or image printer.
Whether viewed via monitors as the procedure takes place, or edited for future presentations, the ALOS system brings today's technology to you.
For more information, call High Q at (800) 775-3433, email at hqm1@cox.net, or visit www.highqdental.com.
Ergonomically designed dental stool
The Pluto™ Dental Stool from Dentech Corporation is a revolutionary approach to reducing fatigue and increasing productivity in the dental operatory. Independent floating back-support pads shift as the dental professional moves to maintain proper back support.
The unique saddle-style seat features pressure-relief spots filled with soft, cool gel. This design eliminates pressure on the backs of the thighs - a major cause of fatigue. A three-way seat-positioning lever allows adjustment of seat height, saddle tilt, and back tilt for proper ergonomic positioning.
For the first time, dental professionals can treat themselves to a back-pampering, fatigue-reducing dental stool that provides daylong comfort - increasing practice productivity.
The Pluto Dental Stool is backed by Dentech's legendary service and is sold only through full-service dealers. Sales representatives are thoroughly trained to provide full assistance before, during, and after installation. It carries a five-year manufacturer's warranty.
For more information or for a dealer near you, call Dentech at (800) 826-5004 or visit www.dentechcorp.com.
New drill unit introduced by Astra Tech
A new drill unit called implant MED specifically designed for dental implant surgery is now available from Astra Tech. The unit features a high-torque motor with a wide range of speeds. The motor also is brushless and maintenance-free. The motor cable and handpiece can be sterilized at up to 275 degrees F.
For a limited time, the Astra Tech implant MED with handpiece is available for $3,995 with the purchase of 25 implants.
For more information, call (800) 531-3481 or visit www.astratechusa.com.
Polyester glove liners provide soft comfort
Berkshire Corporation offers a complete line of polyester glove liners made with 100 percent continuous-filament, knitted polyester for maximum softness, comfort, and protection during extended periods of glove use.
BCR® Half-Finger Glove Liners provide comfort without sacrificing tactile use of fingertips. They also protect hands from excessive perspiration and skin irritation.
BCR Full-Finger Glove Liners are manufactured to provide total protection for the most sensitive glove users from the irritation caused by latex and PVC gloves.
Unique, seamless construction allows for moisture to be absorbed and wicked away from skin, and keeps gloves from unraveling and releasing unwanted particles into critical environments. The glove liners are ambidextrous for simple stock control and provide economic advantage by being launderable for multiple use.
For more information, call (800) 242-7000 or visit www.berkshire.com.
In-office bite splints in 15 minutes
Using the ErkoForm RVE with OccluForm you can make sparkling clear, lab-quality bite splints right in your office. The ErkoForm RVE requires no air supply and plugs into 110v. Precise adaptation is made possible through a chamber that builds a "sudden vacuum" one minute before thermoforming. Immediately after thermoforming, the Occluform attachment allows imprinting of the opposing cast to reduce posterior adjustment. Hard, hard/soft, occlusal splints, mouthguards, bleaching trays, and orthodontic retainers also can be made.
For more information, call Glidewell Direct at (888) 303-3975 or visit www.glidewelldirect.com.
Abrasive Technology introduces user-friendly Two Striper® Reference Guide
Abrasive Technology, manufacturer of the world-leading Two Striper® diamond dental bur, has introduced a user-friendly Two Striper Worldwide Reference Guide for dental practitioners around the globe.
The full-color guide is uniquely subdivided into categories featuring FG tools, TS 2000™ and Shortcut™ burs, lab tools and accessories, and general accessories. All diamond burs are arranged in alphabetical order with sizes of the same type of bur grouped together. Clear, concise photographs featuring the burs' uses and capabilities are interspersed throughout the guide.
It is designed for both the new and seasoned dental professional with technique suggestions indicating the appropriate bur and its uses. Also useful is a guide to Two Striper diamonds, which provides instruction on identifying and selecting a Two Striper by number, as well as cleaning and maintenance recommendations.
Only the P.B.S.® Two Striper is made through our patented process. For more than 30 years, it has been and remains known the world over as the leading dental diamond for precise quality and product life.
For more information, call (800) 964-8324 or visit www.abrasive-tech.com for convenient online ordering.
GENESIS introduces perio-charting software
GENESIS Software introduces its newest addition of computerized periodontal charting to its practice-management system. Probing pocket depths, keeping watch of bleeding sites, suppuration, furcation involvement, plaque assessment, and mobility are all measured, recorded, and charted automatically either by voice recognition, light-pen capability, or GENESIS' "One Click" technology.
GENESIS generates print-out documentation for patients and detailed records for insurance filing.
For more information please call GENESIS Software at (800) 488-6488 or visit www.GenesisSoftware.com.
Premounted implant cover screw
The newly introduced Osteo Premounted TAPER implant includes a pre-mounted first-stage surgical cover screw. Never drop another cover screw. It is premounted onto its own driver; no additional tools are required. The unique delivery system also provides the practitioner with a free .050" hex driving tool. This innovative design allows for maximum convenience in threading the cover screw into the surgically placed implant, using a single motion.
The combination of the tapered threads of the implant and the pre-mounted cover screw make the Osteo TAPER the most user-friendly implant in the industry. The price of the Osteo Premounted TAPER is $155 for AMP (Advanced MicroPorous) surface, and $165 for HA coated.
For more information, call OIC at (800) 654-5560.
Restore smiles with EMT ToothSaver™Tooth Preserving System
Nearly five million teeth are accidentally knocked out each year. The length of time before a tooth is replanted and how it is transported to the dentist are crucial in successfully saving and replanting the tooth.
EMT ToothSaver protects, nourishes, and revives knocked-out teeth prior to replantation, which must be completed as quickly as possible, preferably within 24 hours. By suspending the avulsed tooth in a pH-balanced cell-culture fluid which is biocompatible with the tooth's PDL cells, EMT ToothSaver safely stores the tooth until replantation. This allows other more serious injuries to be treated first and expands the window of time to treat the patient.
EMT ToothSaver offers dentists an excellent chance to perform the preferred option - saving the patient's natural tooth. In most cases, this treatment also will pave the way for more comprehensive care in the future.
For more information, call SmartPractice® at (800) 522-0800.
Great reading - from PennWell books
Great Communication = Great Production, 2nd Edition.
Dr. Cathy Jameson is back with a newly revised and expanded edition of her bestseller, which fundamentally restates her basic themes, adding and refining ways in which dental teams can achieve "great production!"
Drawing on her doctoral dissertation and work as a dental team consultant, Dr. Jameson shows how to achieve a statistically significant improvement in the bottom line following a course of communication skills training. She illustrates principles based on the control of stress through effective communication, management, and technological and clinical skills.
Use Great Communication = Great Production, 2nd Edition to learn how to improve relationships with patients and team members, control stress, and increase the financial rewards for work well done by the dental professional.
For more details, visit www.pennwell-store.com or call (800) 752-9764 for a free copy of PennWell's dental book catalog.
All The Right Moves by Risa Pollack-Simon.
Ergonomics is the science of musculoskeletal health and human performance on the job. The most infamous problem in this area is "repetitive motion" syndrome. In the dental office, this is and has been a potential job hazard.
All The Right Moves is an essential guidebook for those interested in incorporating ergonomic principles into their dental environment.
This book will help you:
•Master chairside efficiency to reduce stress
•Select equipment and technology to enhance team performance
•Apply preventive interventions for musculoskeletal health - and incorporate office design concepts to support safe and efficient quality care.
All The Right Moves helps dentists and their teams provide efficient, high-quality patient care with less musculoskeletal stress.
For more details, visit www.pennwell store.com or call (800) 752-9764 for a free copy of PennWell's dental book catalog.
Dental Hygiene: The Pulse of the Practice
A hygiene department that offers nothing beyond tooth cleaning is neither productive nor profitable. For a hygiene department to become "the pulse of the practice," it has to generate quality dentistry that is far beyond the traditional scope -- and ahead of its competition!
In Dental Hygiene: The Pulse of the Practice, author and practice consultant Cynthia McKane-Wagester, RDH, shows you how to breathe new life into "the pulse of the practice" by motivating dental team members to create an environment that increases the hygiene department's production as much as 50 percent per month, boosts the number of hygiene appointments beyond your most optimistic estimates, and improves acceptance percentages for the entire practice.
By reading this book, dentists, hygienists, consultants, educators, and students alike will:
•Understand how empowering the dental hygiene department can positively impact production.
•Discover how staffing, customer marketing, customer service, and ethics play into the building of an optimal dental hygiene department.
•Develop creative strategies for resolving problems and concerns ranging from non-compliant patients and under-developed facility design to ineffective case presentation.
For more details, visit www.pennwell-store.com or call (800) 752-9764 for a free copy of PennWell's dental book catalog.
Sky-Scapes® bring the great outdoors indoors
SmartPractice® introduces a revolutionary new idea in lighting design to the dental profession with Sky-Scapes™. Ceilings never looked so good to patients who have only one place to rest their eyes with these new light diffusers. Instead of harsh, sterile fluorescent light, they'll see light puffs of white clouds against a clear blue-sky background.
Patients aren't the only ones who will notice the difference. Staff members also will report that they feel much more relaxed and less stressed after a full day of appointments. Sky-Scapes are easy to install in just minutes per light fixture.
For more information and special introductory pricing, call SmartPractice at (800) 522-0800.
Subscription-based handpiece service
Revolutionary service offers total handpiece repair and savings of up to 50 percent. 1-866-HANDPIECE is a subscription-based handpiece maintenance and repair service designed to provide dentists with a reliable and economical way to service their handpieces.
1-866-HANDPIECE covers every aspect of maintaining and repairing dental handpieces. Once a service plan is established, dentists can enjoy deep discounts on the repair and maintenance of their handpieces that is literally hassle-free. Three plans are available: Basic, Intermediate, and Advanced.
Registering your handpieces is easy. Once each handpiece is ®, the coverage begins.
Dentists can register their handpieces either by calling 1-866-HANDPIECE (1-866-426-3743) or by visiting www.1866handpiece.com.
High-tech /low-cost office messaging system
ABELDent's Office Communicator provides real-time messaging over a computer network. It is an excellent alternative to conventional office messaging systems with more capabilities and no expensive wall panels or cabling.
Developed specifically for the dental office, the system displays as a small, moveable toolbar. It sends and displays patient arrival notices, hygiene check messages, requests for assistance, status, and general messages. Buttons flash in color to indicate message arrivals and acknowledgements. The application accommodates standard or typed responses and includes a sound option.
From the developers of ABELDent practice-management software, Office Communicator runs independently or integrates with ABELDent to offer an efficient, professional way to communicate.
For more information, visit www.ABELDent.com or call (800) 267-ABEL (2235).
Sportsguard Labs launches improved material
PolyShoK™ is a high-impact polymer that provides more shock absorption than any comparable mouthguard material in use today. PolyShoK has 285 percent more energy absorbency than ethyl vinyl acetate (EVA) and 182 percent more than laminated materials (ASTM D3763). Other features include: * Can be multi-laminated with vacuum pressure. * No change in technique is required compared to current methods. * Softer, more comfortable to wear in the mouth.
Currently available in 5" x 5" sheets in six colors: blue, red, green, yellow, black, and white.
For more information, call (800) 401-1776 or visit www.sportsguard.com.