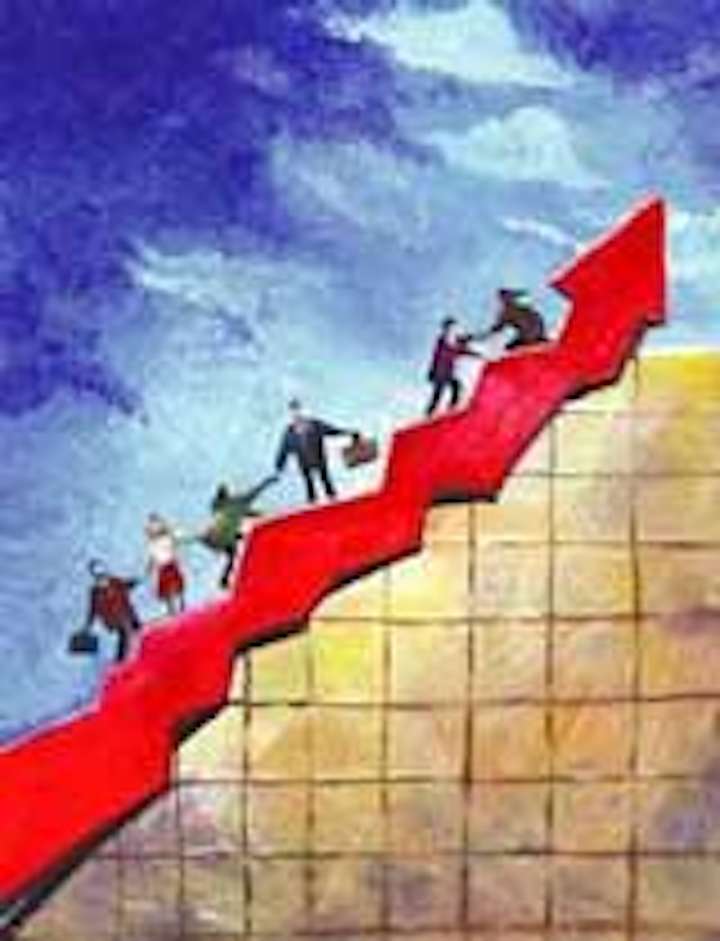 by Jeffrey R. Lavers
Carefully examining how economics, demand, and supply will shape the dental industry's future, a market-trends report issued by the American Dental Trade Association (ADTA) concludes that the best is yet to come. But thanks to a number of dentists who are creatively implementing some of the identified trends, change is already occurring.
The ADTA report offers a detailed analysis of the supply/demand equation within the dental industry and how this affects practice development. A series of variables, including range of services, scope of capacity, staffing-mix format, and others are all listed as agents of change. The report also examines how these various industry changes gave rise to the emerging practice models discussed in last month's issue.
Taken as a whole, the report's illuminating details all point to assured change within the industry. Sometimes these changes will be gradual, but they also may be radical. However, so the positive future detailed in the report can be realized, the market must, in turn, be willing to embrace growth and change. What follows is a sampling of industry players who have.
One who chooses
"Technology is for those who choose it," says Lori Trost, DMD, PC, and principal of the Center for Contemporary Dentistry in Columbia, Ill. "And those who don't choose it, lose it!" Clearly, this 16-year veteran embraces the Tech Station Model.
Trost views her practice's utilization of technology as part of a cycle that begins, as many do, with patient demand. As Trost sees it, approximately eight years ago — which also coincides with the rise of the Internet — patients gradually became inundated with information on the latest available dental technologies, especially in the areas of aesthetics. These patients, in turn, began demanding new, affordable, and innovative treatments. "As different wants and needs began to arise, we had to stay at the forefront of what was being offered in order to meet patient demand," she explains. "Once we started learning new technologies, we were able to pass them on to our patients and increase their comfort level. Of course, as their comfort level increased, so did their demands."
Fortunately, dental manufacturers heeded the call of well-informed patients and began, among other initiatives, improving composite materials and the retentive strength of adhesives. They also developed CAD/CAM technology in an effort to make it easier for dentists such as Trost to meet rising demands. Trost also credits manufacturers with designing products that help a wide range of her peers without sacrificing strength or the ability to function correctly.
At the same time, Trost believes other innovations — such as the utilization of nanotechnology in developing composite resins — have helped dentists such as her let their creative flags fly. "Some new products feature incredible polishability and a wide range of shade selections that allow for varied applications — anterior, posterior, occlusal, and incisal. Now, dentists are embracing artistry to bring the good feeling back to procedures that used to be quite mechanical."
A self-described "gadget guru," Trost truly practices what she preaches, taking advantage of various new technologies within her own office. For example, after observing increased periodontal disease, Trost began using a laser cavity detector to probe and perio-chart every patient. Ultimately, the detector has proven more effective than standard X-rays. Furthermore, Trost and her staff utilize digital photography to its fullest, taking a minimum of seven photos per patient. They enjoy seeing their patients' progress visually, and the images also can be emailed to oral surgeons, endodontists, and/or labs. "By quickly sharing crucial information with interested parties, we're able to ultimately offer better services and an enhanced level of patient care," says Trost.
Crowning achievements
When a patient of Dr. Scott Coleman's mentions "crowns," that patient is quite often referring to a tiara. Coleman's Houston-based Cosmetic Dental Associates serves the cosmetic dental needs of a high-profile patient base that includes local television personalities and several Miss Universe contestants. As a result, he typically witnesses patient reactions that some colleagues might consider out of the ordinary. "I really enjoy the cosmetic aspects of the practice," says Coleman. "After all, not many root canal patients would jump up out of the chair and hug you after a procedure, but I see that in my office."
Since entering the profession almost 20 years ago, Coleman has had a natural affinity with the Cosmetic Center Model, yet incorporates the service-intensity level of the Super Norm Model and utilizes the latest technology in his practice. Like Trost, Coleman's practice has been influenced greatly by advances made in various procedures and materials. For example, he last used silver amalgam in 1984, and believes improved composites and ceramics have allowed him to offer his patients a higher level of service. In addition, using digital radiography and laser detection has helped him approach occlusals, fissure sealant, and composite procedures differently. He has literally changed the way he and his staff prep teeth for inlays and onlays.
Coleman acknowledges that the Internet has helped provide his patients with an enhanced level of education. "They come in with a lot more specific questions about products and procedures," he relates. "A great number of my patients have a good idea of what they want right when they walk in the door." Coleman also utilizes the Internet for marketing purposes. In fact, the first visit many of his new patients make is to his practice's Web site.
Of course, technology makes developing pageant-level smiles that much more precise. Coleman uses a shade-scan system to help him decide the appropriate color characterization of bonding materials and composites. He then shares the information electronically with his lab technicians and ceramicists. "With the computer, we're able to go in and see the color and texture of each tooth and determine where any translucencies are," he says. "It provides a level of detail that's second to none and, ultimately, it results in a superior product."
Looking toward the future
Having begun his dental career in the late 1960s, Albert L. Ousborne, DDS, FAGD, certainly remembers the good ole' days, which, unfortunately often meant brittle restorative materials, undetected periodontal disease, and painful anesthetic procedures. For Ousborne and like-minded peers, the future could not have arrived soon enough!
Like Coleman, Ousborne employs facets of the Super Norm Model in his Towson, Md.-based private practice. The practice also includes his professional partner of 25 years, Dr. Tom Keller. While Keller practices general dentistry, Ousborne has been focusing on crowns and bridges, cosmetic work, and implants since 1971 — procedures that, as Ousborne explains, were once quite literally cutting-edge services. "When I first started doing implants, we used the "blade' method, where you had to make an incision in the gum, place something in there that looked like a blade, with holes for the bone to grow into," he recalls. "Today, placing implants is not only a normal, routine procedure, but we can integrate the material directly with the bone."
Besides advances in implant materials and procedures, Ousborne believes changes in ceramics have helped him provide patients with more natural-looking results. He recalls how early porcelain-fused-to-metal restorations were subject to fracture, left patients with a black shadow around their gum lines, and gradually wore their natural teeth away. Unlike materials of yesteryear, Ousborne credits today's ceramics with offering a similar wearability to natural teeth, as well as enhanced durability and improved aesthetics.
Along with many of his peers, Ousborne utilizes lasers and intraoral cameras for improved diagnostics. He recalls a time when dentists were not proactive about detecting periodontal disease. (As a result, patients often would develop pyorrhea.) Today, Ousborne also employs technology to make otherwise painful anesthesia procedures comfortable, such as using a computerized syringe that emits controlled microdroplets or placing anesthetic patches directly on the gum, both of which numb tissue in seconds.
Each year, Ousborne takes his staff on a retreat, where he gathers input for a strategic plan for the next five years of his practice. Ousborne's son, Patrick, joined the practice two years ago as a prosthodontist, and Ousborne hopes to eventually pass a forward-thinking organization on to him. "It's truly important to have a grasp of your business philosophy, as well as a clear understanding of the marketplace," says Ousborne. "When you take that knowledge and combine it with the finest materials, equipment, and service, you're able to offer patients a special level of treatment."
Left coast, right results
While Trost spoke of dentists just now beginning to embrace artistry, Isaac Comfortes, DDS, of Encino, Calif., has never let it escape his grasp. Comfortes, who has been in private practice since 1976, began focusing on aesthetic dentistry while a student, and thus became one of the industry's pioneers. "I guess you could say I was on a personal quest, because I had an art background," he explains. "My goal was to make restorations look as aesthetic as possible, even to the point of fooling my colleagues."
Of course, Comfortes' quest grew easier when better techniques and materials became available, and as a result of increased public awareness of dental aesthetics. Like some of his colleagues, Comfortes' practice leans toward the Super Norm Model, while incorporating the latest technology. For starters, to help patients make decisions on sometimes costly procedures, Comfortes uses a digital camera to take a "before" shot, creates a mock-up with resin, and then lets his patients take the "after" picture home.
Comfortes also takes full advantage of improved restorative materials. "Today, the color selection is much more sophisticated," he notes. "For the most part, you used to be able to create the shape, texture and luster, but the problem always was getting the right color. Now, you can actually offer your patients restorations that look like teeth."
Comfortes believes the public's attitude toward dentistry has changed for the better, with more people not only embracing the aesthetic advances, but also the concept of proper dental care leading to improved overall health. He also notices a change in how dentists themselves are being perceived. "When I first entered the profession, people at parties would turn away from me once I told them what I did," he recalls. "Now, they grill me with questions about which procedures and materials would work best for them."
Model students of change
As the ADTA report states, dental care today involves a wide array of services and benefits being offered through various practice models to patients with different values. True enough. But, as the four dentists we talked with demonstrate, you must be willing to work within all of these models and accept that the needs of patients can — and will — change at any given time.
The dentists profiled in this article have one thing in common — each embraced technology to offer superior results and enhanced service to well-informed patients. While some entered their careers eager to utilize the latest products and procedures, others came to appreciate their significance through years of trial and error. In certain cases, technology was the missing color in an artist's palette. In others, it was a tool that enabled them to chart the future course of their practice. But, despite varying experience, geographic location, and practice philosophy, each dentist proved eager to learn ... and their patients ultimately benefited from their knowledge!
With emerging practice models, like most everything else, one size clearly does not fit all! Most of the profiled dentists utilize a combination of models and don't rule out exploring others in the future. In addition, at this very moment, dentists somewhere may be creating new models that will alter the industry even further. With the past as a guide, you can almost count on it!
The best may still be yet to come for the dental industry as a whole. But, for innovative professionals willing to embrace change, there's no time like the present!
Jeffrey R. Lavers is currently global marketing director for 3M ESPE Dental Products Division, based in St. Paul, Minn. He can be contacted by email at jlavers@mmm.com.
This is the second in a three-article series that examines a 2000 Market Trends Report issued by the American Dental Trade Association. Last month's article offered an overview of the study and its potential impact on the dental industry. Look to next month's article for a view of the faces behind the practices — how individual dentists are coping with changes in their profession. The results are sure to cause excitement within the dental industry.