Best pearls of 2010
It is always difficult to pick a "best" list, particularly when I feel that every "Pearl" that I have written in 2010 is the best. This year I have chosen 19 to present to you.
Dec 1st, 2010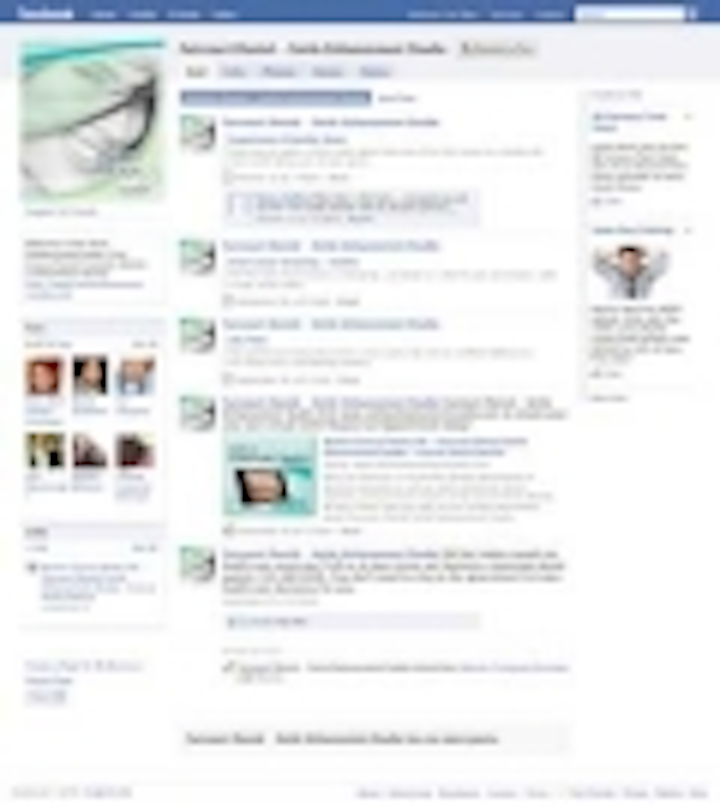 by Dr. Joe Blaes, Editor
It is always difficult to pick a "best" list, particularly when I feel that every "Pearl" that I have written in 2010 is the best. This year I have chosen 19 to present to you. They are listed in no particular order.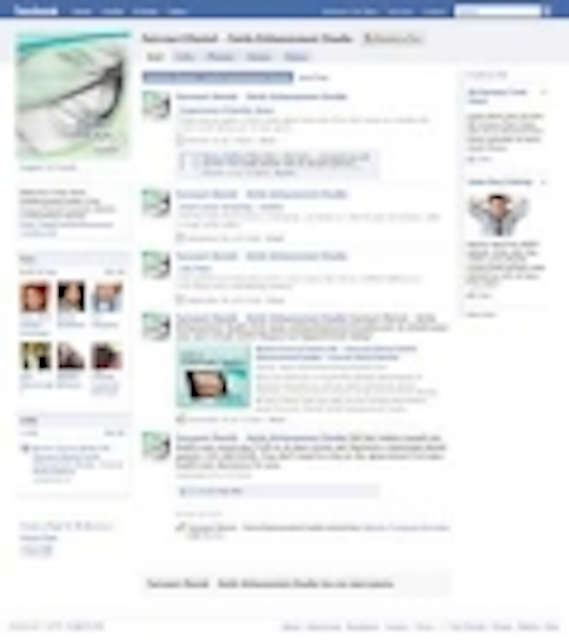 Social Networking Solutions from Officite – Officite will build profiles on Facebook, Twitter, MySpace, and YouTube with regular updates and fresh content. There's no extra effort on your part and you'll reap measurable results from the best marketing the Internet has to offer. Infusing this technology into your practice helps distinguish you from the competition, engage you with existing and prospective patients, and grow your practice faster. Call (800) 655-9819 or visit www.officite.com/products/socialnetworking.
The KODAK 1500 Intraoral Camera by Carestream Dental – This camera delivers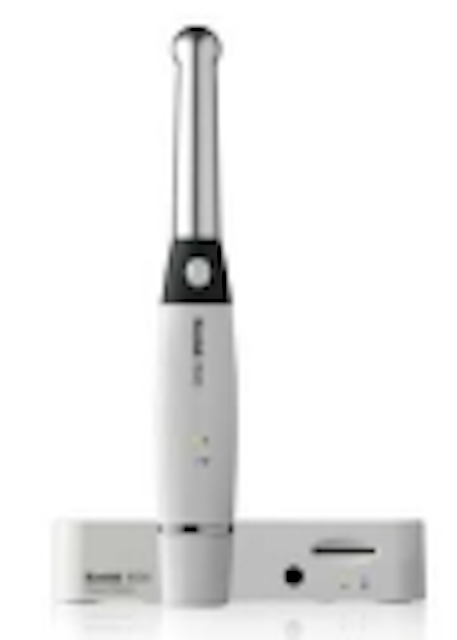 precise, true-to-life images and provides the powerful visual evidence you need to educate patients and make more accurate diagnoses. The camera's one-button image capture, combined with an autofocus, ensures clear, detailed images each and every time. The Kodak 1500 camera's wireless version provides complete freedom of movement. With USB connectivity, share the docking station between treatment rooms. So you can use the camera anytime and anywhere you need it. Call (800) 944-6365 or visit www.carestreamdental.com.
Picasso Lite™ Soft Tissue Dental Laser from AMD LASERS™ – Like to have a laser but worried about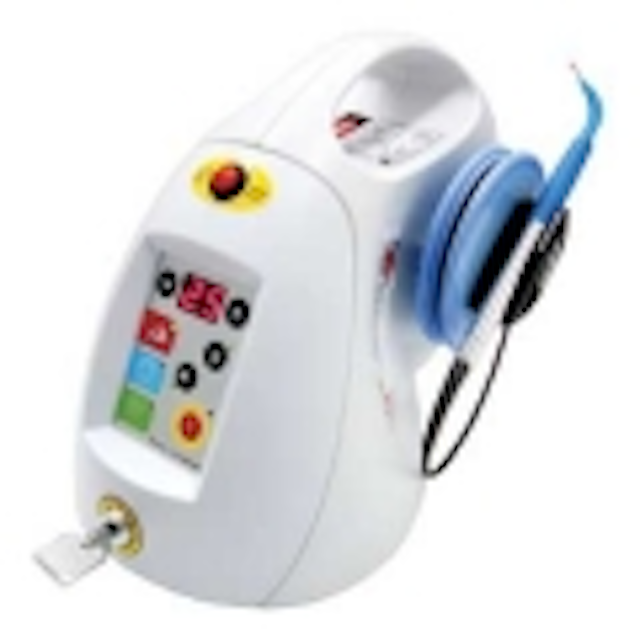 the cost or complexity? Then take a look at the Picasso Lite. It is best for new laser dentists, offering 2.5 watts of power, customizable presets, disposable tips, or strippable fibers (my favorite). Best of all, you will love the price of the Picasso Lite. For more information or to order, call (866) 999-2635 or visit www.amdlasers.com.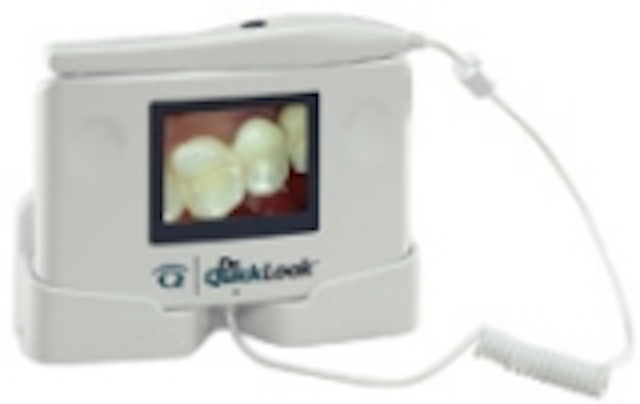 RelyX™ Unicem 2 Automix Cement from 3M ESPE – This is the next generation universal self-adhesive resin cement. It features enhancements to bond strength, mechanical properties, and esthetics. The cement also has high adhesion, resists discoloration, has long-term stability, and virtually no postoperative sensitivity. 3M ESPE has packaged it in an automix syringe delivery system with easy handling and flexible dose dispensing to save treatment time. Order from your dealer or visit www.3MESPE.com/RelyXUnicem2.
Salivary Diagnostic Testing from OralDNA® Labs – Samples are analyzed here using state-of-the-art DNA-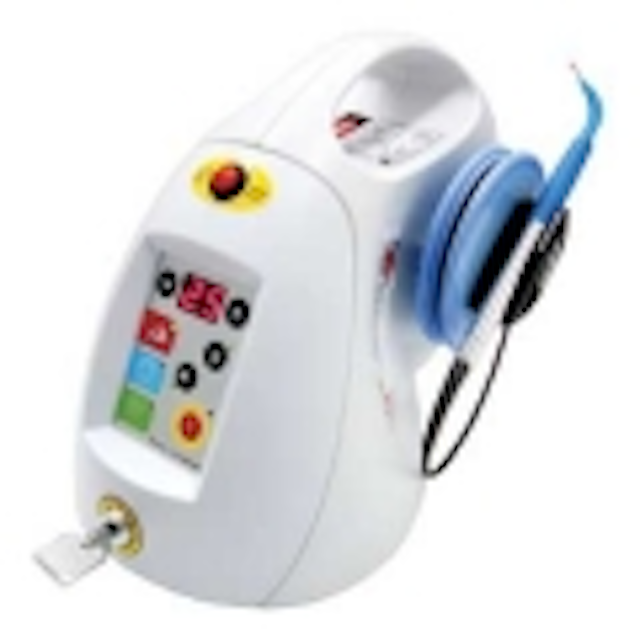 PCR technology. The reports give information that identifies the type and concentration of perio-pathogenic bacteria, and even a person's genetic predisposition toward periodontal disease. Clinical signs alone cannot determine if therapy has achieved the goal of elimination or suppression of the etiological agent(s). Testing posttreatment determines if the reduction or elimination of the causative agents has been accomplished. Call (877) 577-9055 or visit www.oraldnatraining.com.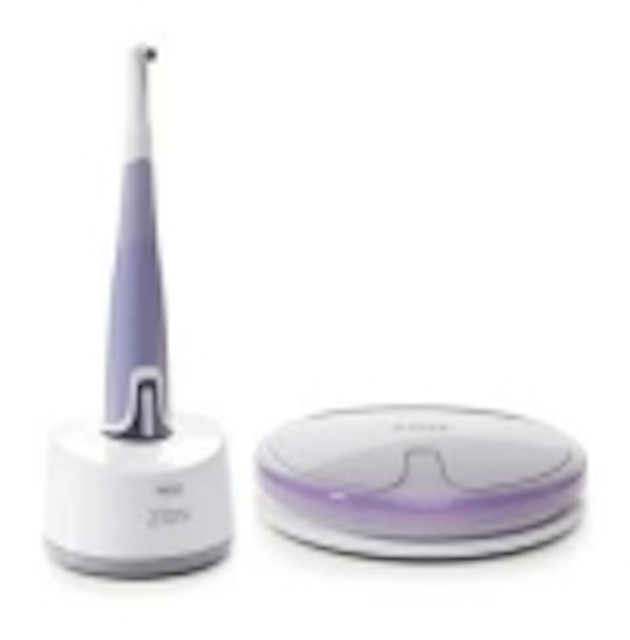 ZEN Cordless Prophy POLISHING SYSTEM from Discus –This is a powerful prophy polishing system that eliminates cord clutter and drag. It has a lightweight design, wireless foot pedal, and lithium battery that powers the ZEN all day. The autoclavable barrier shells and disposable angles simplify infection control. ZEN, which is 16 grams lighter than the market leader, gives hygienists the lighter handpiece that they have been looking for all these years. Order by calling (800) 422-9448 or visiting www.discusdental.com/zen.
STYLUS™ ATC from Midwest® – The Stylus™ ATC automatically optimizes power to eliminate stalling, and it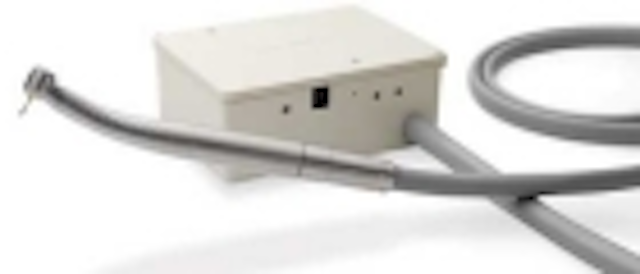 always provides the torque you need for procedure. I will let the experts at Midwest explain the technology. The Stylus™ ATC features a user-friendly design that is significantly lighter than electric handpieces. Contact Midwest to use the handpiece in your office for a week. I can almost guarantee that you won't want to give it up. Visit www.StylusATC.com.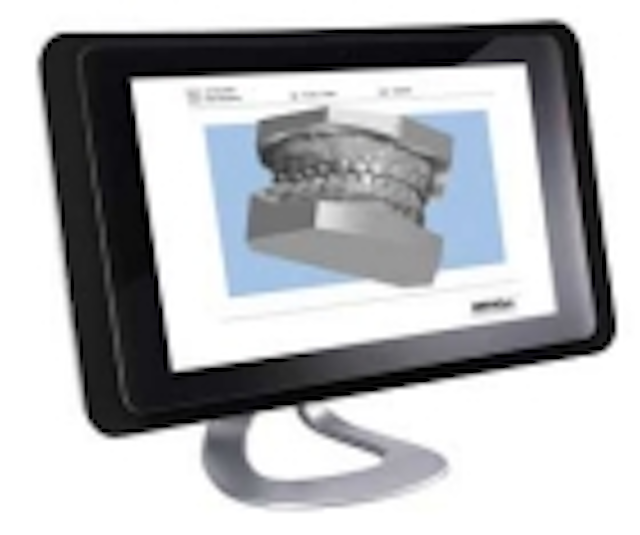 ORTHOpix 3D Digital Study Models from Appliance Therapy Group – These high-resolution study models are accurate with no chipping and no worry of dropping them. You can access models quickly and securely from any computer, eliminating the storage of all models while freeing up valuable office space. Models are safely backed up on the ORTHOpix servers for 15 years. Use a VPS impression material for greater accuracy. Call (888) 777-1945 or visit www.orthopix.com.
FluoroCore®2+ by DENTSPLY Caulk – FluoroCore®2+ has the best mechanical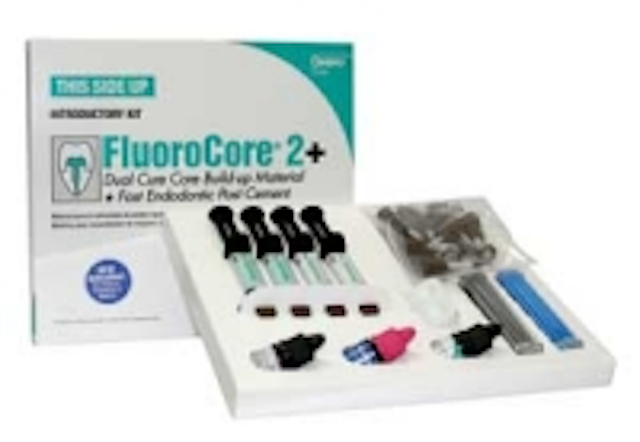 properties you need for a cement and build-up material, so my favorite build-up material has become my favorite post cement. Dual-cure for a quick initial set, it has the assurance of the final chemical set. FluoroCore®2+ has strong adhesion to dentin, a low film thickness, and high compressive, tensile, and flexural strengths. In addition, it contains a releasable fluoride. Visit www.caulk.com for more information.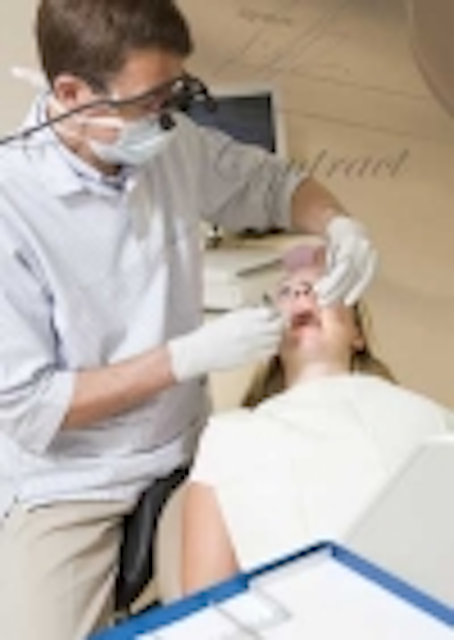 Dental Risk Management: The Doctor/Patient Relationship by IneedCE.com – This course is written by an acknowledged expert in dental lawsuits – Laurance Jerrold, DDS, JD. The nature of the doctor/patient relationship essentially forms a simple contract. There are legal ways to terminate a doctor/patient relationship. It is important to follow a number of steps, and to avoid being found to have abandoned a patient. Take a test for the course and submit it electronically for CE credits. Go to www.IneedCE.com for more information.
DemiPlus Curing Light with Periodic Level Shifting (PLS) by Kerr Dental – This curing light drives cool,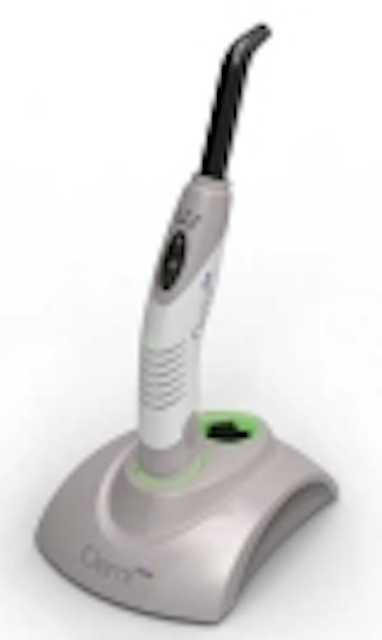 continuous high output for a true five-second cure for composite shades A3 and lighter without generating excessive heat. The light's exterior is Valox resin, made from 85% post-consumer plastic waste. The lightweight durable material is chemically resistant, impact resistant, and withstands temperature extremes. The first self-cleaning "cap and swipe" battery simplifies charging, and has a three-year warranty. Visit www.kerrdental.com/demiplus.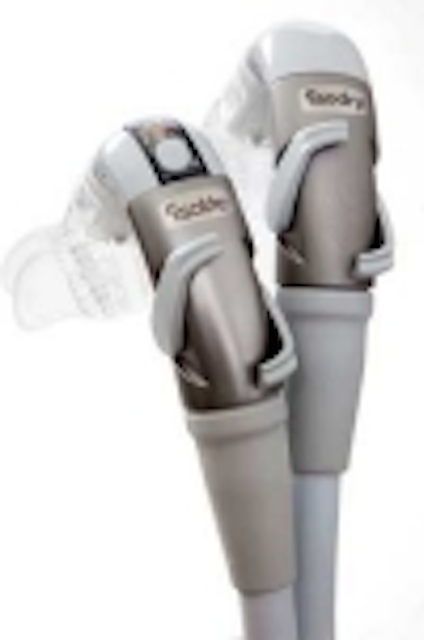 IsodryTi by Isolite Systems – I used a rubber dam for more than 40 years for isolation. When I first saw the Isolite, I knew I wanted one! IsodryTi comfortably retracts a patient's tongue and cheek, protects the throat, and keeps the mouth gently propped open with continuous suctioning via the supersoft Isolite mouthpiece, while you use your own external light source. You can try IsodryTi for 30 days, risk-free. Call (800) 560-6066 or order online at www.isolitesystems.com.
Z-PRIME™ Plus by Bisco – This is a single-component priming agent to enhance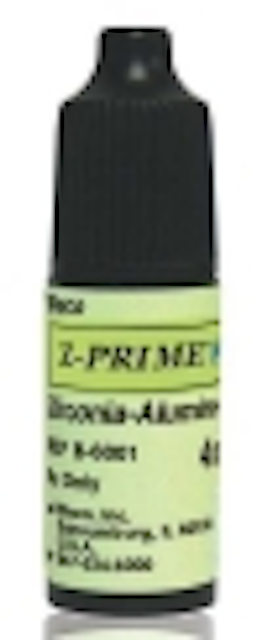 adhesion between indirect restorative materials and composite resin cements. It can be used as a surface treatment for zirconia and alumina metal oxide ceramics, as well as other types of metals/alloys, composites, and endodontic posts. Z-PRIME™ Plus has been specially formulated to provide high bond strengths in either self-cure or light-cure modes. It is a single-bottle delivery system. To order, call (800) 247-3368 or visit www.bisco.com.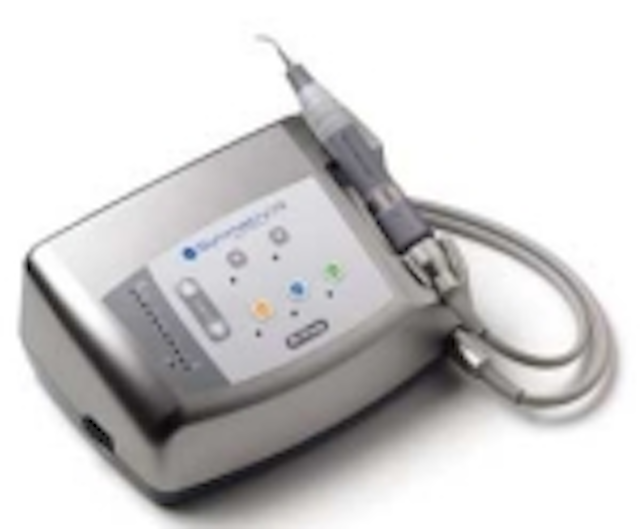 Symmetry IQ™ 3000 Multifunctional Piezo Device from Hu-Friedy – My hygienists have been using piezoelectric scalers for more than 15 years, and they will not switch. I gave them the Symmetry IQ to evaluate. They were thrilled with the user-friendly touchpad controls that have three color-coded, predefined power settings for a variety of scaling procedures. The unit has a smooth, easy-to-clean surface that makes infection control easy, and is combined with a comprehensive group of tip designs. Order from your dealer or visit www.hu-friedy.com or call (800) Hu-Friedy.
COMFORTdrive® from KaVo Dental – Many women dentists are challenged when using an electric handpiece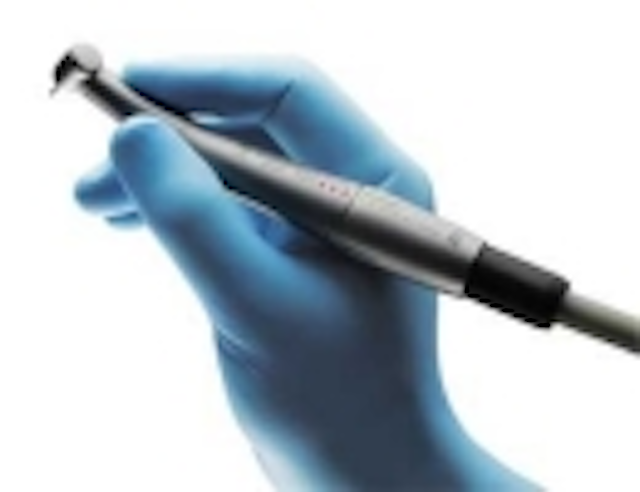 because their hands are small, and the handpiece is heavy and hard to balance. COMFORTdrive® features precise cutting performance in a lighter, shorter, and quieter handpiece. This product's patented design weighs approximately 40% less and is 15% shorter than other electric options. For balance, the integrated motor reduces the distal length after the pivot point in the doctor's hand. Call (888) ASK-KAVO or sign up for a demo online at www.kavocomfortdrive.com.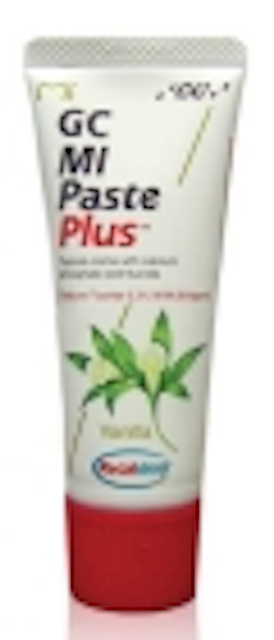 MI Paste Plus™ from GC America – This is the first product for professional use to contain Recaldent™ (CPP-ACP). MI Paste Plus™ adds fluoride to that mix to give the correct bio available ratio of 5:3:1 (calcium, phosphate, and fluoride) for enamel strengthening. It will recalcify and strengthen the enamel white spots or decalcification spots after ortho. It is great for hypersensitivity after bleaching or during the bleaching process so patients never experience sensitivity. MI Paste Plus™ can also be used to treat sensitive dentin in gingival erosion areas. Order from your dealer or visit www.gcamerica.com.
Racegel from Septodont – This new hemostatic material is easy to place and is atraumatic to
the gingival tissue. Due to its unique thermal effect, Racegel works in conjunction with the single cord technique. The oral temperature stiffens the material so it won't drip or run; it stays where you place it. The bright orange color is easy to see and rinses away easily with water. Racegel controls bleeding with 25% aluminum chloride, and is packaged in a syringe with a pre-bent tip. Order Racegel from your dental dealer or visit septodontusa.com.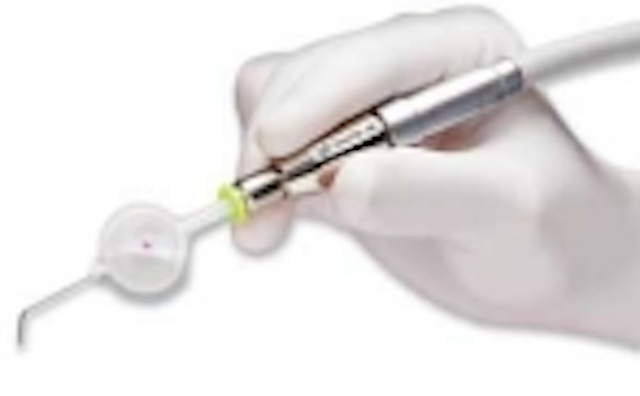 Sylc™ SmarTip by Osspray – Now rebuild damaged tooth structure while reducing hypersensitivity with Sylc Therapeutic Prophy Powder (powered by NovaMin technology). Sylc's formulation occludes open tubules while removing stains. It's sodium-free, so there are no high blood pressure contraindications or salty tastes. Sylc provides immediate and long-lasting relief from hypersensitivity in one treatment. With the Sylc™ SmarTip Prophy Therapy System, you can quickly convert to an air polisher. Visit www.osspray.com or call (866) 238-9902.

Iso-active™ technology by GlaxoSmithKline – The key benefits of the Aquafresh iso-active foaming gel are a reduction in the level of volatile sulfur compounds, 33% better whitening than a nonwhitening toothpaste, and removal of one-third more stain on interproximal sufaces. Aquafresh also has fluoride to protect against new cavities. The key benefit of the Sensodyne iso-active foaming gel is proven sensitivity relief, even in hard-to-reach areas of the mouth. Since it contains potassium nitrate, which is clinically proven to reduce the pain of sensitive teeth, it will provide sustained pain relief with continuous use. Visit www.dental-professional.com.
More DE Articles
Past DE Issues