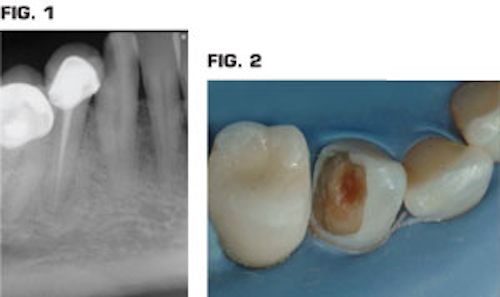 By Gordon J. Christensen, DDS, MSD, PhD
Q When do you suggest performing an indirect or direct pulp cap, endodontic treatment, or extraction? I'm often confused when making these decisions. I notice dentists do endodontics when preserving the vitality of the tooth looks possible if adequate indirect or direct pulp capping procedures were accomplished. I see many dentists extracting teeth that look quite salvageable, and placing implants. There do not seem to be any rules relative to which procedures are best and when to do them. Could you please provide some guidance?
A After many years of practicing dentistry (prosthodontics), I recognize that the longer I've practiced, the more conservative I've become. When a hard- or soft-tissue procedure has been accomplished, the result is usually not reversible. When enamel is removed or the dental pulp is extricated, the result is final. Occasionally, the aggressive approach is justified and better than a conservative technique, but very often the reverse is true.
Currently, patients have an average life span of about 80 years, with women living slightly longer than men. If aggressive procedures are accomplished in early adulthood or even middle age, failure of the treatment often requires redoing it several times before the patient dies. This reasoning has influenced my clinical techniques toward the conservative orientation and is directly related to your question.
To illustrate my statement, I will use a series of images demonstrating a clinical situation that could have been treated either very conservatively or very radically.
Fig. 1 is a periapical radiograph of a mandibular canine in a 40-year-old patient who has a large family and, in recent times, minimal financial resources. Fig. 2 shows the major part of the carious lesion removed with a significant amount of discolored hard dentin still in the tooth.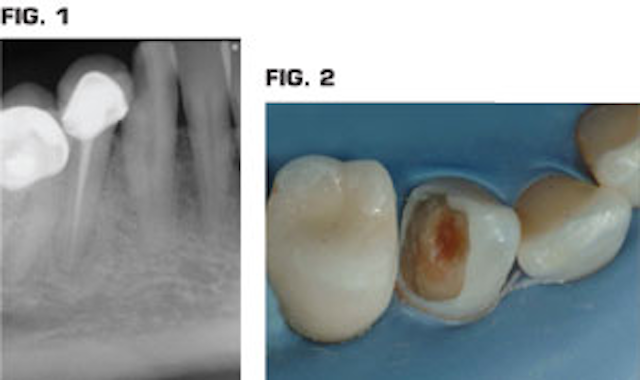 Numerous successful techniques could be considered for this tooth. Among them are:
If a pulp exposure was not encountered and hard discolored material is remaining over the pulp tissue, leave the discolored tooth structure in the tooth, place a disinfectant such as glutaraldehyde or chlorhexidine gluconate, place a liner over the deepest areas of the tooth preparation (I prefer resin-modified glass ionomer (Vitrebond Plus from 3M ESPE or Fuji Lining LC from GC) followed by a bonding agent, and finish the technique with the direct restoration of your choice. The odds for successful pulp recovery using this indirect pulp capping method are better than if a pulp exposure had been made.
Remove the hard discolored dentin while hoping not to expose the pulp, disinfect the tooth as suggested above, place a liner over the deepest tooth preparation locations, and place a bonding agent and the direct restoration of your choice. The odds for successful pulp recovery are better than if a pulp exposure had been made.
If a pulp exposure was encountered, decide if pulp capping is feasible (minimal exposure 0.5 to 0.75 mm with slow oozing of red normal-looking blood). If so, disinfect the tooth preparation as described above, place a pulp capping material of your choice (again, I prefer resin-modified glass ionomer), and place a bonding agent and a direct restoration of your choice. You should expect a reasonable chance of recovery and tooth vitality.
Continue removing discolored tooth structure until the pulp is exposed, accomplish root canal treatment, place a post-and-core buildup, and restore the tooth with a crown. The possibility for success is excellent if all of the procedures are accomplished correctly. However, the cost to the patient can be up to 8 or 10 times more than the treatments described in techniques 1 to 3 above.
Extract the tooth assuming too much tooth structure is gone, place an implant, and restore the tooth with a crown placed over the implant. The possibility for success is excellent. The cost to the patient is 10 to 15 times higher than techniques 1 to 3 above.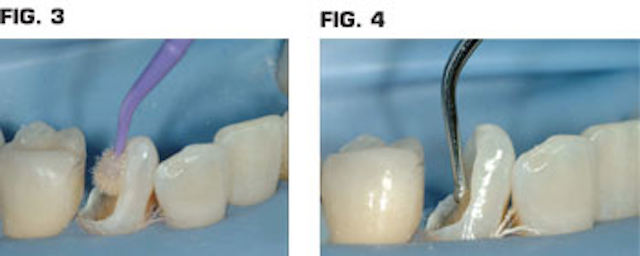 There are other options in addition to the ones cited here, but let's consider the ones I've enumerated, the specifics of my choices for the financially compromised patient I described, and observe the outcome of that conservative treatment.
Obviously, the more expensive treatments have better odds of success. However, as you know, many patients who do not have adequate discretionary money to spend on an expensive procedure will elect to have teeth extracted and have no replacement. The conservative treatment usually allows them to keep the tooth and risk the occurrence of pulpal death. They should be clearly informed about the potential future positive and negative expectations for the tooth.
For the patient described, we decided to carry out Option 1. The clinical details are described here:
The carious tooth structure was removed until hard but discolored tooth structure was still remaining as observed in Fig. 2.
A disinfectant/desensitizer -- MicroPrime G from Danville Materials -- was placed for two one-minute applications as researched by Clinicians Report scientists and described in the CR Foundation Report (Nov. 2009 Vol. 2, Issue 11) (Fig. 3). Using this material as directed kills the organisms present, and desensitizes the remaining dentin by "fixing" the collagen and plugging the dentinal canals.
A liner about 0.5 to 0.75 mm thick was placed over only the deepest portions of the dentin, not including any enamel (Fig. 4). The most popular liner is resin-modified glass ionomer, which bonds to the tooth, releases fluoride, expands and contracts similar to tooth structure, and reduces or eliminates potential postoperative tooth sensitivity (Vitrebond Plus from 3M ESPE, or Fuji Lining LC from GC). Currently numerous "bioactive" materials are being promoted by manufacturers as liners/bases. One that is gaining in popularity and dentist confidence is TheraCal from Bisco.
The remaining enamel cavosurface margins were beveled with a tapered diamond instrument (Fig. 5). The enamel margins only were etched with phosphoric acid gel (Ultra-Etch from Ultradent Products, Inc.), washed, and gently dried. As the washing with water was accomplished, the remaining glutaraldehyde was washed off the dentin not covered with the liner. Therefore, another glutaraldehyde application was rapidly made, and the excess was suctioned (not washed) off.
A bonding agent was applied to the entire tooth preparation, enamel, remaining exposed dentin, and liner. Current popular products are Scotchbond Universal from 3M ESPE, OptiBond XTR from Kerr, Peak Universal Bond from Ultradent Products, Inc., and Prime&Bond Elect from Caulk Dentsply. The bonding agent shown in Fig. 6 was placed eight years previously with the most popular product at that time, Clearfil SE Bond from Kuraray, which is still a very successful product. However, Kuraray now promotes Clearfil SE Protect as their most recommended bonding product.
The large tooth preparation was restored with incrementally placed Filtek Supreme from 3M ESPE as shown in Fig. 7. The initial placement and the clinical result after eight years of service are represented in Figs. 8 and 9, and the radiographic appearance at eight years is shown in Fig. 10. The tooth is vital, nonsymptomatic, and still serving well.
Many alternatives could have been accomplished for this patient. The patient and I elected to gamble on the long-term viability of the tooth. It survived. At this time, the patient still does not have adequate funds to place a crown, and she is satisfied to have the current restoration serve for more time. I see no reason to suspect that the restoration will fail anytime soon. When and if a crown is placed eventually, the tooth will be a vital tooth, and the patient will have received many years of service for a minimal amount of money.
Figures 5, 6, 7 on top row and 8, 9, 10 on bottom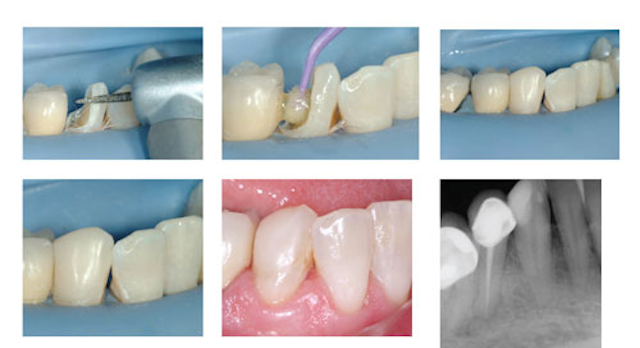 SUMMARY
As I have discussed, there are many ways to treat almost any clinical oral condition. Depending on numerous factors discussed here, a most adequate treatment for the patient's specific conditions becomes obvious. In the case described, a conservative plan was best. However, when finances are not a severe limitation, usually the more expensive alternatives are more predictable.
Gordon Christensen, DDS, MSD, PhD, is a practicing prosthodontist in Provo, Utah. He is the founder and director of Practical Clinical Courses, an international continuing-education organization initiated in 1981 for dental professionals. Dr. Christensen is a cofounder (with his wife, Dr. Rella Christensen) and CEO of CLINICIANS REPORT (formerly Clinical Research Associates).
In this monthly feature, Dr. Gordon Christensen addresses the most frequently asked questions from Dental Economics® readers. If you would like to submit a question to Dr. Christensen, please send an email to info@pccdental.com.
Conservative procedures are often more desirable than the more predictable and expensive alternatives for many reasons, including finances and patient desire for conservative treatment. Our recent video, Affordable Treatment of Complex Rehabilitative Needs (item V1964), shows how to treat typical patients with normal income, even though they have extensive treatment needs.
Practical Clinical Courses has two popular hands-on courses in Utah that offer practical and proven techniques and materials for patients you see every practice day.
Successful, Real-World Practice™ Restorative Dentistry
Successful, Real-World Practice™ Fixed Prosthodontics
Go to www.pccdental.com or call Practical Clinical Courses at (800) 223-6569 for additional information.
More DE Articles
Past DE Issues