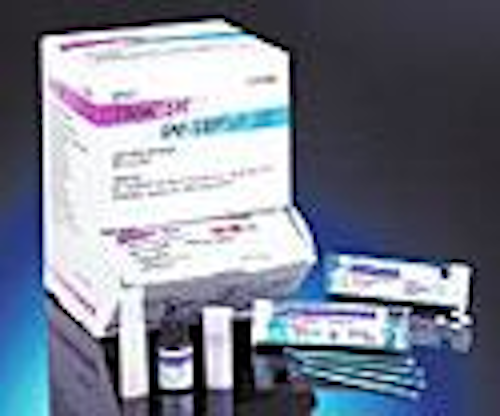 By Joseph Blaes, DDS
Pearl 1 - Tyrian™ SPE from Bisco.
Here is another entry into the wonderful group of adhesives that does not require the use of phosphoric acid and greatly eliminates our old nemesis -- sesitivity!
Tyrian™ SPE is a universal, no-rinse, self-priming etchant that combines the etchant and the primer application into one simple step. This material will eliminate your worries about whether or not uncut enamel has been etched.
Tyrian™ SPE achieves high bond strength to cut and uncut enamel and dentin. It is equivalent to bonds achieved with conventional phosphoric acid etch when used with One-Step® Plus. Since this system is not dependent on wet/moist bonding techniques, it will give you more predictable clinical results. There is no need to rinse the etchant before the adhesive application, so you will save time by eliminating that step.
Tyrian™ SPE is available in a nifty unit dose which, once activated, can be used for a long appointment or for multiple restorations. I definitely would recommend the unit dose, but it does come in a two-bottle system as well.
Place the purple-colored material with a microbrush and agitate it over the surface of the preparation for at least 10 seconds to make sure the entire surface is covered. The purple color will help you to visualize proper coverage of the preparation. Then, blot the preparation dry with a foam pellet. The color will disappear as Tyrian™ SPE is neutralized. Now, apply Bisco's One-Step® Plus adhesive and light-cure. You also can use Bisco's One-Step® or All-Bond® 2.
The Tyrian™ SPE and One-Step® Plus system can be used for direct restorations, cementation of indirect restorations, bonding of orthodontic brackets, and desensitization of hypersensitive and/or exposed root surfaces. Basically, there are no limitations.
Visit www.bisco.com for more information, or call (800) 247-3368 to order.
Pearl 2 - RelyX™ Veneer Cement by 3M™ ESPE™. This new product has some unique propert
The catalyst can change the color of the base material over time. What a shock when the patient returns in three months complaining that the shade of his new teeth is darker. A major benefit of RelyX™ is color stability!
3M™ ESPE™ has incorporated a high-efficiency photo initiator into the system that causes the cement to cure more quickly. So, another major benefit is time savings!
The cement has a nice consistency, which flows as you seat the restoration and stops flowing once it is seated. This lets you feel the positive seat, but prevents the drift of the restorations once they are placed. You can tack the veneers by using a "wave" technique with the curing light. This involves waving the light across the facial of the veneers for five to 10 seconds and then removing the excess material. Since I do not like to saw teeth apart, I floss all contacts to remove excess cement and prevent bonding teeth together. I don't use try-in paste in my technique, but 3M™ ESPE™ has the best try-in paste on the market. It has the best match of base shade on the market, and it is water-soluble. The kit comes with an uncomplicated shading system of six shades. Another major benefit!
If you are looking for the ideal veneer cement, look no more! Order some 3M™ ESPE™ RelyX™ Veneer Cement. Visit their Web site at www.3MESPE.com, or order from your dealer.
Pearl 3 - PerioGlas® from The John O. Butler Company. I know that you are accustomed to ordering
I believe that the preservation of the pontic site after a tooth extraction should be the responsibility of the restorative dentist. In my practice, when I referred patients for extractions, most of the time they would return with a great loss of bone from the surgical procedure. This results in an undesirable pontic site. The patient must go through another surgical procedure to rebuild the site. All of this could be prevented so easily by using PerioGlas®. Indications for use are the following:
Treatment of extraction sites to preserve bone
Ridge augmentation
Treatment of infrabony pockets caused by periodontal disease
Preparation of bone for implants
Sinus lifts
PerioGlas® will bond to both bone and soft tissue. I have tried many bone-grafting products and have found this one to be the easiest to use. It takes only seconds to prepare.
The broad particle-size range optimizes handling and restorability. PerioGlasRegistered is hemostatic and will not float out of the defect site that you are treating. It is shipped sterile in its own mixing cup. I add four to six drops of the patient's own blood to the PerioGlasRegistered in the mixing cup and mix them together. Then, I use a sterile sponge to blot the excess. I pick up the material with a large, flat-end instrument and carry it to the defect. It will not slip off the instruments. Next, I fill the defect and then slightly compress the material with a cotton roll. PerioGlasRegistered remains in a workable condition for two to three minutes. The result is a defect that quickly fills in with new bone (in eight to 12 weeks).
For more information or to order, visit Butler's Web site at www.jbutler.com or call (800) JBUTLER.
Pearl 4 - Incisal Shaping Instrument by Brasseler USA. How many times have you wanted to change the
This diamond will quickly, easily, and precisely place the proper curvature to give the best appearance to the teeth. I use it following orthodontic therapy to assure that the patient has the best-looking anterior teeth. It really comes in handy after I have placed some anterior veneers. The best cases have rounded, symmetrical incisal embrasures, and establishing these is a "piece of cake" with the Incisal Shaping Instrument. It also can be used to give you perfect embrasures when you are doing a direct Class IV composite.
It comes in two configurations: Right angle (Order No. 8926A.21.100) and A Straight angle (Order No. 8926A.11.100).
For more information, visit www.brasselerusa.com. To order, call (800) 841-4522.
Dr. Blaes has a general practice in the St. Louis area. He is known for his expertise in dental materials and techniques and his innovative systems designs. He writes and lectures on "How To Increase Productivity and Profitability." Dr. Blaes is a member of the American Academy of Dental Practice Administration. He may be reached at joeb@pennwell.com.