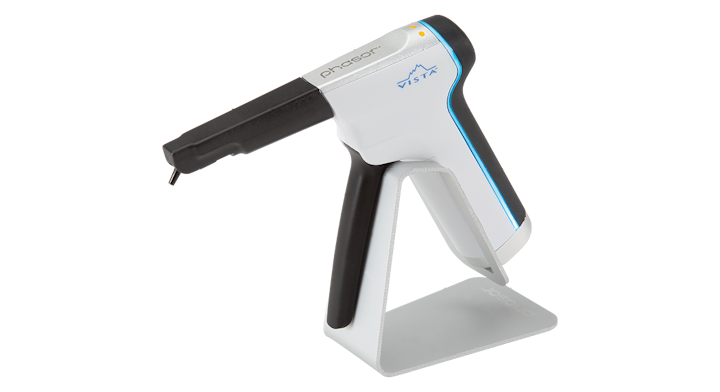 Phasor composite warming system by Vista Dental Products
Heating composite is not a new idea. Over the years, several devices have offered clinicians the ability to warm composite to make it more flowable. Heating the composite makes it less thixotropic and therefore allows for quicker placement of the filling material in larger incremental layers. This is useful in the new era of bulk-fill composites. Heating the composite also increases polymerization with the benefit of better adaptation to the cavity walls.
The Phasor composite warming system from Vista Dental Products is worth trying for two reasons: First, it has the unique ability to warm any unit-dose or preloaded tip composite compule to approximately 150°F in about 45 seconds. Second, the composite is warmed continuously while in the dispensing unit at the push of a button. Phasor uses a near-infrared technology to heat the composite right at the tip of the unit dose, so optimal temperature is maintained throughout delivery. 
The Phasor unit is cordless, nicely balanced, and lightweight. Less hand pressure is needed to exude the material because the heat increases its flowability. Once the heat is terminated, the composite can be easily sculpted. Finally, do not be concerned about the heating of the composite, as the heat generated by the warmed resin will not affect the pulp, only the composite resin. Phasor is one of several innovative products from Vista that help us to provide optimal care for our patients. 

Evanesce Flow composite by Clinician's Choice
The term evanesce means to gradually disappear or vanish. Such is the characteristic of Evanesce Flow by Clinician's Choice, which can be used as a base/liner and is quite useful for esthetic, minimally invasive restorations, both in the anterior and posterior. This material has been designed to complement the shades of Evanesce composite resin and blend well with the natural dentition. There are four enamel shades (A1, A2, A3, and B1) and one dentin shade (A2), as well as two universal shades (A4 and BL1).
When placed, the material flows easily when placed without any pullback or slumping. Like Evanesce composite resin, Evanesce Flow has very low shrinkage (only 3.6%), has a high filler content (62% by weight and 48% by volume), and is highly radiopaque (200% Al). Evanesce Flow is a great material for use in Class V restorations and strong enough to stand alone in small Class I and II restorations. I especially like it in small pediatric restorations, and it polishes quite well.
With that said, I also find it quite useful as a base/liner in my posterior restorations, where it helps to prevent post-op sensitivity due to its low shrinkage. Using it in conjunction with regular Evanesce composite provides a highly esthetic restoration.


LuxaCrown provisional restorative material by DMG America
We all strive to deliver our crowns in a timely fashion—generally within one to two weeks—and, in the interim, to protect our patients and preparations by making a good provisional restoration. There are instances, however, when we need to provisionalize for a longer period of time. LuxaCrown by DMG America allows us to provide the patient with a chairside option for longer-lasting temporization that is semipermanent and provides long-term protection, while restoring the form and function to the tooth.
Whether it is for long-term healing, correcting vertical dimension, or esthetic corrections, LuxaCrown is an incredibly durable material. LuxaCrown is a great solution for multiple indications, such as crowns for primary teeth, postendodontic therapy, temporaries for implant crowns, and even in treating patients who suffer from bulimia and chronic bruxism.
LuxaCrown is fabricated in the same simple manner as LuxaTemp Ultra. The distinct advantage here is that, in one visit, you can provide the patient with a strong, esthetic, quasi-long-term provisional that can be worn for up to five years, according to the manufacturer's in-vitro testing. LuxaCrown is an automix material in 50 mL cartridges that can easily provide about 36 single units and 24 three-unit bridges. It uses the same 10:1 dispensing unit as LuxaTemp and is available in eight shades: A1, A2, A3, A3.5, B1, B3, C2, and D2.
If the occasion arises where either a long-term, strong, esthetic provisional or an alternative to a "permanent" crown made chairside is indicated, look no further than this unique material made by DMG, which is known worldwide for providing excellence in provisional restorations.