At home with the Yuans
Faith takes their work across the globe, but at thome near Chicago, the Yuan family prefers a much smaller commute to heal bodies and souls.
Dec 1st, 2004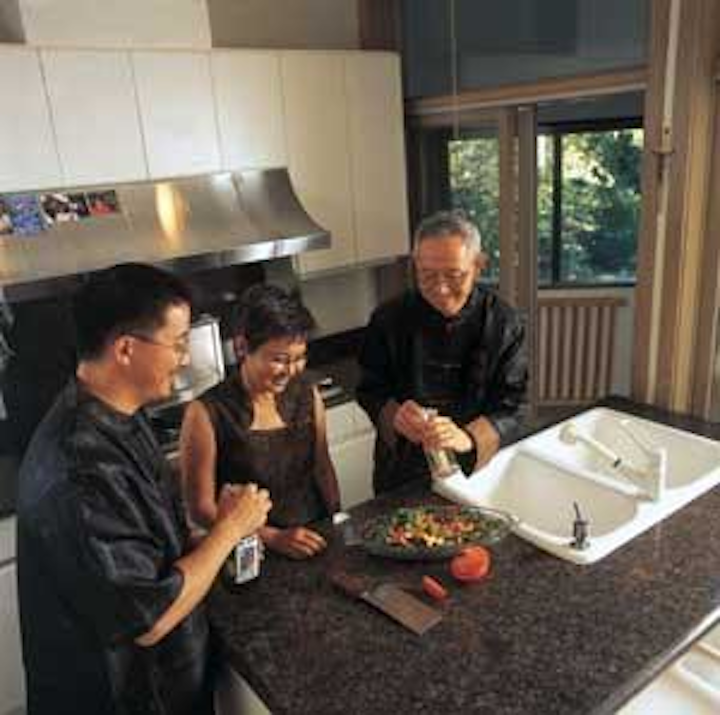 by Kristen Wright, Assistant Editor
Dr. Leon Yuan (pronounced "Ewan") might have the shortest business commute in the Chicago area - it's about six seconds, give or take.
Ten years ago, Dr. Yuan and his wife of 39 years, Angela, built a home dental office in Westmont, Ill., 30 miles -southwest of the Windy City.
"The home-office setup is most ideal for us," Dr. Yuan says, "first because it suits our personality and our purpose in life. Second, since our overhead is much lower as a home office, we are able to offer our patients high quality and fair prices, and we have more time to serve others."
The Yuans' 2,300-square-foot space incorporates calming design elements used for centuries throughout the Orient, such as an indoor atrium that houses a Japanese koi pond, waterfall, and lush plants that bloom year-round.
"I was born in Hunan, China, in 1940 on June 25, according to the Chinese lunar calendar," Dr. Yuan says. "I lived in China until I was 9 years old, when my family fled to Taiwan during the Communist Revolution."
He graduated from Taiwan's Tunghai University in 1963 with a bachelor's degree in chemistry, then moved to the United States to further his education. Angela was his college sweetheart.
"I arrived in New York City on Oct. 30, 40 years ago," Dr. Yuan says. "I had never heard of Halloween, and boy, was I in for a surprise the very next day!"
From there, Dr. Yuan headed to New Jersey. He earned a doctorate degree in physical and polymer chemistry in 1970 from Steven's Institute of Technology.
"After I graduated, I did research for a few years," he says. "Then, in 1973, I began to teach biochemistry at Loyola School of Dentistry in Illinois. At Loyola I was directly exposed to dentistry, and then I became interested in the profession. So at the ripe age of 35, I began my dental career. My classmates affectionately called me a 'senior citizen.' I graduated with a DDS in 1979."
The Yuans have two sons, both of whom attended dental school. Steven, 37, works as a dentist. Christopher, 34, is pursuing a career in ministry. He attends Moody Bible Institute and will graduate with a degree in the Bible and a minor in music. Christianity plays an important role within the family.
"I became a Christian 11 years ago, and since then my ambitions have changed," Dr. Yuan says. "My ambition is to use the gifts God has given me to help others."
Dr. Yuan works alone out of one operatory. Angela greets patients, invites them to wait in the living room, and oversees the business side of the practice.
"My wife is not my staff, but my lifelong partner," Dr. Yuan says. "I make the big decisions, and she makes the small decisions. You might ask, 'Who decides what a big decision is and what a small decision is?' Well, of course, that's a small decision. Actually, neither one of us sees ourselves as the boss because God is our boss."
The Yuans work two or three days a week treating about 20 patients during that time. Patients waiting in the living room may listen to Christian music, peruse the Bible, or play the Yamaha Disclavier grand piano, which also can play by itself. Others choose to relax on rattan furniture in the atrium and listen to the waterfall.
"Our patients tell us that a visit to our office is truly a feast to their senses," Dr. Yuan says.
Dental procedures he enjoys include fixed prosthodontics and endodontics. The former clinical associate professor in the Department of Fixed Prosthodontics, Loyola School of Dentistry, also performs full-mouth reconstructions. His practice's mission is restoration of body and soul for time and eternity.
"Our office is very special because we look beyond teeth and see a person with many of the same needs that you and I have," Dr. Yuan says. "Let me illustrate this with something that happened not too long ago. A patient called me late one evening. She was crying and explained to me that her husband was in intensive care for internal hemorrhaging from an accident. She wanted someone to pray for her husband - who also is a patient of mine - and she thought of us. Not only did I pray with her over the phone, but I visited him several times while he was in the hospital. As a matter of fact, my wife and I pray in the morning for every patient who will walk through our doors that day," he says.
The Yuans don't limit their prayers to domestic causes. In 2000, the couple spent two weeks in Bogotá, Colombia, providing dentistry to orphans, school children, and prisoners as part of the Christian Medical and Dental Association. And this past summer, they and Christopher spent five weeks in South Africa and China with Operation Mobilization, an international Christian relief and aid organization.
"In South Africa we worked mainly with people with HIV and AIDS," Dr. Yuan says. "Most of the children there were orphaned because both parents had died from AIDS. The Lord has richly blessed our family, and my ambition is to seek out more opportunities where we can serve others, here in the states and internationally."
The Yuans' domestic contributions include founding Illinois Chinese American Residence for the Elderly, or --I-CARE, a -non-profit organization that owns a 60-unit, low-income retirement apartment building.
"I-CARE gives dignity and independence back to our elders," Dr. Yuan says. "Many senior citizens would otherwise be without homes or dependent upon their children. We often go there to spend time. It's a way my wife and I can give back. The residents treat us like their -family. And Christopher, my wife, and I all have a special license to drive I-CARE's bus to take them for weekly shopping and field trips."
In addition to volunteer work, the Yuans enjoy working out three to four times a week and maintaining a healthy diet. They are members of Bible Study Fellowship International.