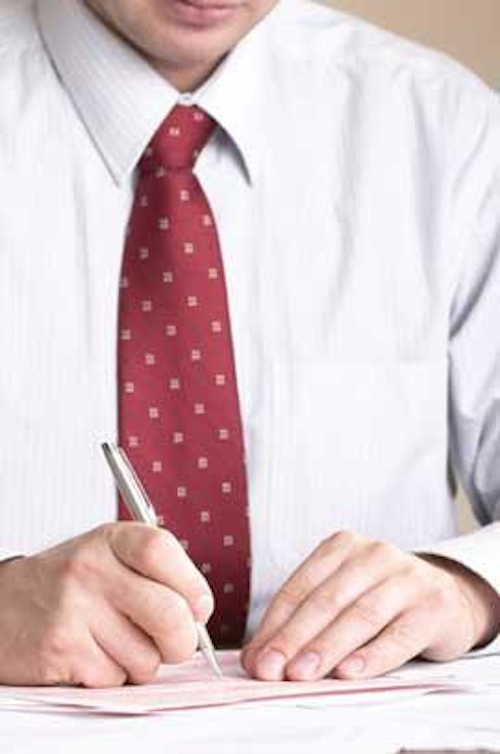 by Charles D. Samaras, DMD, FICD, FACD
For more on this topic, go to www.dentaleconomics.com and search using the following key words: dental insurance, malpractice insurance, disability insurance, life insurance, workers' compensation insurance, facility insurance, Dr. Charles Samaras.
Most dental students don't learn much about dental insurance. Often they only start to understand the workings of patient benefits (insurance) as they progress through their early years of dental practice. In fact, it takes a while before new dentists actually grasp the concept of patient dental benefits as opposed to dental insurance. The truth is that dental insurance does not insure the patient for anything. It's really just a benefit from an employer to an employee to help pay for dental services.
However, there are several types of insurance new dentists must thoroughly comprehend, acquire, and implement that actually do insure against circumstances that could cause professional and personal financial pain. I call these the "nondental" insurances.
As a new dentist, you need to be aware of all of the available and necessary insurances, such as what they are, how to acquire them, where to acquire them, how much they cost, when to implement them, and how they will protect you from professional, personal, and financial disaster. The point I want to make to all new dentists is that if you wait until you need the insurance, you will not be able to buy it. All of the policies presented here should be in place before you need them.
The Big 3
Malpractice insurance
Before a new dentist starts practice, there are three types of insurance he or she must have in place. The first is malpractice insurance. To obtain malpractice insurance, a dentist must have a valid license to practice dentistry, as well as a completed application for a policy. A policy can usually be written in 24 hours.
There are two types of malpractice (or professional liability) policies a new dentist can choose. One is a first-year claims policy that can cover the dentist for claims of $1 million to $3 million and is often available at a discount rate. It must be noted that policy fees vary from state to state, region to region, and in metropolitan and rural areas.
The average fee for a first-year commercial policy for a recent graduate is $300 to $400 per year. After five years, the fee will increase to about $2,000 per year. If a new dentist has a claims policy, he or she will have to purchase a tail policy, which covers claims made after the dentist retires for incidents that occurred during practice.
The second type of malpractice insurance is occurrence. This is different from the claims policy in that it covers claims made during practice and after retirement. This policy is often offered to first-year dentists at a reduced rate, about $1,100 to $1,200 year. That increases in year five to about $3,000 per year.
Again, rates are significantly higher in large metropolitan areas, etc. Most companies that provide malpractice insurance offer a 5% discount on the yearly premium if a doctor participates in an annual risk-management seminar.
Call your state dental society to find out where to buy professional liability insurance. They will have a list of endorsed professional liability companies or carriers. Some companies provide additional liability coverage for several states, though at least half the time the policy is written for the state in which you practice. It should also be noted that dentists own some of these companies.
One more suggestion regarding professional liability insurance: inquire if you can add additional coverage, such as wrongful employee dismissal and sexual harassment claims, to your malpractice policy. It will increase the cost of your annual premium, but it is well worth it.
Disability insurance
The next insurances you must have in place before you practice are disability and life insurance, which you should also have while you are a dental student. Every dental student can become a member of the American Student Dental Association (ASDA), which provides benefits. For example, every ASDA member is eligible for up to $2,000 per month of disability benefits with guaranteed acceptance and convertibility once he/she begins full-time practice.
This policy requires no medical exam, has special discounts for ASDA members, and has flexible payment options. The rate for this benefit is as little as $60 per year. Also, ASDA members will have a free $50,000 term life insurance policy and $50,000 accidental death benefits, with no medical exam required. As with the disability insurance, there is a guaranteed option to renew coverage and obtain extra coverage as needed.
If you do not have disability and term life insurance policies as a dental student, it is paramount to acquire them as soon as possible. My advice is to buy as much as you are allowed or can afford because, as I stated, when you really need insurance coverage and do not have it, you will not be able to get it. However, once the policies are in place, they can only be taken away if you fail to pay the premium.
The only caveat is that there is generally a waiting period for the policies to take affect which range from 30 to 180 days. Generally, the longer the waiting period, the less the premium. In addition, make sure that your disability policy includes the term "own occupation." This ensures that if you are to become disabled and unable to practice dentistry, you would be able to earn an income in another capacity while still collecting your disability benefits.
So how much disability insurance should you have? The answer is based on how much coverage you can purchase from the insurance companies. For example, the maximum disability benefit a dentist will be able to purchase ranges from $10,000 to $15,000 per month. To qualify for that high of a limit, the dentist needs to have an annual income of at least $300,000.
The more likely scenario for a new dentist aged 26 to 28 would be a $5,000 per month benefit. The policy includes a residual plan option, future increase option, and premium of about $555 per year when purchased through the American Dental Association (ADA). (Great-West Life underwrites and administers the ADA Insurance Plans.)
In fact, the ADA plan will provide up to $4,000 per month without any income history. The ADA disability insurance pays benefits up to age 65. Policies from other companies pay benefits for as few as two years and some pay for life. It is advisable to purchase an additional disability policy through an insurance company endorsed by your local dental society.
The rules and benefits could be the same or different, but the premium is considerably higher — around $1,400 per year. Knowing what I know now, I recommend buying more than one policy (subject to policy and federal maximums) because no matter how much benefit you receive from one policy, it may not be as much as you can make from practicing dentistry.
Life insurance
Life insurance is a must, especially if you have or plan to have a family. The most affordable option for the new dentist is term life insurance, for which a medical exam is required. There are restrictions on how much life insurance can be purchased; however, the most likely scenario is that if you are between 26 and 30, you will want to purchase a policy with a death benefit of $1 million. When purchased through the ADA Term Life Plan, a $1 million policy, renewed annually, with optional accidental death coverage and an optional waiver of premium coverage, can be purchased for about $245 per year based on 2008 rates.
It should be noted that the first $100,000 is offered at a 50% discount for the first three years post graduation if coverage is obtained during dental school. That's a bargain compared to a policy from a private insurance company, which can cost over $800 per month.
One thing to note: with private insurance companies, the premium may initially cost more, but it provides the ability to lock into a rate for 10, 20, or 30 years. Just be absolutely certain you will not require the insurance longer than the term you lock into as the premium cost could go up as much as 10 to 30 times the initial premium. Another interesting point about private insurance companies is that term life insurance for women costs considerably less than men (because women live longer).
The opposite is true when it comes to purchasing disability insurance from a private insurance company: the premiums are higher for women than for men (because women file more claims for injuries). However, all ADA policies offer unisex rates that are traditionally lower than other private underwriters, regardless of gender.
It must also be noted that when a new dentist wants to purchase a bank loan, transition into, or start up a practice, the bank will insist that he or she have adequate life and disability insurance policies to secure the loan. The ADA and Great-West can assist in this process.
The bottom line is: you must obtain both disability and term life insurance policies as soon as possible because you never know when you might need them. You must protect yourself, your family, and your earning potential.
Once you have these policies, they cannot be taken away from you regardless of your medical condition as long as you pay the premiums and satisfy all eligibility requirements. And if you don't think you need them, think again! Since I graduated from dental school 26 years ago, four of my classmates have died and more than eight have some type of disability.
Other Insurance
Workers' compensation insurance
Additionally, there are mandatory insurance policies for new dentists who own or are partners in a dental practice. The first policy is called workers' compensation insurance, and is required by all 50 states. This provides employees with financial compensation for lost wages due to harm or injury resulting from performing their duties at your dental office. The amount of workers' compensation insurance is based on the dollar amount of your payroll. Generally speaking, the cost of your policy will be based on 40 cents per $100 of payroll per year. Therefore, if your total payroll per year is $100,000, then your premium will be about $400 to $600 per year. To obtain this insurance, you must have a Federal Tax ID number. Again, you should contact your state dental society for their endorsed insurance carriers. Most likely, workers' compensation insurance will be underwritten by a private insurance company.
Facility insurance
The second mandatory insurance for a new practice owner/partner is facility insurance, which covers replacement of equipment and supplies that are damaged or lost due to fire, flooding, etc. This is basically like a homeowner's policy for the office. How much insurance you require depends on whether you own or lease the property and what equipment and technology you want to insure. The best course of action is to valuate what it would cost if you had to replace everything, including the actual office if you own it. Generally speaking, these policies are cost effective; you could probably obtain this policy for as little as $1,000 per year from the same insurance company that provides your professional liability, or from any private insurance company.
Office overhead insurance
New dentists who own a practice should consider buying office overhead insurance, which covers the monthly expenses of supplies, rent or mortgage, equipment loans, etc., if the dentist cannot work due to injury or illness. This insurance is extremely cost effective for the new dentist not only in its affordability, but also in the fact that it will satisfy most lenders' requirements for disability loan collateral. The added cost effectiveness lies in the fact that this insurance is less expensive than disability income insurance. For example, a 28-year-old dentist who purchases a policy with a monthly benefit of $15,000 can pay as little as $190 semiannually (based on ADA policy rates in 2008). This is quite a deal. I know that new dentists don't think of this, but as a 26-year dental veteran, I can say from experience that it is very likely that many dentists will be out of action for an extended time because of injury or illness at least once during their dental career. I have been out for one month or more three times in 26 years, and the office overhead policy more than paid for itself. One of the best and most competitive policies can be purchased through the ADA and Great-West.
Conclusion
Most new dentists don't think about "nondental" insurance when embarking on their careers. Yet it is crucial that they assess their current and future needs to make sure they have the necessary insurance policies in place that will protect them from unforeseen illnesses, injuries, and accidents that could jeopardize their professional, personal, and financial well-being.
For more information on the policies discussed in this article, contact the ADA at (800) 621-8099 or Great-West at (888) 463-4545 or go to www.insurance.ada.org.
Note: This article does not constitute legal advice. Please seek professional input as appropriate to your situation.
Dr. Samaras is a graduate of Tufts University School of Dental Medicine and has practiced dentistry for more than 26 years. He is a fellow of The American College of Dentists and The International College of Dentists. Dr. Samaras also served as the Director of Practice Management at Tufts Dental for nine years, as well as an associate clinical professor. Cofounder of 21st Century Practice Solutions, he lives in Pinehurst, N.C., with his wife and two daughters.