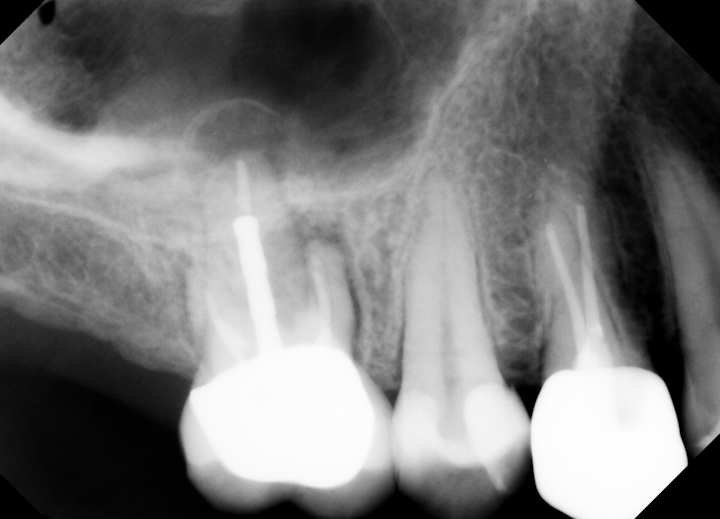 Coauthor: Brady Frank, DDS
Editor's note: This article is part four of a six-part series on how dentists can benefit from the immense change that implant dentistry has brought to the profession. Parts one, two, and three of this series appeared in June, July, and August, and may be found on dentaleconomics.com. Part five will appear in October.
---
As DSOs continue to change the entire dental market, enterprising dentists are taking advantage of the current market conditions and adding multiple streams of income to their practices and dental investment portfolios. As decentralization continues to occur, this is most apparent in the burgeoning implant niche dental submarket. Implant dentistry has traditionally been a side of general dentistry that required a tremendous amount of investment on the part of practitioners. From continuing education courses in distant parts of the country, to the infrastructure and armamentarium purchases, implant dentistry demanded a total commitment on the part of general dentists. 
As such, the investment of implant dentistry was naturally passed down to patients. In order to make the investment worth the time, energy, and expense, the fee for every part of an implant procedure was set at levels to recoup the costs and produce income for the clinician. 
This cost, in the eyes of patients, was often perceived as being too high for their budgets. This led to thousands of patients being unable to afford the treatment and thousands of general dentists unable to focus on the implant side of their practices. No one was happy with that stalemate.
As time has progressed, many manufacturing costs have come down. The quality has increased, along with prices coming down relative to quality. This has allowed more dentists to use these products, which in turn has forced further innovation and price decreases. Observe any item in dentistry and it is plain to see that there are suitable, and in many instances superior, items that are no longer "name brand." 
Implant quality and pricing have finally achieved this level in the marketplace. No longer do the traditional implant company giants have exclusive rights to the manufacturing of quality dental implants. They have reached a level of industry commoditization where the price is now the limiting factor, not the product itself. 
The technological age of dentistry has benefited implant clinicians with reduced costs for continuing education, armamentarium, infrastructure, and the implants and components themselves. In turn, the dental implant fees charged to patients have been reduced, which means more people are able to get implants to replace their missing teeth. Patients are benefitting from higher quality implant dentistry, and dentists are enjoying the increased opportunities to deliver the modern standard of care for missing teeth. Greater implant volume equates to more revenue and more net profit due to lowered overhead costs. Clinicians are choosing to upgrade their businesses in this manner.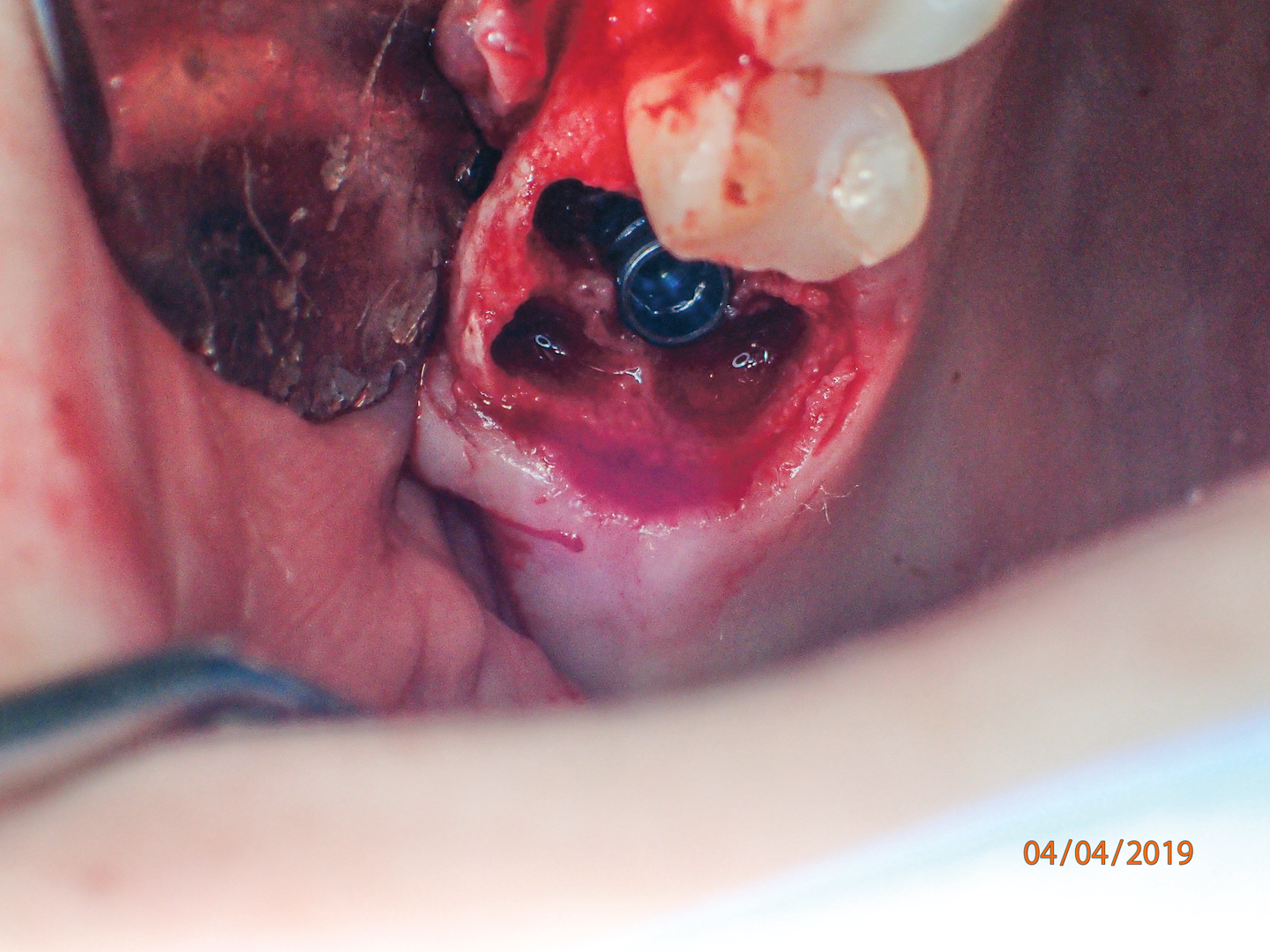 Figure 2: Postextraction reveals a buccal defect due to the necrotic extracted tooth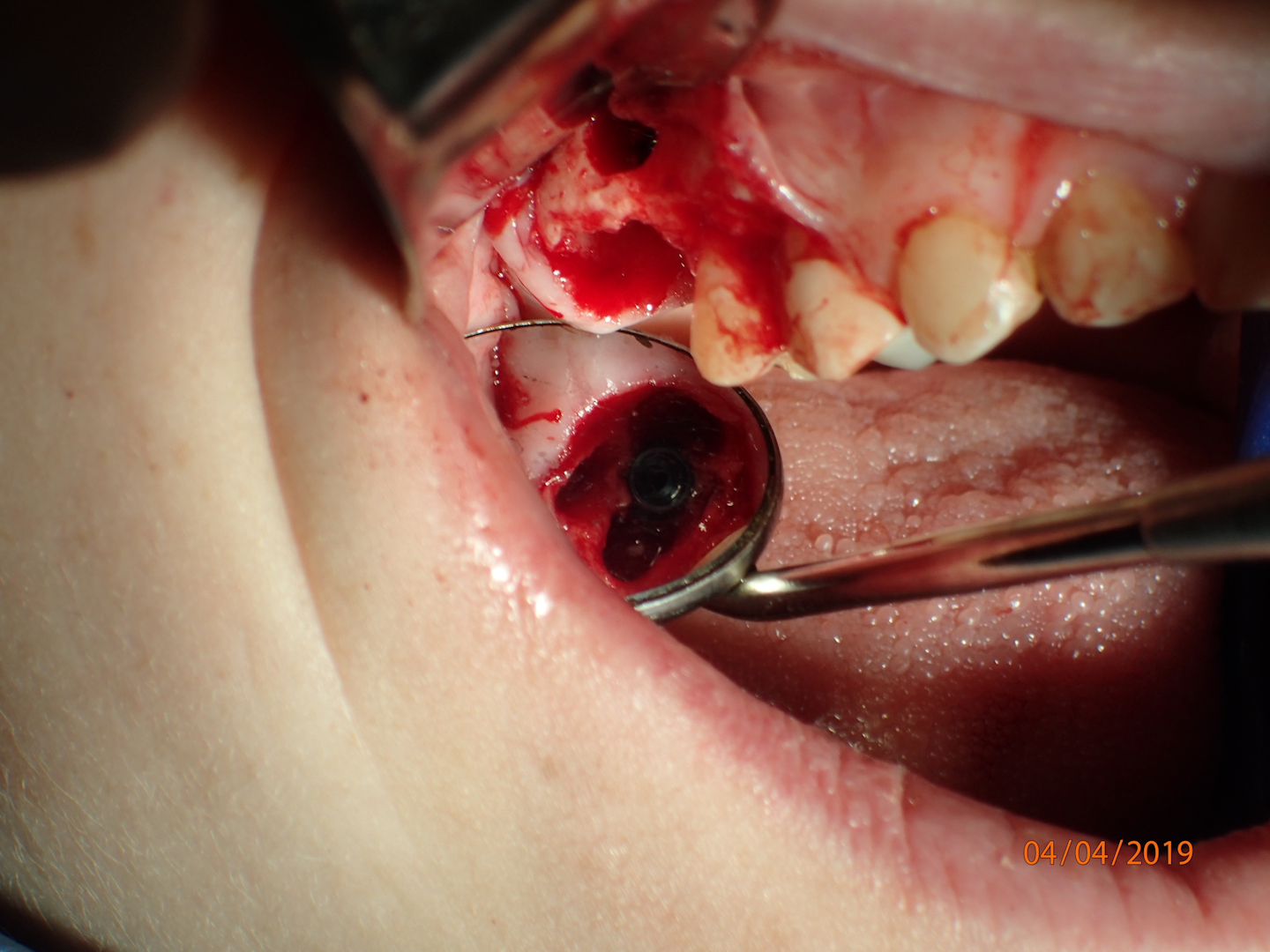 Figure 3. Implant was placed in the septal area and grafting was placed to insulate the implant from the buccal defect. A slight internal sinus bump was performed as the implant was inserted via the rounded end of the implant and aggressive threading which allowed for high primary stability (MorsTorq: IH Biomedical).

As direct implant costs have gone down, the simplification and efficiency of many implant procedures have contributed to what many are calling the "golden age of implant dentistry." The advent of short implants—and research articles backing the success rate of short implants—has reduced the need for more extensive grafting procedures. This is one clinical area that has allowed more general practitioners to place more implants due to the simplified sinus-area procedures. In areas of 6 mm or more of maxillary bone height, clinicians are able to provide a minimally invasive sinus bump and achieve bicortical stabilization. Implants such as the iHex and MorsTorq were designed with a rounded end to safely provide this procedure. The taper of these and similar systems also protects the implant from being lodged apically into the sinus cavity, thus making it user-friendly for beginner to intermediate implantologists.
A 2012 article in the International Journal of Maxillofacial Surgery titled "Direct vs. indirect sinus lift procedure: A comparison" provides insight into the benefits and limitations of an open versus a closed, more simplified technique. In the age of minimally invasive procedures, many will be happy to note that the indirect procedure is performed at the same success rate as the open technique. Of note, the article states, "There was no significant difference in pain, swelling, stability, and gingival status between both direct and indirect sinus lift procedure. Increase in bone height was significantly more in direct sinus lift procedure than indirect sinus lift procedure."1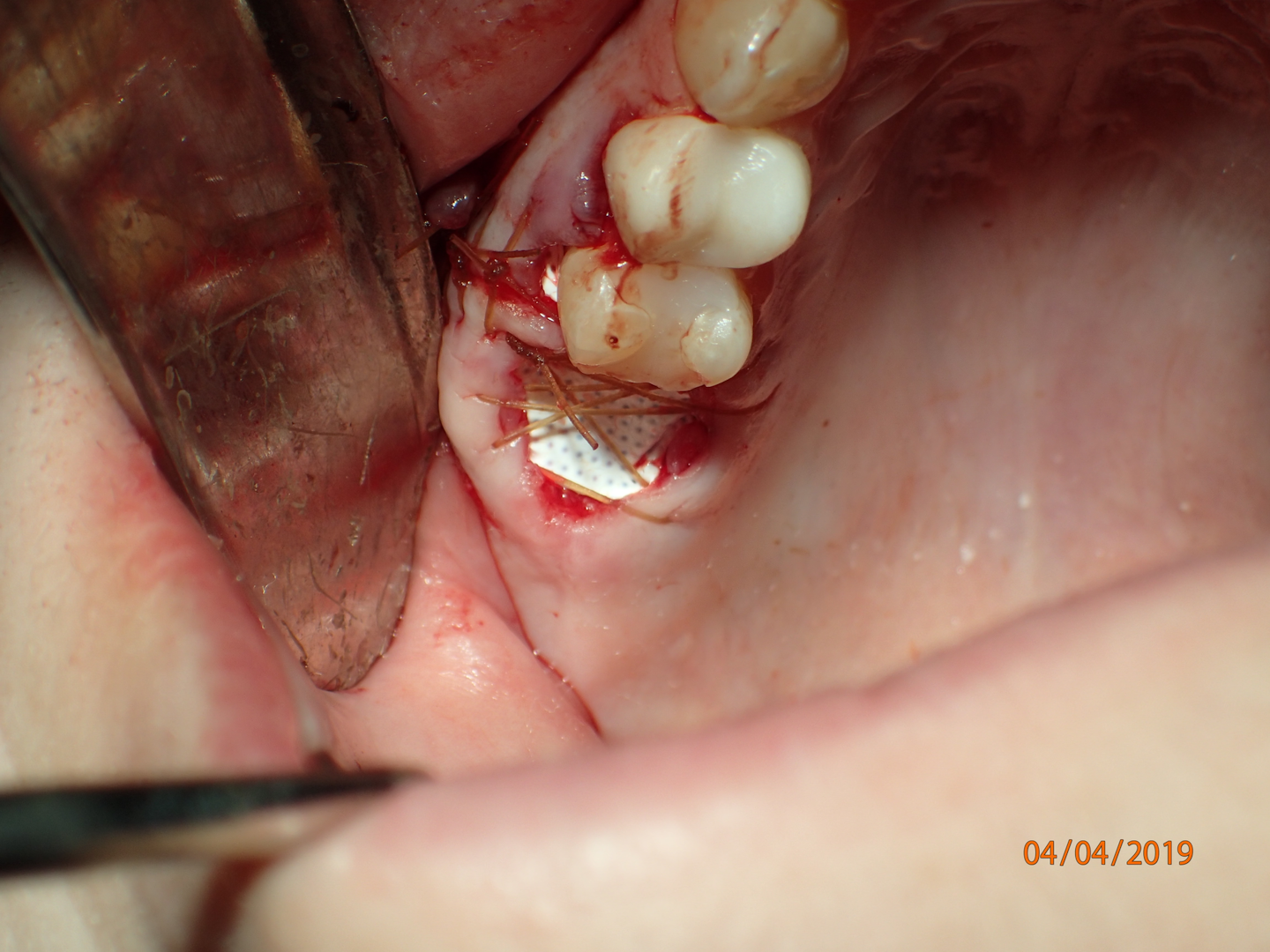 Figure 4: Site after grafting and nonresorbable high-density polytetrafluoroethylene (PTFE) membrane placement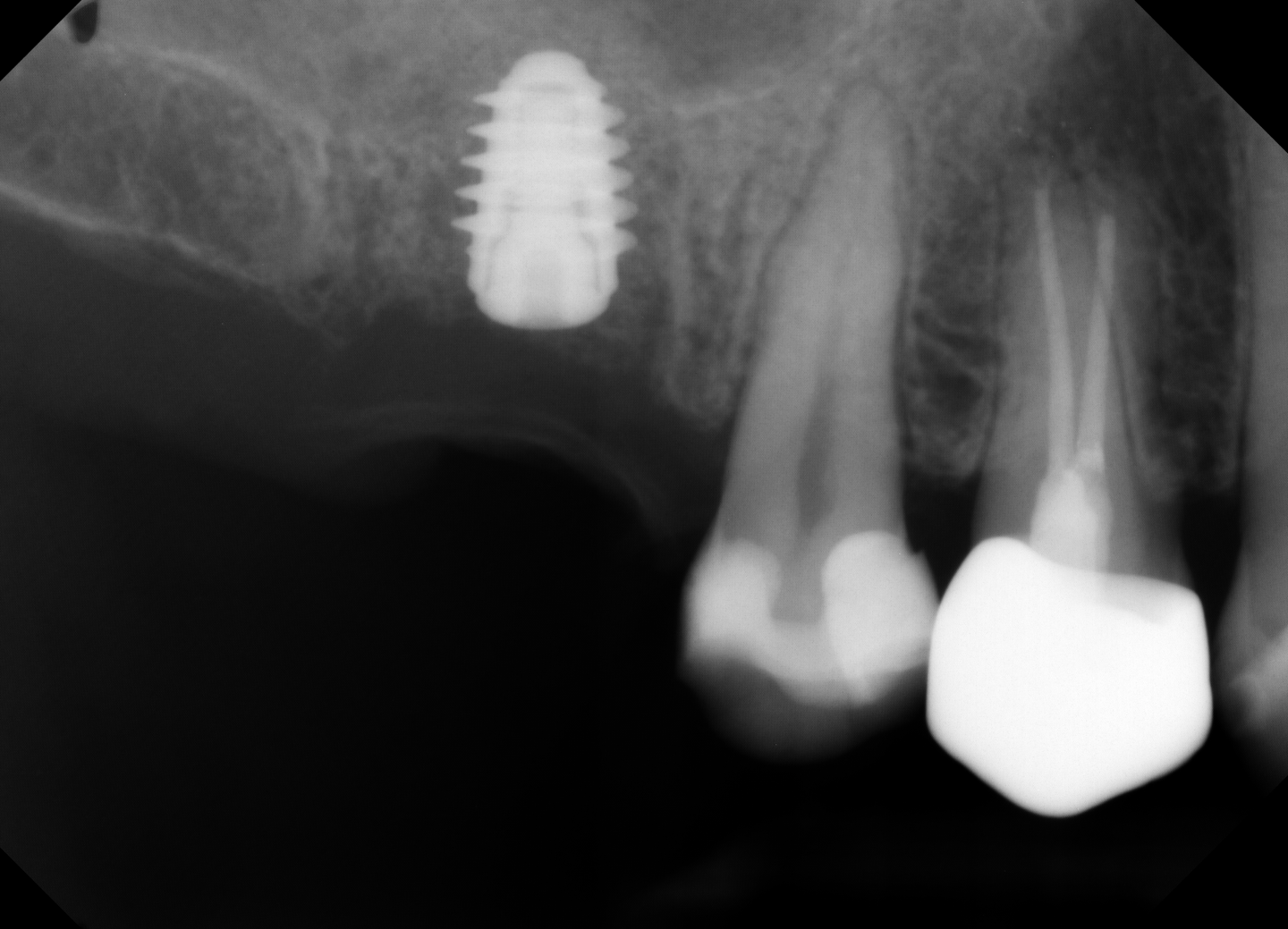 Figure 5: Radiograph of final implant placement for No. 3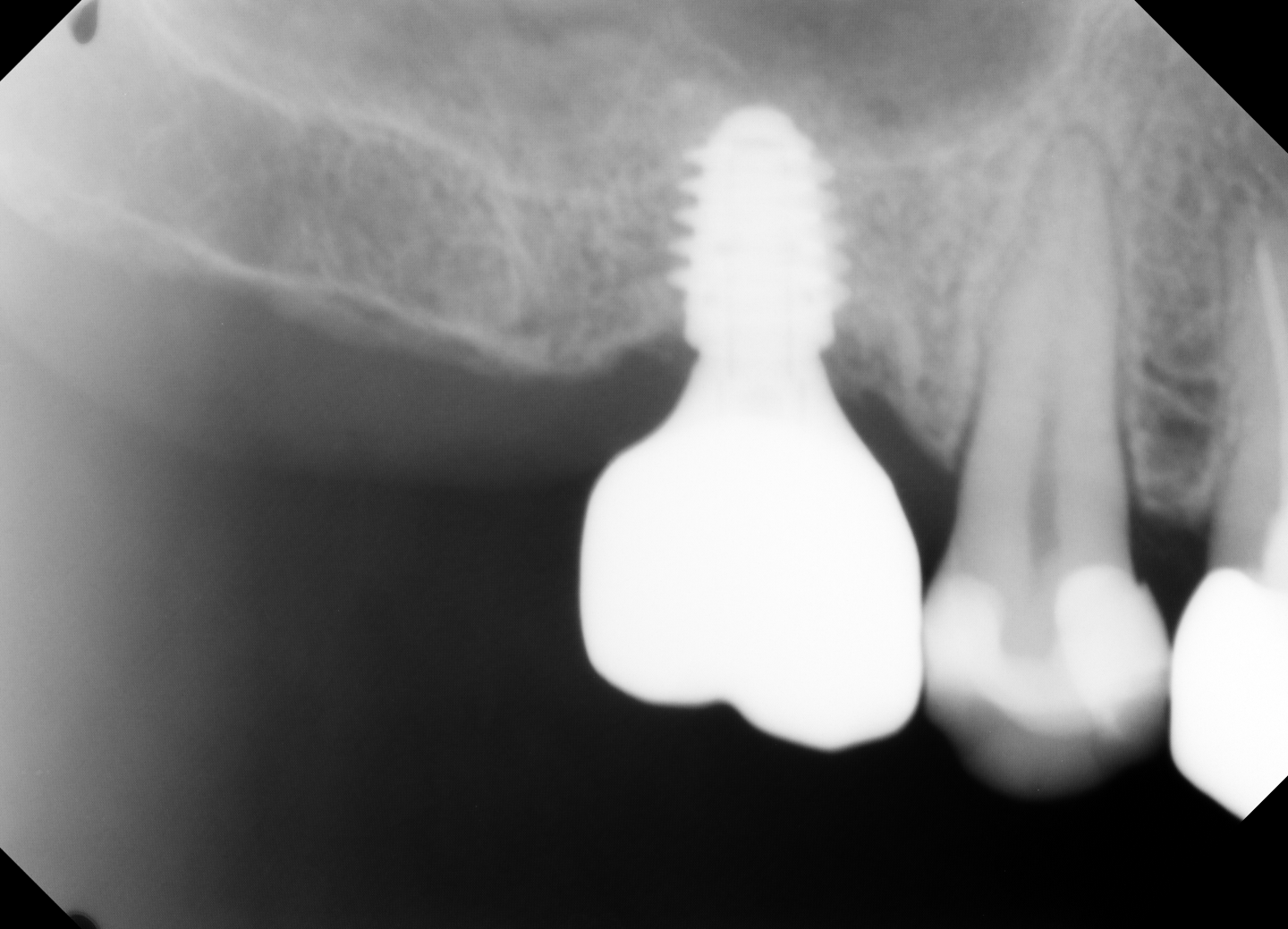 Figure 6: Final screw-retained zirconia restoration utilizing the titanium abutment/transfer that comes packaged with the implant

Therefore, if a patient has 5 mm of available bone height from the sinus floor, a maximum of 5 mm is prudent to expect from an indirect lift; therefore, an 8 mm to 10 mm implant is the ideal choice. The tapered iHex or MorsTorq implant provides safety when dealing with sinus areas, for three reasons. First, the taper helps prevent overinsertion toward the sinus cavity. Second, the abutment and transfer attached to the implant allows for more control. Finally, the rounded apex helps reflect the sinus floor without creating damage (figures 1-6).
Admittedly, there is some technique sensitivity in relation to both the open sinus and closed sinus lift procedures. A recent article about tapered implants placed in maxillary sites with residual bone height of 1 mm to 6 mm reported high success rates using a closed technique without grafting material, which led to bone formation beyond the original limit of the sinus floor.2
In today's market of efficient and simplified implant procedures, coupled with all-time low manufacturer-direct pricing on boutique implants and components, there is no better time to grow the implant side of your practice. As more genres within dentistry evolve, the future of private practice dentistry will shine brighter and brighter. Stay tuned for parts five and six as we explore flapless versus flap implant procedures and continue to explore the evolving economics of implant dentistry for the betterment of private practices.
---
References
1. Pal US, Sharma NK, Singh RK, Mahammad S, Mehrotra D, Singh N, Mandhyan D. Direct vs. indirect sinus lift procedure: A comparison. Natl J Maxillofac Surg. 2012;3(1):31-37. https://www.ncbi.nlm.nih.gov/pmc/articles/PMC3513806/.
2. Nedir R, Nurdin N, Szmukler-Moncler S, Bischof M. Placement of tapered implants using an osteotome sinus floor elevation technique without bone grafting: 1-year results. Int J Oral Maxillofac Implants. 2009;24(4):727-733. https://www.ncbi.nlm.nih.gov/pubmed/19885415.
---
DAMON THOMPSON, DDS, attended Virginia Commonwealth University's Medical College of Virginia dental school, finishing magna cum laude. He is the founder of a private group of practices in Virginia and a founding faculty member of  virginiaImplantInstitute.com, which provides two-day implant courses for beginner through advanced education levels.
BRADY FRANK, DDS, is an international clinical and business lecturer, an inventor, and a founder of multiple companies in the dental space. Since graduating from the Marquette University School of Dentistry in 2001, he has owned multiple private dentist-owned groups (DDSOs). He is a founding member of the DDSO Alliance. Reach him at brady@bradyfrankconsulting.com.