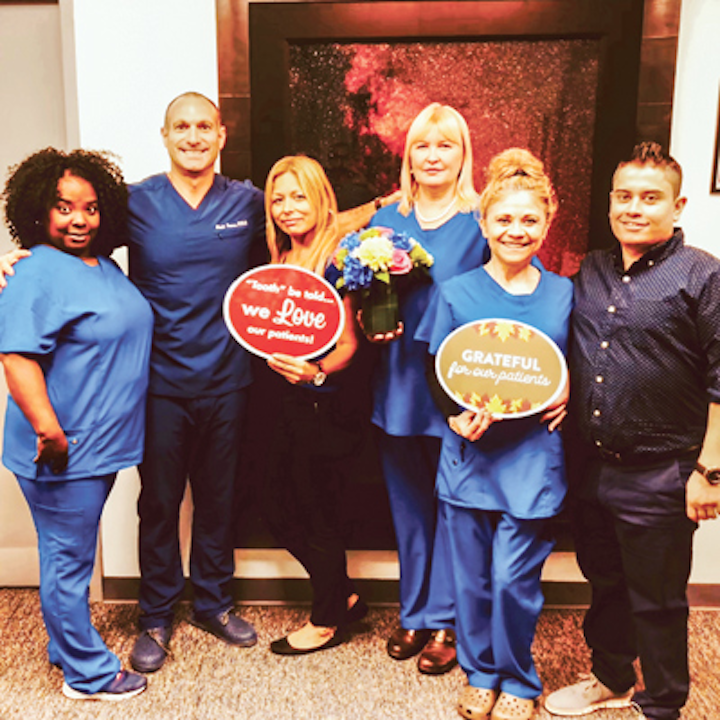 Our editorial board helps us provide the latest and greatest information to our readers.
Let's meet one of them!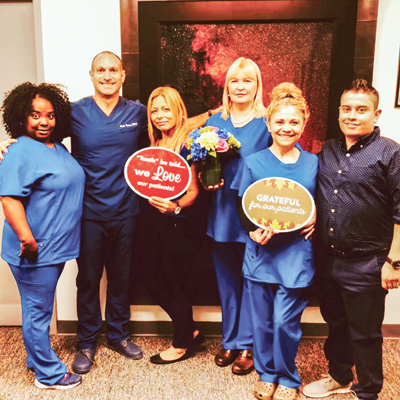 Dr. Froum (second from left) poses with his team.
Name: Scott Froum, DDS
Practice: Scott Froum, DDS
Location: New York City, New York
Dental school: State University of New York Stony Brook School of Dental Medicine
Graduation year: 2004
Areas of expertise: Implant complications, hard- and soft-tissue regeneration, periodontal therapy
Social media: Scott Froum, DDS (Facebook); @activeperio (Instagram)
Website: drscottfroum.com
Tell us about a product or technology that has recently changed your world.
I use the Solea laser from Convergent Dental in my practice. This laser has given me the ability to regenerate lost tissue around diseased implants and teeth, which I was previously unable to do. With an enhanced ability to build lost hard and soft tissue, I can now save teeth and implants that I had previously diagnosed as hopeless from extraction therapy. I have been amazed by how many patients are looking for answers on how to save existing dentition in their mouths. When that is accomplished, and you have given their mouths a second chance, the happiness it brings to them is palpable.
What's a piece of advice you wish you knew five years ago?
You are only as good as your team allows. You may be the greatest dentist in the world, but without competent, diligent, and faithful team members, you will never achieve success. I am blessed to work with a wonderful office team and have surrounded myself with general dentists and other specialists who enhance the care I deliver.
My practice is referral-based. Five years ago, I was afraid to disassociate it from general dentists, even if they did not agree with my philosophy. Today, my practice life is so much easier because I have realized that some team members may be best working in—and with—other offices.