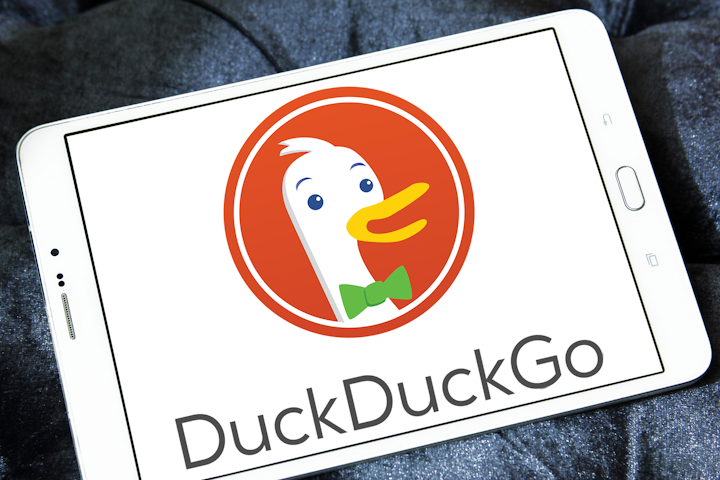 © Mohamed Ahmed Soliman | Dreamstime.com
Has Google dropped the ranking of your website recently? Estimates are that as many as 25% of dental websites were negatively affected, some dramatically so, by Google's so-called "medic" update that it's been rolling out during the past year. If your website was hit, what should you do about it?
While there are some things that you may be able to do to help, it turns out that the problem actually may not be your website. Google has implemented a major shift in its strategy that is having a negative impact on the rankings of a number of good websites. Allow me to explain.
Back to the beginning
To help you understand this change in Google's strategy, let's go back to Google's founding. When Google was launched in 1998, there were a number of popular search engines. Google had a new idea for ranking web pages—rank them not on the basis of what was on the page the way everyone else was doing, but rank them based on links coming from outside of the website. In 1998, I had already been doing search engine optimization (SEO) for a couple of years. After trying out Google, I and other people quickly realized that Google delivered higher quality search results. As a consequence, people switched to Google, and in a few years, it was the dominating search engine.
The latest update
But Google recently decided that as the dominating search engine, it's going to take things a step further and filter results in order to make sure that it's delivering correct information. This is the thinking that led to what has been called the "medic" update, which was first rolled out in August 2018. Initially, its efforts were focused on pages delivering financial, health, and legal information. In September 2019, however, Google published a revision to their "Search Quality Evaluator Guidelines" that added several topics to its focus list: news and current events, civics, government, race, ethnic origin, sexual orientation, gender, and gender identity.1
You need to understand that Google is not doing this filtering by direct means. It is not actually looking at the content and deciding, on a page-by-page basis, that this content is correct, and this content is not correct. Rather, it is trying to use signals that it finds in the website, as well as signals it takes from the pattern of websites that link to the website, and then discover ways to correlate those signals with what it decides is reliable information.
Google document dump
Early this past summer, an anonymous insider at Google released what came to be called the "Google document dump."2 It's a collection of internal documents from Google that talk about the new strategy. While the bulk of the documents involve technical matters, there are some tidbits of information that provide interesting insights into Google's thinking. One term used in the documents is algorithmic unfairness. "Algorithmic unfairness," they write, "means unjust or prejudicial treatment of people that is related to sensitive characteristics such as race, income, sexual orientation, or gender through algorithmic systems or algorithmically aided decision-making."3 
To illustrate this, they give an example. "For example, imagine that a Google image query for 'CEOs' shows predominantly men . . . Even if it were a factually accurate representation of the world, it would be algorithmic unfairness because it would reinforce a stereotype about the role of women in leadership positions."4
This is a revealing insight. Google no longer sees its role as delivering information about the world as it is, but it wants to shape the information it delivers to achieve what it considers a favorable societal outcome.
Google is clearly trying to leverage its position of influence to achieve its societal goals. It has already had success in shaping the internet. One of the main considerations in building a website is making sure Google likes it. Three years ago, Google announced its goal of making all websites use secure technology, and today the vast majority of websites are in compliance.5 But as it tries to shape the world, some feel that it is going too far and is at risk of losing its dominance. It got to that position by delivering the best, most accurate information. If it no longer delivers that, will people turn to other sources? We'll have to wait and see. 
What do you do about this?
There is a mixture in what we know about these algorithmic changes at Google. Experts have figured out some of the signals Google is using and you may be able to achieve a degree of recovery by tending to these matters. However, there are other elements to the algorithmic changes about which no one has a clue, and those changes seem to have resulted in the strongest penalties.
Let's talk about what you can do. There are certain signals that Google reads that lead it to believe that it is dealing with a quality website. While these are important for any website, Google gives them extra weight when they're ranking websites that contain the following:
Correct grammar and spelling.
An absence of technical errors. There are a number of small technical errors that Google could be taking as an indication of a low-quality website. For example, when a page is taken out and replaced with another page, a technician will install a redirect code in the access file. Redirects are also written when the technician creates a secure version of your website. Sometimes these redirects are handled improperly. There are a number of other small technical issues that Google could be reading.
Good organization of the information. Navigation through the website should be easy to figure out. The linking structure should be clear.
Reference to other recognized authorities. Many believe that Google is looking to see if you reference other websites that it recognizes as authorities to validate health-related claims, and Google has indicated that it likes to see those references.
There are many websites that meet all of these guidelines and yet have been downgraded by Google. Think about Google's purposes and strategy here. Google isn't always looking for correct information—they're looking for a certain viewpoint. They're trying to read linking and technical signals for clues about that viewpoint. Your website could simply be collateral damage in this effort.
DuckDuckGo—another option for search
In the face of this, there is another search engine that's trending, and there's a lot of buzz about it among search experts. While DuckDuckGo currently has only 1% of the search traffic, there are several reasons they are attracting attention.
The first is their main selling point—they have a strict privacy policy. They do not store any information about users. With all of the criticism of Google's tracking of user data, this has a strong appeal for many people. Several months ago, DuckDuckGo published a compelling video titled, "Why your privacy is worth more than you think," in which they gave what they called "five good reasons to dump Google and Facebook."6 Google apparently felt stung by the claims in the video and Google's search liaison, Danny Sullivan, published a response, but the response dealt with only one of DuckDuckGo's claims.7 So, this remains a serious issue with many people.
The second reason to check out DuckDuckGo is its exponential growth. In January 2019, it hit the milestone of one billion searches per month (30-plus million per day), over 50% higher than where it was just one year earlier (figure 1).8
The third reason is the apparent absence of any attempt to filter the search results for certain viewpoints.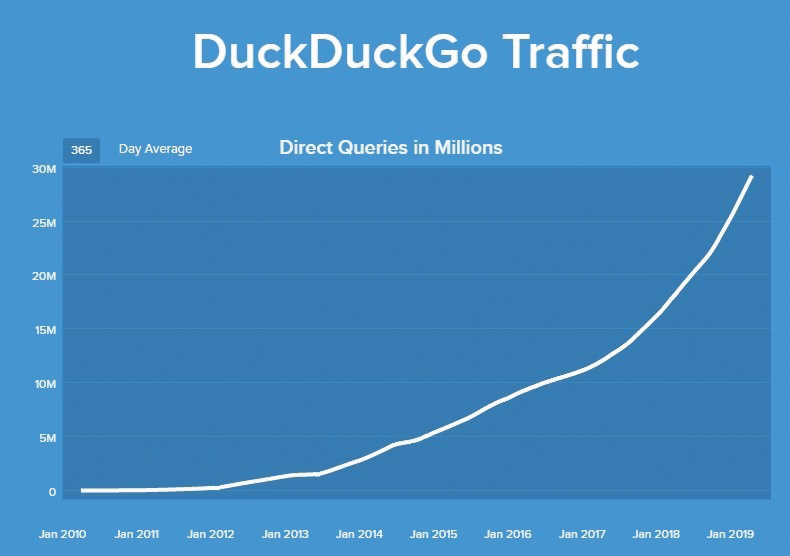 There is an interesting inside story that relates to this third item. I manage a dental blog that answers questions from the public about dentistry. Two years ago, I received a comment through that blog from a man named Chip Halbauer. He told me he was looking for a way to give his father, Stewart Halbauer, DDS, proper due as the real inventor of the Maryland bridge. 
I told him I was interested, so he emailed me the whole story about how his father came up with the idea and used it on a patient. The patient subsequently moved to Maryland, learned what he had done, helped tweak his design, and published a research paper about it. I found Mr. Halbauer's story highly credible, so I edited the page about the Maryland bridge on my website to give his father credit as the inventor, and I wrote a blog post about how I learned about this.9
My website, mynewsmile.com, enjoyed very high rankings in Google in the past, but for some inscrutable reason has recently been seriously downgraded. So, I thought I would compare Google with DuckDuckGo regarding how they answered this question, "Who invented the Maryland bridge?" 
To answer this question, Google pulls an instant answer snippet from the website of Gus Livaditis, DDS, at the University of Maryland who, interestingly, does not claim to be the inventor of the Maryland bridge, only the codeveloper with Van Thompson, DDS. However, if you ask DuckDuckGo this same question, it draws its instant answer snippet from mynewsmile.com and shares the correct answer.
We have found, with several questions, that we get a more accurate answer with DuckDuckGo than with Google. I think this is all related to Google trying to use its algorithm to filter out certain results. It goes back to its stated strategy—accuracy has been deemphasized in preference for trying to influence the world in certain directions.
The bottom line for you? I believe that if your SEO team is struggling to regain the rankings you've lost with these "medic" updates, start by addressing the four issues I discuss here. If that doesn't work, check your rankings in DuckDuckGo. If your website has strong rankings there, then reconcile yourself to the notion that it's probably going to be a while before anyone figures out why Google does not like your website. Meanwhile, consider encouraging others to use DuckDuckGo for their searches.  
---
References
1. Search quality evaluator guidelines. Google use content website. https://static.googleusercontent.com/media/guidelines.raterhub.com/en//searchqualityevaluatorguidelines.pdf. Published September 5, 2019. Accessed September 26, 2019.
2. Google Document Dump. Project Veritas website. https://www.projectveritas.com/google-document-dump/. Accessed September 13, 2019.
3. Definition of Algorithmic Unfairness. Machine Learning Fairness. Google Document Dump. Page 1. Accessed September 13, 2019.
4. Definition of Algorithmic Unfairness. Machine Learning Fairness. Google Document Dump. Page 7. Accessed September 13, 2019.
5. Vaas L. Google to Slap Warnings on Non-HTTPS Sites. Naked Security by Sophos website. https://nakedsecurity.sophos.com/2016/09/09/google-to-slap-warnings-on-non-https-sites/. Published September 9, 2019. Accessed September 26, 2019.
6. DuckDuckGo. Why Your Privacy Is Worth More Than You Think. https://www.youtube.com/watch?v=T5mwleZBYoA. Published June 17, 2019. Accessed September 26, 2019.
7. Southern M. Google's Danny Sullivan Responds Directly to DuckDuckGo's Anti-Privacy Claims. Search Engine Journal website. https://www.searchenginejournal.com/googles-danny-sullivan-responds-directly-to-duckduckgos-anti-privacy-claims/323295/#close. Published August 29, 2019. Accessed September 26, 2019.
8. Southern M. DuckDuckGo Hits a Record 1 Billion Monthly Searches in January 2019. Search Engine Journal website. https://www.searchenginejournal.com/duckduckgo-hits-a-record-1-billion-monthly-searches-in-january-2019/291609/. Published February 4, 2019. Accessed September 26, 2019.
9. Hall DA. Invention of the Maryland Bridge—the Rest of the Story. My New Smile website. https://www.mynewsmile.com/blog/invention-maryland-bridge-rest-story/. Published June 12, 2019. Accessed September 26, 2019.
---
DAVID A. HALL, DDS, AAACD, graduated with honors from the University of Minnesota School of Dentistry and ran a private practice in Cedar Rapids, Iowa, for many years. In 1995, he launched a website promoting his own dental practice. After requests from other dentists for help with their websites, he founded Infinity Dental Web in 2009, a marketing agency that does digital marketing for dentists. Dr. Hall may be contacted at (480) 273-8888.