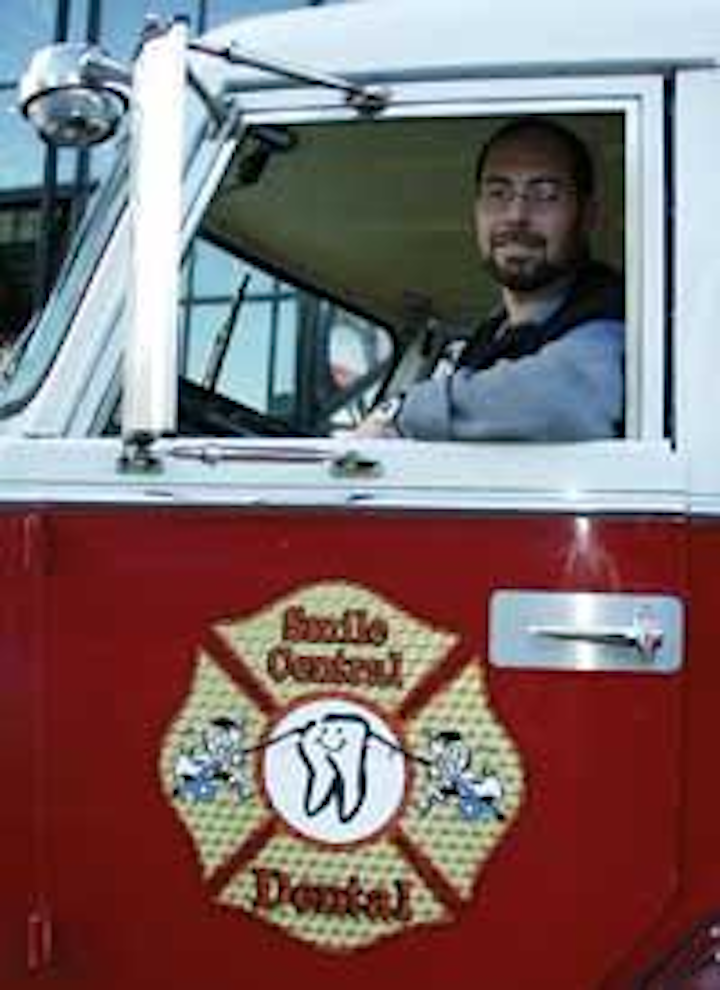 Kevin Henry, Managing Editor
Like a pied piper, Dr. Robert Grunstein's fire truck drew a crowd of onlookers while parked outside the Javits Center at the Greater New York Dental Meeting last Thanksgiving weekend. While fire trucks naturally draw attention, this renovated fire truck drew more than its fair share of onlookers while parked in Manhattan.
While it's nice to have adults "ooh" and "ah" over the fire truck, Dr. Grunstein really purchased the fire truck in order to reach out to children. Originally looking for a theme for his dental practice, Dr. Grunstein was struck with an idea.
"I'm a car fanatic and I heard that the town fire truck was for sale," said Dr. Grunstein, who practices in Paterson, N.J., not far from the New York City skyline. "I decided I could buy the fire truck, put my name and logo on the side of it, and drive it around to attract some attention."
The simple idea sounded great, until Dr. Grunstein thought of what other uses the fire truck could have.
"I took the fire truck to a body shop and asked them if they could make enough room in the back of the truck for a single operatory," Dr. Grunstein recalled. "It took them about three months to remove the 500-gallon water tank and build a small room big enough for an operatory."
The renovated fire truck allowed Dr. Grunstein to follow his passion of reaching out to young children, particularly those who were on Medicaid or normally neglected in terms of dental care.
"I was working at a cosmetic office as a CEREC specialist when I received a call from a large Medicaid office asking me to run their CEREC machine one day," Dr. Grunstein remembered. "While I was there, the pedodontist quit with 30 kids in the waiting room. I filled in, and I really liked it. I liked working with these kids and helping them."
From that one day, Dr. Grunstein realized the mission he wanted to pursue - ensuring underprivileged kids receive quality dental care.
"I saw that there were really very few dentists in my county willing to see Medicaid patients," Dr. Grunstein said. "I heard about kids who were having to go to dentists almost four hours away from their homes just to be seen. If they couldn't travel that far, kids were sitting for hours in emergency rooms or waiting in line at a dental school. I knew I wanted to help solve that problem."
Dr. Grunstein has put the brakes on that problem by opening his own office and he is seeing around 200 new patients per month - all of them children on Medicaid. In addition, he drives the renovated fire truck to elementary schools and day care centers to promote the importance of dental health. At the schools and centers, Dr. Grunstein can perform exams and cleanings, then refer additional work to his office.
"It's really a lot of fun. Everyone notices the truck," Dr. Grunstein smiled as another adult peered into his truck outside the Javits Center. "It's been great to be able to see so many kids and help them."
Editor's Note: This is the fourth installment of a new monthly column in Dental Economics. This column will profile dentists who have interesting stories or backgrounds. If you know of a dentist who has a good story to tell, we'd love to hear about it. Send the information to Kevin Henry, managing editor of Dental Economics, at kevinh@pennwell.com.