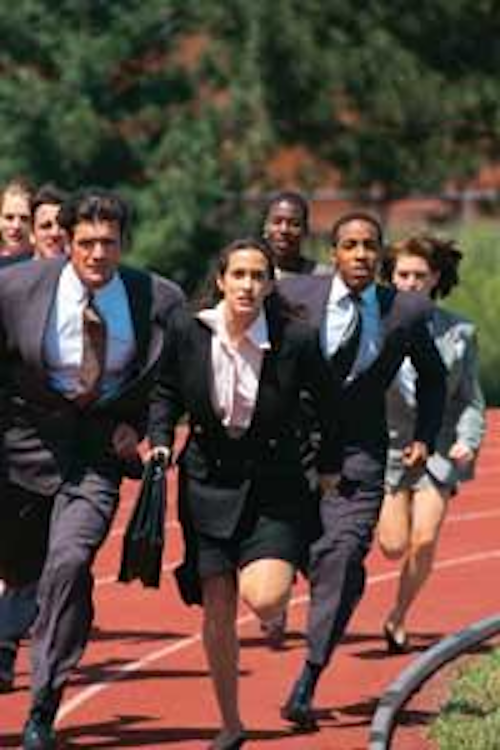 by Dr. Chris Brady
Stress from running late because of a full schedule can adversely affect a dental practice's bottom line
Frequently, when I speak at meetings around the country, dentists typically respond to my inquiries about their practices as follows:
"I have a very busy practice in . We have of new patients each month - mostly by referral. We do cosmetic dentistry, although I'd like to do more. We also have six (or more) days of hygiene. In fact, my hygiene schedule is booked for at least three months. I need to add another hygienist." At first glance, this sounds like the ideal, robust American practice. However, this information is usually followed by a long pause, and then, "I don't know what to do. Can you help me?"
Unfortunately, this is all too common. This type of practice is one that has been infected by the "Busy Bug" - a deadly malady that is driving some doctors mad. Experience teaches that even from this brief amount of information, several things become apparent.
1) Overhead is high. The doctor is trying to produce more to outrun yearly ballooning expenses.
2) Doctor is doing too little dentistry on too many patients due primarily to going too fast and only fixing broken or cracked teeth.
3) High stress from running late and a crammed schedule.
4) High numbers of staff are needed to execute these outdated systems.
5) Too many patients both new and recall.
6) Associate doctor (or considering one) - maybe not the first. Not sure if associate is profitable or whether one (or more) is needed.
7) Underdiagnosing by the doctor and patient due to too many hygiene visits daily, resulting in primarily chairside diagnosis.
8) Too many treatment rooms and the compelling desire to keep them full of warm bodies.
9) Doctor and team are overworked and underpaid.
10) Well intended, yet ill-advised objective to see more patients in the office - especially into hygiene aided by a hygiene coordinator.
Often, the dentist will not readily admit that these characteristics (symptoms) accurately describe his or her practice. But, after careful analysis, most - if not all - of the above are revealed. An accurate evaluation of the P&L will show that the above are the norm on a day-to-day basis. Often, the dentist has tried hard to see more patients - even to the point of double and triple booking - the vain attempt to "fix" the cash flow-high overhead problems facing the practice. Occasional thoughts of selling the practice, wishing the practice was like it used to be and/or getting out of dentistry are common.
Why is this so? What is happening in this type of practice and what can be done about it?
When attempting to conquer any foe, the first item of business is to identify the enemy. In this particular scenario, the enemy is the Busy Bug.
For years, we have been taught that the ideal practice should be busy and full of patients. Having a full schedule is paramount to success. We focus on 10-minute scheduling increments. The more scheduling columns we have, the better. We cram in emergencies. Doctors are told to multiply themselves by hiring extra dental assistants, so they can work in two or three rooms simultaneously. We hire scheduling coordinators to chase "C" patients into the office to fill the hygiene schedule. Often, this is more true when hygienists are being paid commission. More front-desk personnel are needed to handle the increased number of patients required to process insurance claims and fill treatment rooms. Adding treatment rooms to increase patient flow also increases overhead and stress.
As a profession, disappointingly, we continue along the path of higher and higher overhead. There is a direct chicken-and-egg correlation between high overhead, high stress, high insurance dependence, and low profit from the busy model.
Is busy the goal? Are tons of patients necessary to increase profits? Let's take a closer look. In my mind, happiness and profit are much more important objectives than busy, yet we all get so busy that we don't take time to stop to evaluate how the Busy Bug is affecting our practice.
Recommendations
Slow down. It's neither a race nor a treadmill. Patients perceive higher quality if you (the doctor) spend more time with them.
Take time to diagnose. Fixing only immediate needs is often very unfulfilling. Create a forum (planning appointment) to provide opportunities for the patient to self-diagnose first. Then you can assist in formulating the patient's lifetime treatment plan.
Stop scheduling multiple chairs in 10-minute increments. This is very hectic and reduces a patient's perception of good service and quality. Allow the doctor to do more than change gloves. You'll have more energy at the end of the day.
Before hiring an associate, make sure you have a practice that is large enough and you understand how a new doctor will impact net income. Most of us hire prematurely and have poorly written contracts. Giving the associate the "junk" is a high overhead expense.
Take time to listen. You'll be amazed what you learn. Ask your team how well you are listening.
Let "C" or incompatible patients leave if they desire.
Stop focusing initially on the hygiene schedule. Focus on a doctor's schedule by helping provide patients with complete care, including periodontal care, first.
If you are one of those dentists who is suffering from escalating overhead, high stress, and related symptoms of the Busy Bug, if you are feeling overworked and underpaid, then take a look at "unbusying" your practice. Commit to seeing one patient at a time, slow down, lower your overhead (a.k.a. increasing net profit), complete your diagnoses, and take time out of the office. Life is short. Happiness, not busyness, should be the goal.
---
Dr. Chris Brady is president and founder of Brady Group LLC - Beyond Practice Management. He is a 1984 graduate from the Baylor College of Dentistry. A popular speaker and author, he is celebrating 20 years in dentistry by conducting a free seminar tour in the western United States. Dr. Brady combines wit and humor to discredit traditional methods of practice management that have resulted in more stress from dentists trying to outrun their overhead. For information about the seminar tour or to obtain a free tape entitled "Busy - Enemy of Pofit," contact Dr. Brady at (800) 592-7239 or by email at drbradydds@aol.com.