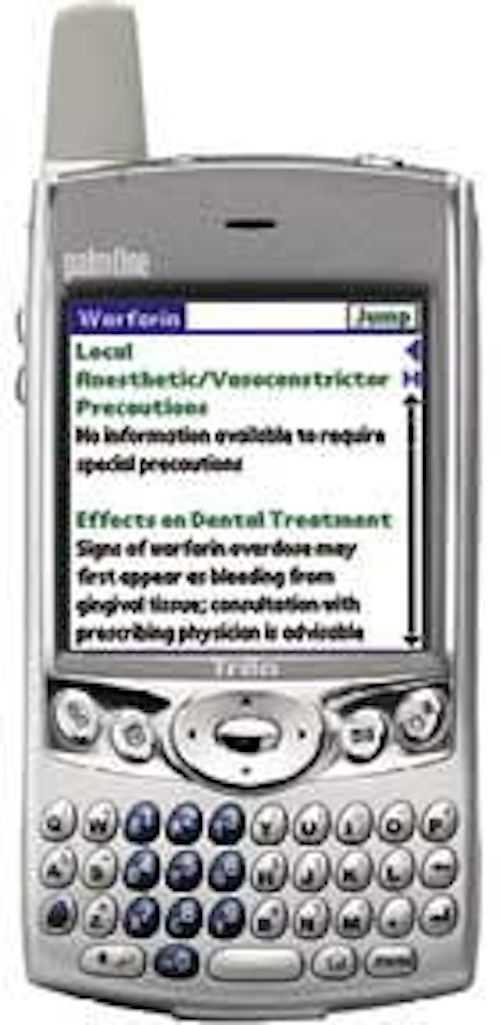 by Martin Jablow, DMD
Are you carrying a pager, cell phone, and maybe a personal digital assistant? Now you can use just one device instead of many to get it all done. Smart phones seamlessly combine a full-featured mobile phone and personal digital organizers with wireless applications like email, text-messaging, Web browsing, and maybe even a digital camera — all in one device that's so small it fits right in your pocket!
Personal digital assistants (PDAs) have revolutionized the way we handle information. Since the advent of the first Palm Pilot, people have been finding new and improved ways to manage information. Through use of Palm Operating System devices and Pocket PCs, the ability to carry and use practice information is now available both in and out of the office. Now with a convergence device — the smart phone — everything you need to manage your practice and life can be found in one device. Smart phones let you schedule appointments, manage your contacts, and organize your tasks. Your address and phone book, along with patient scheduling and data, can always be on hand wherever you go.
There are several manufacturers of smart phones. The most popular devices use the Palm Operating System. Some manufacturers of Palm devices are palmOne, Kyocera, and Samsung. Pocket PCs use an operating system similar to Windows and are manufactured by Audiovox, Samsung and Motorola. The Symbian based smart phones are manufactured by Motorola and Sony. Smart phone devices synchronize data with PCs by way of a cradle or cable. Smart phones are currently available from all major cell phone carriers.
Palm-based smart phones are capable of reading Microsoft Word, Excel, and PowerPoint files through the use of third-party software such as Documents To Go or Quick Office. Pocket PCs have Pocket versions of Microsoft Office software included with the operating system. When using this third-party software or Pocket versions of Office, you can transfer documents to your smart phone when you synchronize your data with your PC.
Practice-management software
Smart phones extend your practice-management software. Most practice-management systems offer a simple way to extract patient information and make it available on your PDA. Since your smart phone is a PDA, you can copy this information automatically from your practice-management software when you synchronize the data on your smart phone with your office PC. To me, the most important aspect of always carrying a smart phone is the ability to have instant access to important patient-demographic and treatment-history information. Through the use of custom reports in most practice-management software, even more information can be extracted and made available on your PDA.
On my smart phone, I can instantly look up a patient's name, phone numbers, medical alerts, and the date this person was last seen in the office. This information is invaluable in eliminating those unsavory folks who are looking for narcotic drugs. I know whether an emergency caller is indeed a patient in my practice. For those doctors in group practice, it allows you to better know patients who have been treated by your partners or associates.
If you are concerned about HIPAA (Health Insurance Portability and Accountability Act) regulations to secure patient information, you have several options to meet this requirement. For example, individual records can be marked private. This requires entering a password to view the records and remembering to mark the records private. Another program called mSafe (www.motionapps.com) locks the phone when it has been turned off. More importantly, should you lose or misplace the smart phone, you can send an SMS (Short Messaging Service) message to your cell phone. This will remotely lock your phone from prying eyes.
Most cellular phones can receive SMS messages. Smile Reminder (www.smilereminder.com) is a software application that allows you to send personalized text messages to your patient's cell phone or pager. You can remind patients of their appointments with a simple message displayed on their cell phone or remind yourself of the next local dental association meeting.
One of the most popular smart phones, the Treo (www.palmone.com), allows me to speak with an emergency patient, determine if that person is a patient-of-record, and enter appropriate notes in the patient's record when I return to the office. I also can schedule an appointment for a convenient time the next day the practice is open. All of these tasks can occur from any location with cellular service.
Drug interaction information
Using these technologies makes it easier to provide better patient treatment. Smart phones facilitate information retrieval such as drug interactions, medical conditions, and checking for allergies. Before the advent of smart phones, this information had to be retrieved from a reference book. Now, it can be obtained from a software program or online.
The free ePocrates Rx software (www.epocrates .com) on Palm or Pocket PC smart phone devices gives you the ability to instantly look up drug information, indications, dosages, and adverse reactions, as well as drug costs and formularies. The most important function ePocrates provides is Multi Check. Multi Check allows you to check off a list of all a patient's medications and look for interactions between the medications a patient is currently taking and what you are planning to prescribe. The Multi Check also helps ensure patient safety, showing patients that their dentist is not prescribing a medication without knowing what effects it will have on them. In my practice, patients have commented that I have a better understanding of what medications they are taking than their physicians! Free drug information software is available via "mobile PDR" (www.pdr.net).
Other excellent handheld drug programs also are available. One such program, Lexi-Drugs for Dentistry (www.lexi-comp.com), is based upon Lexi-Comp's Drug Information Handbook for Dentistry. This program provides detailed information specific to dentistry, such as local anesthetic/vasoconstrictor precautions, effects on dental treatment, and drug interactions.
The handheld version of 5 Minute Clinical Consult for Dental Professionals is 5mDental Consult (www.lexi-comp.com). It divides medical conditions and drug information into six categories:
1) Basics
2) Etiology
3) Diagnosis
4) Treatment
5) Coding
6) Miscellaneous
These categories make practitioners' research fast and accessible. All Skyscape programs can be run on all smart phone operating systems.
Other applications
Converter programs are available that allow you to make medical calculations. You can quickly convert pounds to kilograms, making it easy to calculate the proper liquid doses for your pediatric patients while phoning in your prescription from any location.
For those doctors who dictate chart notes, the Audacity Digital Voice Recorder software (www.audiost.com) allows you to record your information onto your phone's memory card. These cards can be removed and left for transcription. Phone conversations also can be recorded.
Surf the Web for business or pleasure right from your phone. Most Web sites can be accessed from wherever you are. Check the latest weather report, sports scores, do your online banking, or make your travel plans. Access your favorite hobby sites. Enjoy the freedom of web-browsing wherever you are.
Make the best use of time when waiting for your children or spouse by reading a continuing-education article or performing drug and literature searches online. Crest sponsors a Web site with this type of information at www.dentalcare.com. This is an excellent Web portal for free dental professional information and continuing education.
You can stay in contact with family, friends, colleagues, and the office via email. The best Palm email client is SnapperMail (www.snappermail.com).
SnapperMail puts the email power of your desktop into your Palm smart phone. If that is not quick enough, you can instant message your buddies if they are on AOL, MSN, Yahoo, or ICQ using Verichat (www.verichat.com). Verichat is available for both Palm and PocketPC devices.
Smart phones also can be used for entertainment. You can listen to music from MP3 files saved to your device or stored on a separate memory card. Smart phones enable you to browse Web content, listen to music, and watch videos by streaming directly onto your device using wireless Internet services, or by downloading files onto your desktop PC and transferring them to your smart phone.
You can play your favorite music in the background while you continue to read your email or work in other applications. You also can watch video directly on the device, including news clips, music videos, films, and television shows.
Use of my smart phone has allowed me to improve the level of service that I provide my patients. Then, when I get bored, I can always reach for my smart phone and play a handheld game or listen to some music!
Smart phones take multi-tasking to a new level and allow you the type of flexibility that helps you to be more efficient and productive while increasing the level of service you offer your patients.