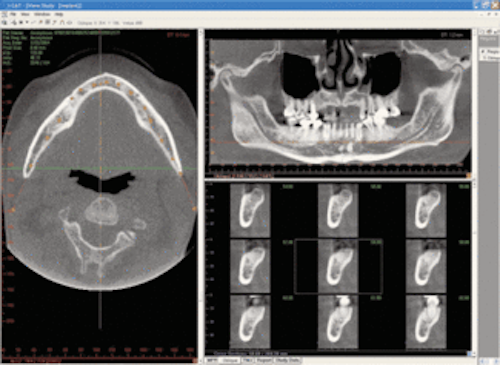 by Lorne Lavine, DMD
The modern dental practice continues to evolve at a very rapid pace. Digital counterparts are replacing many paper- and film-based systems that have been used for nearly a century. There are now computers in almost every office, a large percentage of offices use digital radiography, intraoral cameras, digital cameras, practice and image management software, and many have embraced the Internet to handle mundane chores such as confirming and even scheduling patient appointments online. In short, the concept of a "paperless" practice is very realistic and obtainable in 2007.
A review of these newer technologies shows that all of them were introduced to the dental market with very slow and sustained growth for five or 10 years before they attained popularity. As with many businesses, dental practices adapt to change slowly, and dentists need assurances that investments they make in new technology will show a positive return on that investment. While some new technologies have dubious value, there are currently five technologies introduced over the past few years that I feel will greatly benefit dental offices in the near future.
Cone beam
Cone beam or 3-D imaging is the new frontier for digital radiography. While these systems go by many different names, the best way to describe the system is that it's a cross between a digital pan/ceph and a CAT scan machine. The most popular model right now in the United States is the i-Cat by Imaging Sciences. While I could describe the system in detail, this excerpt from an i-Cat user does the best job of explaining why they are becoming so popular: "Compared to medical scanners, cone beam scanning is 10 times more accurate while reducing a patient's exposure to radiation by more than 95 percent. Pre-surgical implant treatment planning, preparing to remove impacted third molars, determining how sinus grafts and ridge augmentations have healed, and determining the ideal position for single-tooth replacements are just some of the benefits of cone beam scanning technology. Since cone beam scanning permits multiple slices through the axial, sagittal and coronal views, it removes the guesswork in many situations, such as when it is critical to determine the width of edentulous ridges, whether or not cancellous bone exists between cortical plates, the position of supernumerary and developing tooth buds, whether sockets have filled with bones, if irregularities exist to the condyles, where the mandibular nerve is relative to an impacted tooth and implant sites, or to visualize the borders of a cyst or tumor. Cone beam scanning has an added benefit of being able to take the maxilla and mandible in a single scan."
Probably the biggest drawback to these systems is the initial cost: around $170,000 to $200,000 each. Dentists all over the country are grouping together to create imaging centers and share the costs of the machines. The cone beam may eventually be the standard of care for many procedures.
Shade matching
We've all dealt with this problem before: we try to pick a proper shade for a new crown for a patient, maybe even send the lab a high quality digital camera image, yet when we get the crown back, the shade doesn't even come close to what we need. It's not the lab's fault; the problem is in trying to relay accurate information to them. Of course, in our modern digital world, you would expect to accomplish this using computers, and that indeed is the case. The best known shade-matching software program is ClearMatch, a shade analysis and communication tool for dentists and dental laboratories. It is a software-only system that allows the user to select their digital camera and use their existing PC to perform highly accurate analysis of shade, value and anatomical features of teeth. This software system can normalize digital images in such a manner that images from different cameras and lighting systems can be compared to each other in a mathematically valid way. "Normalizing" means adjusting hues to compensate for any color imbalances that occurred when the image was taken. This system costs around $1,700, although there are other payment options including a per-case basis.
Magnification
Dentists work in a very small and confined area inside the mouth. Anything that will assist them to see what they are doing more clearly will improve the quality of care patients receive. The systems that have been popular for many years are loupes, magnifying glasses that attach to regular glasses to enhance what we are able to see. However, some dentists complain about a limited field of vision and poor posture related to using loupes. The modern alternative is nothing like the loupes of the past! A few companies have built high-tech systems that include a microscope and an LCD monitor, allowing images from the scope to be displayed on the screen in real-time. By utilizing a system like this, the dentist can sit comfortably in the chair with proper posture. Many of these systems employ a slim design so that they can fit into most dental operatories, and since all dentists are different, the mounting options for these systems are also varied, allowing the monitor to be attached to a light pole, wall, or ceiling. Of course, these can integrate with current imaging software already in use in the practice. There are a few companies that produce these systems, including Camsight and MagnaVu, and the systems sell for anywhere from $30,000 to $50,000.
3-D magnification
One of the most interesting systems I've seen in a long time, the DentiMag 3D, takes the magnification concept one step further. While utilizing the same design as the previously mentioned systems, the DentiMag 3D uses a special 3-D monitor and comfortable 3-D glasses that easily fit over existing eyewear. This is ideal for sharing the image with multiple users, students, or the patient, where everyone has depth perception! The DentiMag 3D does not attach to your current optical microscope, but provides a complete and comprehensive replacement for it, upgrading your surgical suite to a fully digital environment.
Impressions
The new system from Cadent, called the iTero, renders the age-old system of taking impressions passé. According to the company's press releases, it is designed to replace the uncomfortable and imprecise method of conventional impression taking. iTero - powered by proprietary imaging technology - enables the dentist to take a digital scan of the patient's teeth and bite, make any necessary adjustments in real-time, and then transmit the file via a wireless Internet connection to a Cadent-partnering laboratory for further processing. From there the digital file is transmitted to Cadent where a model is milled. Then they send the physical model to the laboratory where a highly precise physical restoration is created. There are significant benefits such as increased patient satisfaction, improved clinical outcomes, and enhanced office efficiencies. I had the opportunity to see this system in action at the Chicago Midwinter meeting and it is everything it's cracked up to be.
It"s impossible to predict which technologies will take off in dentistry for the future. Many great concepts have become the BetaMax of the dental world.
However, the five described here are already generating some great press and have the right concepts and design to become an integral part of dental practices in the next few years.
Lorne Lavine, DMD, practiced periodontics and implant dentistry for more than 10 years. He is an A+ certified computer technician, as well as Network+ certified. He is the president of Dental Technology Consultants, a company that assists dentists in all phases of technology integration in the dental practice. He can be reached by e-mail at drlavine@thedigitaldentist.com or by phone at (866) 204-2298. Visit his Web site at www.thedigitaldentist.com.