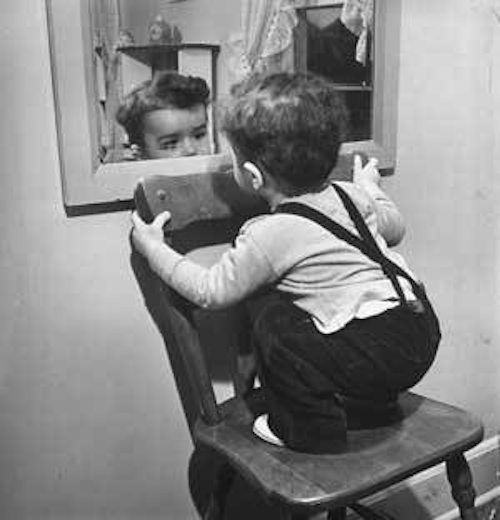 Some people find it easy to look in the mirror. They are comfortable with what they see and how their image affects their feelings. They know that the mirror reflects strengths as well as imperfections. They also know that the mirror can distort, cloud, or enhance the perceptions they have in their mind's eye. They also know that if they look in the mirror with another person, they can discover new images, both positive and negative.
"O wad some Power the giftie gie us to see oursels as ithers see us!" - Robert Burns
When people get too comfortable, they are often not teachable or flexible, which is not wise in a competitive world. Periodically, look at yourself in a mirror. Review your practice, team, life, and effect on others. You cannot be all things to all people, nor can you please all people. But you can do some perception checking to identify positive and negative trends. Try to dwell on the positive.
Dentistry is first a behavioral art and second, a clinical science. People may not always appreciate your dental skills, but they will respond to your behavioral and people skills.
Ask yourself these questions as you strive for excellence in your dental practice:
What is it like to be a patient in my practice?
How do my decisions affect my patients?
What patients see
There are three ways to determine what patients think about your practice: 1) on-the-spot conversation, 2) written questionnaire, 3) third-party observations/survey (for example, a telephone survey).
Since 1974, I have interviewed thousands of patients and found a consistent reference to their expectations and public relations needs. When asked to prioritize the patient relation skills important to them, 19,620 patients from the western states responded as follows:
Office personnel make the difference.
Money is more on the office staff's mind than service.
If the nurses are going to do so much, the patient should not be charged so much.
Be on time - our time is valuable also.
Explaining things before doing things is preferred.
When staffs are unhappy, they need to cover it up.
We hate finding out the cost after the work is done.
Pay attention to us, not the phone, at the front desk.
Why can't dentists have payment plans like physicians?
The doctor likes to hear himself talk. Please make it short and sweet.
Besides interviewing patients in practices, I've done some random street interviews. I simply put on my casual clothes and hit the streets. I ask random people to tell me the first word that comes to their mind when I say "dentist." The results are informative. In Chicago, Seattle, Hollywood, and Atlanta, I spoke with 342 people. Here are the top 10 words that came to their minds:
Ouch, yuk, or other guttural sounds
Reconstruction
Rich
Expensive
Name of their dentist
Girls
Teeth, drill, and water
Smile
White
Needles and shots
I don't know why people respond the way they do, but their responses give insight into the attitudes and perceptions of the dental profession. Review this list with your team. Discuss how these perceptions can be used to your advantage or to educate the people who enter your office.
Listen to your staff
As you look into the mirror of your practice, don't forget to include your staff's perceptions. Your team players can make a difference in your success and in your perception of the profession. Your team looks to you for leadership, example, and motivation. Each member becomes an extension of the other members. Together you send messages to your patients.
In 2005, I asked 3,270 staff members from practices throughout the U.S. to complete a questionnaire. One of the questions was "If you could improve one thing in this practice, what would it be?" These were the top 10 staff responses:
Our team is too territorial; we need to help each other more.
It would be nice to hear something more positive and encouraging from the doctor.
Doctor takes forever to make a decision.
Doctor always pleads poverty, and yet he/she is always spending money.
Doctor is talking so much we get behind schedule, constantly.
Doctor is wishy-washy and afraid to tell staff and patients what they need.
Getting a raise without having to ask would be nice.
Doctor expects us to be on time and be dependable, but he/she does not always show a good example.
Just tell us what you expect and don't accept a substandard performance.
Doctor is doing things other than what is on the schedule, and this is a hardship on the staff and patients.
Ask your staff the same question. Find out at least one thing they would like to see improved.
Summary
Because you work with the public, you are constantly being judged. Therefore, practice some preventive measures by listening to your patients, listening to your staff, and being honest with yourself.
Consider the following for practice improvement:
Consider your patients in all decisions.
Identify your practice goals and standards with yourself and your staff.
Create safe communication opportunities with your team.
Sharpen your verbal and nonverbal communication skills.
Stamp out indifference in your practice; don't be just another dental office.
Educate, motivate, and communicate.
Send messages of professionalism, courtesy, cleanliness, and excitement toward your profession.
Keep a balance between your task skills, clinical skills, and people skills.
Balance quality time with your practice and your personal stewardship.
Never forget that positive messages are longer lasting and motivational than criticism without hope.
As you look in the mirror, be a possibility thinker. Stretch into excellence. Feel good about letting your face show to all those you serve and love. Also, look beyond the exterior. Take the time to get acquainted with yourself. Be comfortable with the part that emphasizes caring and service. Touch lives in a positive manner and end each day with peace.
Get to know yourself ­ - "Me" - and enjoy success.
Larry R. Wintersteen, BA, MA, LPT, founded Wintersteen & Associates (www.wintersteen.com) in 1974. He is highly motivated and committed to excellence in personal and professional growth through practice image, patient communication, team building, and self-actualization. He stresses the importance of self-discipline, sensitivity, motivation, honesty, expansive thinking, and balancing. You may contact Mr. Wintersteen via e-mail at larry@wintersteen.com.
---
Ten Risk Management Reminders for the Dental Professional
There is much stress and worry in the possibility of a malpractice suit, which comes without warning or when you least need one in your life. The effect is usually overwhelming and negative for the practitioner and the practice. The only solution we have is prevention.
Communicate with your patients. Listen to them. Be empathetic and sensitive.
Be thorough and accurate in your record keeping. Date and initial all entries. Be certain to record behavioral concerns as well as clinical observations and actions.
Health history forms must be completed, updated, and signed. Read them and address areas of concern. When necessary, consult with a physician or other dental professional as needed.
Know your limitations. It is better to refer than to regret. Explain treatment contingencies to patients.
Communicate, define, and establish financial expectations.
Practice the highest quality in study casts, X-rays, and other pretreatment diagnostic tests. Date and put patient names on all.
Be aware of patients who speak negatively of another dentist and his/her work.
Be careful of entrapment dialogues: "Are we doing this over because you goofed the first time?"
Carefully explain remakes or delays with caution, sensitivity, and caring.
Take time to educate, train, and monitor your staff. Institute a monthly staff in-service meeting.