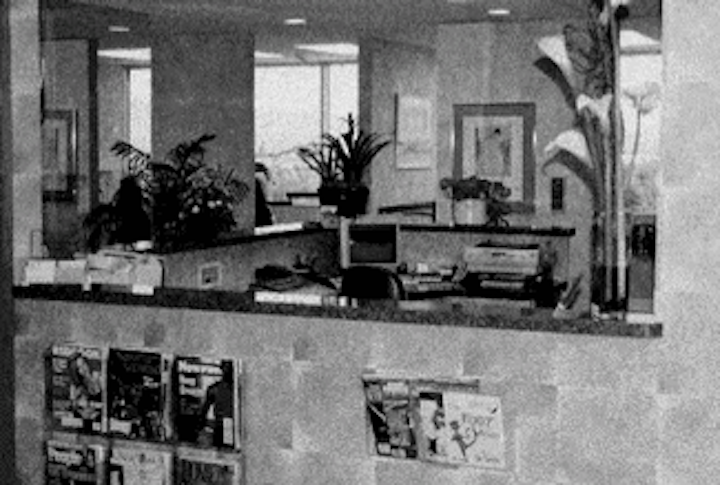 Ron Combs, Associate Editor
The earthquake that shook California`s San Fernando Valley in January 1994, brought Steven J. Galaif and his son, Daniel, together as a dental team. "At the time," explains Dr. Daniel Galaif, "I was practicing in Canoga Park and my father had his office in Panorama City. The earthquake caused such severe damage to my father`s office building that it was condemned. In this emergency, we decided that the only thing he could do was move into my office space.
"It required quite an adjustment, but we found that we really enjoyed working together. We both do general dentistry, including cosmetics and implants, so we decided to look for a larger facility that would accommodate both our practices."
Eventually, the doctors found a location in Encino that was more centrally located to both of their patient populations. One of the main features of the eleventh-floor office space they selected was the spectacular panoramic view of the Valley, which they agreed would be an important asset to their patient-centered practices.
Indeed, the emphasis is on patient comfort in the 1,875-square-foot office, designed by the doctors with the help of the Fitzpatrick Dental Company. "We feel that our office reflects an atmosphere that is soothing and inviting to our patients," says Dr. Galaif. "Additionally, the floor plan assures smooth patient flow and a functional working environment for our seven staff members."
The office has six operatories, five of which have a spectacular view of the valley. The doctors point out that although walls separate each operatory for patient privacy, the view from the dental chairs "projects a feeling of openness."
A private office is furnished with a unique tandem desk. Other features that are working well for the doctors and staff are a state-of-the-art sterilization room, a separate lab, a staff lounge and a consultation room. "The design of this work space," Dr. Daniel Galaif comments, "accommodates the X-ray equipment in cupboards, supplies in cabinets with smoked-glass fronts, pullout drawers in each operatory to store chairside materials, and glove and cup dispensers mounted to the walls. These features help us maintain an uncluttered environment.
"At this time, an additional room adjacent to the reception area is being used by my mother Tema, Ph.D., and sister Elisha, MS, who practice psychotherapy in conjunction with the dental practices. Also, my dental assistant is the daughter of my father`s assistant. I guess one could say that this is truly a family-oriented practice."
Smooth patient flow and a functional working environment is assured for the two doctors.
Patients enter into an office atmosphere that is both soothing and inviting.
All operatories offer a spectacular view of the Valley, projecting a feeling of openness for patients.