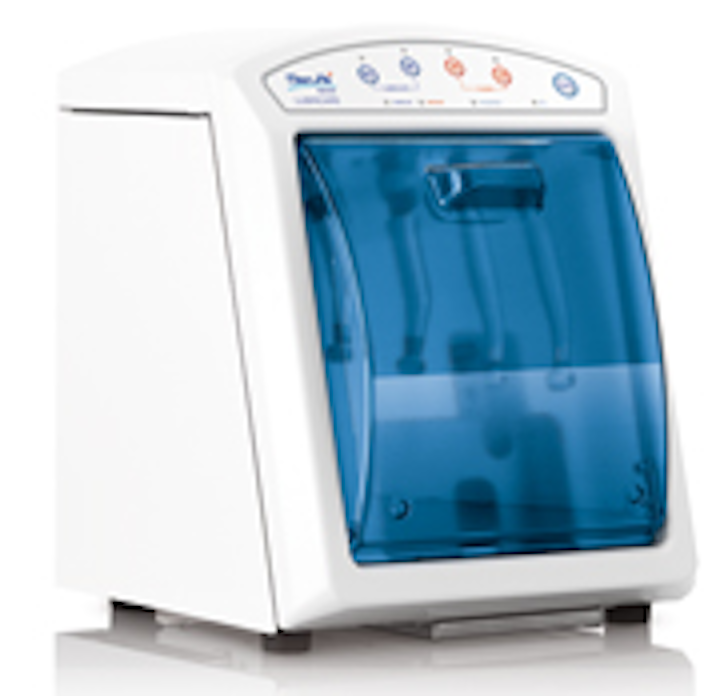 By Dr. Joe Blaes
Booth # 230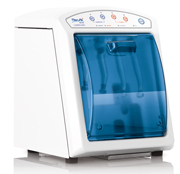 Bien-Air
Lubricare Maintenance Device is quick, simple, and economic. It features Bien-Air's two staple maintenance products, Spraynet and Lubrifluid. Each spray is specifically designed for a phase in the maintenance cycle: Spraynet, for dissolving impurities, and Lubrifluid, for effective lubrication of instruments. Lubricare and Bien-Air maintenance sprays support the daily use of your instruments, guaranteeing impeccable maintenance, optimal operation, and an extended service life. To learn more, visit www.bienair.com.

Booth # 316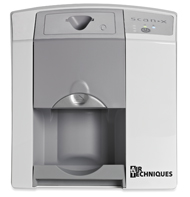 Air Techniques
ScanX Swift™ is a chairside digital imaging system that is very fast. It takes just nine seconds from taking the picture to display the image on your monitor. ScanX's thin, flexible, cordless phosphor sensors are 30x thinner than traditional hard sensors and are comfortable for patients with small mouths, difficulty in opening wide, or gag reflexes. ScanX is compatible with most imaging or patient management software. For more information, call (800) AIR-TECH or visit www.airtechniques.com/products/ScanX-Swift-Digital-Imaging-System.html.

Booth # 302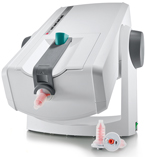 3M™ ESPE™
The Pentamix™ Lite Automatic Mixing Unit is an entry model of automatic mixing. This affordable, portable mixer works with all 3M ESPE impression materials and has a unique swiveling design that requires minimal space in the upright standby position. The automatic mixing unit's intuitive setup is designed for maximum ease of use -- just plug it in, push the start button, and start mixing. For more information, visit www.3MESPE.com/Pentamix or call (800) 634-2249.

Booth # 334
Patterson Dental
You can view the all-new CAESY Cloud presentations from multiple devices – including tablets and smartphones – throughout your practice. You can also link CAESY videos to your website or send them via email to allow anytime viewing for current and potential patients. CAESY Cloud also now features 3D models and animations that act as a digital flipchart, as well as printable pages for your patients. To learn more, visit www.caesycloud.com.

Booth # 356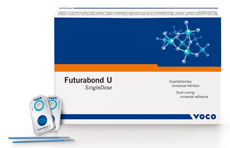 VOCO
Futurabond U is the world's first and only true universal adhesive in a unit-dose delivery system. Use it as self-etch, selective-etch, or total-etch. Use it with all direct or indirect materials. No additional activator is required for self- or dual-cure materials. It will bond to all light-, dual-, and self-cure resin materials, and to metal, zirconia, aluminum oxide, and silicate ceramic without extra primer. For a free sample and to learn more, visit www.vocoamerica.com.

Booth # 502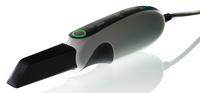 Carestream Dental
CS 3500 INTRAORAL SCANNER allows practitioners to easily acquire true color 2D and 3D images. Requiring no external heater, powder, or trolley system, the CS 3500 features high-angulation scanning of up to 45 degrees and to a depth from -2 to +13 mm. It also features a unique light guidance system that aids in the capture of the data during the image acquisition process. Learn more about Carestream Dental's restorative solution by visiting www.carestreamdental.com/solutions.

Booth # 424
Septodont
Acroseal is the most advanced root canal sealer from Septodont. It is designed to give you a superior seal without leakage and minimize the risks of failure. Acroseal is now available in an easy-to-use automix syringe that provides a homogeneous mix every time. To learn more, visit http://septodontusa.com.

Booth # 518

A-dec
A-dec 400 contemporary design dental chair marries form and function for superb patient and doctor comfort and access. The left/right compatibility of the Radius delivery system brings flexibility and productivity to every treatment room. And when you consider its unique load-bearing pivoting armrests, contemporary chair design, and 60 degree swivel, you will see why A-dec 400 is an exceptional value. Visit a-dec.com or call (800) 547-1883 for more information.



Booth # 630
BISCO Dental Products
ALL-BOND UNIVERSAL® combines etching, priming, and bonding in a single bottle. Unlike other one-bottle adhesives, ALL-BOND UNIVERSAL can be used with both direct and indirect restorations. It bonds to all indirect substrates and is compatible to all composite and resin-based cements without an additional activator. The versatility of ALL-BOND UNIVERSAL makes it an indispensable part of any dental practice. To learn more, visit www.bisco.com.
Booth # 658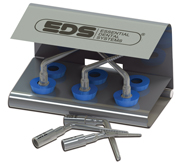 Essential Dental Systems (EDS)
New Endodontic Ultrasonic Tips are the No. 1 choice in endodontic access refinement, post removal, and passive ultrasonic irrigation (PUI). The scientifically designed MicroHatch cutting pattern provides the highest fracture resistance available, superior cutting efficiency, and less clogging of dentinal debris. To learn more, visit www.edsdental.com or call (201) 487-9090.

Booth # 726
GC America
G-CEM LinkAce™ is a self-adhesive resin cement with an innovative chemical initiator for the adhesive luting of PFMs, zirconia, and lithium disilicate restorations in one easy step. It has exceptional color stability, very low water absorption, and is HEMA free. It has unsurpassed wear resistance and is great for endo posts, too. Delivered in double-barrel automix syringe, it has easy excess cement removal with only a 1-2 second tack cure. Visit them online at www.gcamerica.com.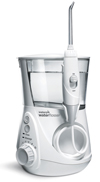 Booth # 1116
Waterpik
Waterpik® Aquarius™ Professional Water Flosser. The Aquarius™ (WP-660) is the easy, effective way to floss. It is clinically proven to be up to 50% more effective for improving gingival health vs. string floss. It is also proven to remove up to 99.9% of plaque from treated areas in 3 seconds. The Aquarius includes water on/off control on the handle, two flossing modes (Floss and Massage), an LED information panel, and seven water flosser tips. For more information, go to www.waterpik.com.
Booth # 817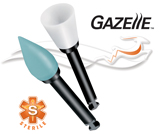 Microcopy
Announcing GazelleTM, Microcopy's new sterilized nano composite polisher. An exclusive SilatecTM process produces a flexible, durable polisher designed to last without falling apart. Gazelle Satin removes surface striations for a flawless satin shine. Gazelle Hi-Gloss polishes to a wet luster gloss. Flexible yet strong, sterilized, and single-patient-use -- Gazelle goes the distance! Order exclusively through Microcopy by calling (800) 235-1863 or online at www.gazellepolisher.com.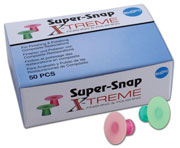 Booth #1128
Shofu
Super-Snap X-TremeTM is an enhancement to the green (fine) and red (superfine) Super-Snap polishing disks. These disks provide extra thickness to increase stiffness, tactile feel, and flexibility, allowing more pressure to be applied and greater durability. This product utilizes an advanced 3D technology and semispherical-shaped grits to allow space to discharge ground debris and maintain a smooth disk surface. The result: far less clogging and remarkably high gloss results. For more information, visit www.Shofu.com.

Booth # 1140
Ultradent Products, Inc.
Enamelast™ Fluoride Varnish is a 5% sodium fluoride varnish with a patented adhesion-promoting agent for enhanced retention, allowing for better fluoride release and uptake. Enamelast doesn't leave an unsightly, gritty residue, allowing patients to leave the dental office with teeth that feel clean and smooth. Enamelast appears nearly invisible against the teeth, eliminating the embarrassment to smile that many patients feel after varnish treatments. To learn more, visit www.ultradent.com.

Booth # 1216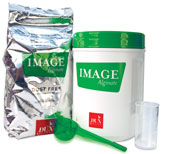 DUX Dental
IMAGE Dust-Free Alginate is a high-quality impression material that creates a smooth, glasslike surface to ensure precision impressions and molds. This value-priced dental alginate will help dental and orthodontic practices realize a 50% savings on impression material while producing excellent results. The alginate is dust-free, green-colored, mint-scented, and 100% biodegradable with 100 hours of dimensional stability. For more information, visit www.DUXDental.com.

Booth # 1152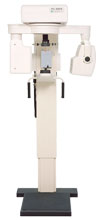 Panoramic Corporation
PC- 4000 Digital Panoramic Imaging System has an intuitive operation, reliable performance, and world-class service. It's what's made Panoramic Corporation a leading choice of panoramic X-ray systems among dental professionals today. Available with state-of-the-art digital technology, Panoramic Corporation's award-winning products deliver exceptional image quality, unique factory-direct value proposition, and a focused customer experience. Learn more, including exclusive Digital Rental opportunities, at www.pancorp.com.

Booth # 1304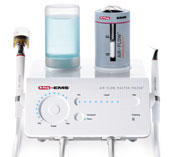 Hu-Friedy
Hu-Friedy recently announced a strategic alliance with Switzerland's EMS to deliver advanced prophylaxis technology with Piezon® and AIR-FLOW® technologies. One of the new devices, the AIR-FLOW Master Piezon®, combines three application systems -- piezoelectric scaling, supragingival air polishing, and biofilm removal -- in one sophisticated, easy-to-use unit. To learn more, visit www.hu-friedy.com/HFEMS.

Booth # 1404
DENTSPLY Caulk
Aquasil Ultra Cordless is the first and only Tissue Managing Impression System that does not require tissue retraction. No need for a cord. No need for paste. Just an easy, one-step system that places super high tear strength wash material precisely into the sulcus within seconds for a less stressful experience that delivers incredibly accurate marginal detail. For more information, contact DENTSPLY Caulk at (800) LD-CAULK, visit www.aquasilultracordless.com, or call an authorized DENTSPLY distributor.

Booth # 1404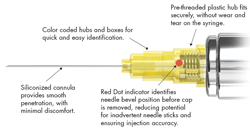 DENTSPLY Pharmaceutical
ACCUJECT® Sterile Disposable Dental Needles with clear and pre-threaded hubs allow for the needle to fit onto the syringe perfectly on the first try. Plus the needle locks in, so you never have to worry about the bevel being out of place. Needles are packaged in sterile, non-pyrogenic, individual, color-coded unit containers. Stability is maximized through interior threading. For more information, visit www.dentsplypharma.com.

Booth # 1404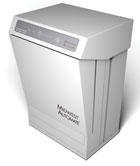 DENTSPLY Professional
Introducing advanced cleaning with the Midwest® Automate™ system. This system provides consistent and reliable handpiece maintenance, including lubrication and expelling to deliver precise amounts of lubricant, accurate expel times, and constant air pressure. The combination of these maintenance operations effectively removes the debris that may be hindering handpiece performance. For more information or to arrange a free in-office demonstration, call (800) 989-8825 or visit www.professional.dentsply.com.
Booth # 1460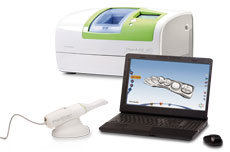 Planmeca
PlanScan is the first scanner to use E4D's patent-pending blue laser technology to capture the fine details for quality data capture with a powder-free image for precise and accurate prosthetics. Capturing every detail of the preparation enables the clinician to predictably design and mill precise restorations. Together with Planmeca PlanCAD design software and the Planmeca Plan Mill 40, this product gives dental professionals the ultimate in flexibility and productivity. For more information, visit www.planmecacadcam.com.
Booth # 1466
Ivoclar Vivadent
Introducing Adhese® Universal, a new, single-component, light-cured, and universal adhesive for direct and indirect bonding procedures. Adhese Universal features compatibility with all etching techniques: self-etch, selective enamel-etch, and total-etch. The VivaPen ensures fast and convenient direct application with the least amount of waste compared to all other delivery forms. Adhese Universal is technique tolerant and forgiving. It forms a stable, homogenous layer that is not sensitive to any application technique. For more information, visit www.ivoclarvivadent.com.
Booth # 1529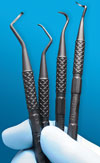 Premier Dental
Premier® Implant Scalers are made from fiber-reinforced graphite that will not scratch implant surfaces. The tips are thin and sharp with well-defined edges. The graphite is strong yet slightly flexible, allowing the tips to access tight areas effectively and safely. The redesigned handle has textured grips and a larger diameter for greater comfort and control. Premier Implant Scalers can be reused and are autoclavable. For more information, visit www.premusa.com.
Booth # 1474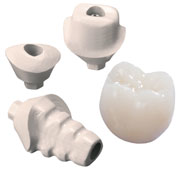 Glidewell Laboratories, Inc.
Stop using generic healing abutments over dental implants. The Inclusive® Tissue Contouring System produces esthetic gingival margins and a natural emergence profile by way of a custom healing abutment and matching custom impression coping that's ready to seat and easy to adjust. Add a custom temporary abutment with BioTemps® provisional crown for immediate temporization. For use with most major implant systems. To learn more, visit: www.glidewelldental.com.
Booth # 2016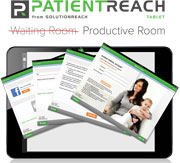 Solutionreach
Replace your clipboard! PatientReach Tablet is the digital check-in tool from Smile Reminder that provides accurate, legible patient information, eliminates scanning and shredding, and engages patients with point-of-care education. Optimize office efficiency and data fidelity by allowing patients to update their information, register for your patient portal, securely read/sign legal forms, and post online reviews. Save time and money, while increasing patient engagement! To learn more, visit www.solutionreach.com/patientreach.
Booth # 2160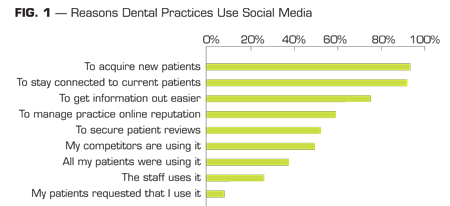 DentiMax
DentiCharts® is ONC certified, electronic health-care software specifically created for dental offices. What does this mean to you? If 30% or more of the visits to your practice are from Medicaid patients, barring a few exceptions, simply purchasing the DentiCharts® software qualifies each provider in your practice for an initial $21,250 government payment. DentiCharts is the key to getting this initial government payment and more. To learn more, visit www.dentimax.com/ehr.

Booth # 2235
Officite
Premium Patient Education from Officite and Dear Doctor is the single most comprehensive online education solution in the industry. The expansive library, designed for patient conversion, features over 1,600 pages of authoritative content customizable for every practice's specialty. The beautiful, anatomically correct illustrations, celebrity articles, and 20+ high-definition, mobile-ready videos make Premium Patient Education the most attractive and engaging education solution on the market. For more information, visit http://go.officite.com/patiented.

Booth #2218

Philips
Sonicare AirFloss is an easy way to start a healthy new routine. With its unique air and micro-droplet technology and an auto-burst feature that cleans the entire mouth in 30 seconds, it removes 5x more plaque between teeth than manual brushing alone. We are losing the floss wars! AirFloss is easy to use, leaves the mouth refreshingly clean and is a novel technology. Visit philipsoralhealthcare.com or call (800) 422-9448.

Booth # 2422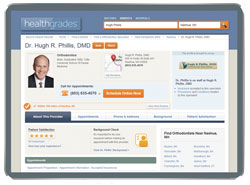 Sesame Communications
The Healthgrades® Enhanced Profiles from Sesame offers your practice featured provider placement and unparalleled access to more than 20 million searches from prospective patients looking to make an appointment with a new dental care provider in your local area. A Healthgrades Enhanced Profile from Sesame is the easiest and best way to drive more new-patient appointments to your practice. To learn more, visit http://sesamecommunications.com/healthgrades.
More DE Articles
Past DE Issues