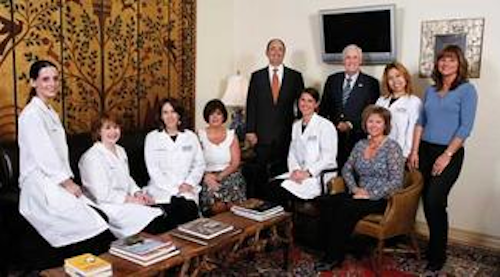 Encouragement from his future wife and father-in-law helped propel Dr. Phillip Shipp to fulfill a lifelong dream to become a dentist.
For more on this topic, go to www.dentaleconomics.com and search using the following key words: Dr. Phillip Shipp, Dr. James Elder, family, team, Shipp Dentistry.
Dr. Phillip P. Shipp took a rather unusual path to becoming a dentist. Phil always wanted to be a dentist and was in pre-dentistry at Ole Miss (the University of Mississippi). But he changed majors after a couple of years and finished with a marketing degree. After graduation, he began working for a medical company and set up an office in Nashville, Tenn. He was doing well but really did not like his job.
He began dating Mary Kim Elder. At one point, she asked him what he really wanted to do with his life. He told her that he wanted to be a dentist. She told him to go talk to her dad since he was a dentist. Dr. James Elder encouraged Phil to go for it.
Phil quit his job, enrolled in undergraduate school, and began waiting tables at night. After two years, he entered the University of Tennessee School of Dentistry in Memphis. By the way, he didn't let Mary Kim get away. He married her in 1990. He became an associate in Dr. Elder's office when he graduated from dental school in 1995.
In 2002, a very average production practice became available across the hall from Dr. Elder's office. Dr. Shipp purchased the practice and made many changes that, during the next five years, turned the low-profile practice into a highly productive, successful one.
During this time, Dr. Elder was keeping his practice growing and productive. But when his lease expired, the landlord would not renew it. So he had to find new space and build out a new office. He assembled his team to study an office designed by Dr. Harry Demeree.
Dr. Elder and the team found many ideas that they liked and incorporated them into their new office. He had practiced for three years in the office when Dr. Shipp offered to buy his practice. They closed the deal Jan. 1, 2008, when they combined practices. Dr. Elder is still active in the practice.
During the five years that Dr. Shipp had his practice alone, he took all of Dr. Peter Dawson's courses. He also took courses on cosmetic dentistry from the Hornbrook Group.
He became a CEREC-trained dentist and incorporated this technology into the practice. He constantly studied and tried new things to improve his knowledge and care for his patients. His marketing background served him well. He attended a number of meetings of the American Academy of Dental Practice Administration and became a member in 2004. Both offices had strong teams, so Dr. Shipp was able to keep almost all of the team members from each practice.
I can remember trying to merge with another practice and having tremendous problems with the team coming together as a cohesive group. It was such a divisive experience that my merger failed. But it has been an amazing success for the Shipp practice.
As you might expect, what really sets this practice apart from others is TEAM! This team takes care of patients as it would take care of its own family. This is accomplished by having very talented and highly trained people as team members.
As most of you know, you are only as good as the people with whom you surround yourself. Dr. Shipp has assembled a group of caring, people-oriented team members who make the practice work effectively and efficiently.
Dr. Shipp realizes there is no way that he can do it all himself, so he has delegated as much as possible to his team.
Team members have been assigned general duties for their respective positions. In addition, team members are encouraged to become specialists in specific duties.
One dental assistant coordinates the Invisalign cases and takes care of impressions, patient images, and appointments necessary to successfully complete the cases. This particular assistant is knowledgeable about the computer hardware and software, so she is the go-to person for questions concerning the EagleSoft system, Scan X, Invisalign, and e-mail.
Another dental assistant has completed advanced training on the CEREC 3D software. This qualifies her to design, mill, and do the initial try-in of CEREC restorations. She is the key to making efficient and productive use of the CEREC in the office.
Dr. Shipp has an assistant who has been with him for 13 years and probably knows more about what he does at the chair than he does. In Tennessee, she has completed an extensive certification course that allows her to place and finish direct restorations. She is the coordinator of patient cases that involve full-mouth rehabilitation and cosmetic veneer cases from beginning to end.
Team members go out of their way to give patients a WOW experience, which starts with a pain-free experience. The office offers conscious sedation to help anxious patients be relaxed during dental procedures. The team continues the unique office experience by offering warming paraffin hand treatments, Tempur-Pedic foam chair pads, fleece blankets, and of course, caring, empathetic people. This is explained on the Tel-A-Patient Message on Hold, which tells of all the great services of "comfort and enjoyment" provided in Dr. Shipp's office.
The office understands that the basis of good restorative dentistry is a healthy foundation. The hygiene department is well-trained in advanced periodontal treatments. Hygienists are excellent patient educators, helping patients understand the importance of a healthy mouth.
They utilize piezo electric scalers and medications to treat periodontal disease. Hygienists also use the Acclaim intraoral camera to help patients understand the need for restorative care and what their options are. Hygienists are always ready to lend a helping hand to other team members.
The business office is manned by three outstanding team members who share the duties. Basically, two team members specialize in the financial matters of the practice while the remaining team member handles the incoming calls and the recare program.
This person is a converted dental assistant so she can answer most questions that arise. She also has great knowledge of the stress that sometimes can occur in a clinical area so she can be empathetic with the rest of the team.
The practice's mission statement sums up the goals of this unique office:
To guide our patients along a path of optimal health and wellness, for life.
To nonjudgmentally deliver the highest quality care, with empathy and understanding.
To continually pursue excellence through continuing education, personal and team growth, and mastery of leading-edge technology.
To treat our patients as individuals.
To deliver this care with first-class, five-star service.
To respect our patients' time.
To accept our patients as partners in their wellness.
To assume a leadership role as a resource — a window of information with concern for our patients' overall well-being.
To consistently deliver more than would reasonably be expected.
Shipp Dentistry
Phillip P. Shipp IV, DDS, PLLC
4515 Harding Road, Suite 312
Nashville, TN 37205 • Phone: (615) 292-4100
Cosmetic and Family Dentistry
e-mail: phillip.shipp@comcast.net
Web site: www.phillipshipp.dds.com