Pearls For Your Practice
Pearl #1-Carbide Lab Burs by Brasseler USA (Figure 1). For my money, Brasseler has some of the best-cutting burs for acrylics, alloys, plaster, and castings. If you want to adjust, reduce, cut, or shape, they probably have an instrument for it. The company has just brought out two terrific burs. One of the worst jobs in the dental office is to remove an old chairside soft liner from a denture. The material stinks, and it is hard to remove. Now comes a cutter designed just for this job. Brasseler
Jun 1st, 1997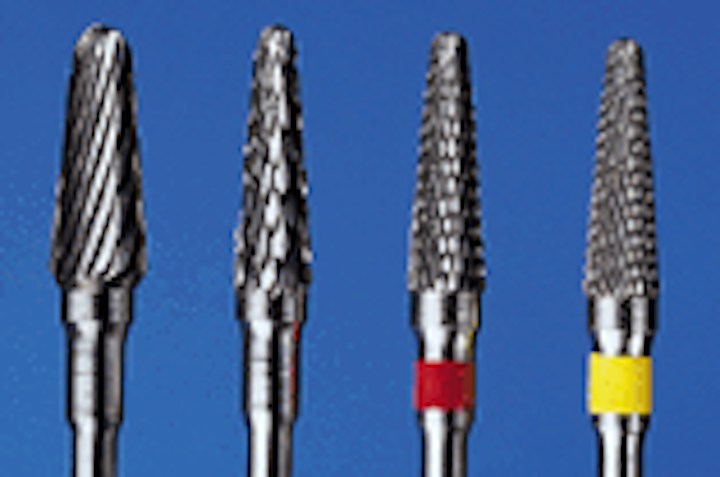 Joseph A. Blaes, DDS - Editor
Pearl #1-Carbide Lab Burs by Brasseler USA (Figure 1). For my money, Brasseler has some of the best-cutting burs for acrylics, alloys, plaster, and castings. If you want to adjust, reduce, cut, or shape, they probably have an instrument for it. The company has just brought out two terrific burs. One of the worst jobs in the dental office is to remove an old chairside soft liner from a denture. The material stinks, and it is hard to remove. Now comes a cutter designed just for this job. Brasseler has nicknamed it the "Terminator." It is a wicked-looking cutter, but it really does the job. In a quarter of the time it usually takes me, I was able to quickly and easily remove the soft liner. Every one of you needs one of these in the lab. Your assistants will bless you. Ask for the Terminator or the SG-Cutter Blade. Another problem that I have is trimming soft reline material, particularly the lab-processed materials. Most cutters just bounce off of the material, so adjustments to it are a pain. Well, Brasseler has solved that problem, too, by designing a cutter to trim soft reline material and mouthguard material. If you do soft relines or mouthguards, you need this instrument. Ask for the FSQ-Straight-Bladed Cutter. Call Brasseler USA at (800) 841-4522 for more information.
Pearl #2-America`s Dental Health Patient Education (Figure 2). This is a great patient-education series on interactive CD with the host of ABC`s "Good Morning America," Joan Lunden, as narrator. This recognizable host seems to give the material more credibility. The clinical animation, an emphasis on cosmetic dental procedures and some great dental graphics make this a product you should take a look at. It even has Barney, the lovable dinosaur. Before you buy a patient-education program, take a look at this one. Call ADH at (800) 570-5770 for information.
Pearl #3-The C-LECT Crown From Keller Dental Laboratories (Figure 3). This is a great crown that I have been using in my practice for about four years. I have placed close to a thousand of these crowns, and they are absolutely beautiful! The C-LECT crowns fit extremely well, because the three processes that can cause the most errors have been eliminated in the creation of this product. There is no waxing, no investing, and no casting to cause distortion in the metal coping. The precision-fit copings of 24k gold are formed directly on your die by an electroplating process. The marginal accuracy and coping retention are superior to cast metals. That`s all good news, but here comes the best feature of these crowns: The esthetics are re-created naturally and beautifully in the C-LECT crowns. The vital dentin hues are created without opacity because of the warm yellow color of the gold coping, so the shades are simply breathtaking. So now you have it ... the perfect combination of fit, strength, and great shades. I almost forgot - since oxides will not form on the 24k gold, you will not see gray shadow or dark margins at the gingival. When I first started prescribing these crowns, I always asked for porcelain butt margins. Now, I do not feel they are necessary. Keller gives a seven-year, no-breakage guarantee with these crowns. How can you lose? Call Keller Dental Labs at (800) 325-3056 for additional information or to receive mailers.
Pearl #4-ADMIN. This is a new concept in continuing education. The American Dental & Medical Information Network (ADMIN) has launched enrollment for subscribers to a new information-satellite service. Imagine receiving clinical and business courses that will be broadcast directly to your home or office via a Direct Broadcast Satellite (DBS). The system also will allow for interactive video conferences where viewers can call or fax questions to the presenter during a live presentation. ADMIN has an impressive number of the top speakers around the country lined up to give presentations. Call ADMIN at (800) 923-6464.
Dr. Blaes has a general practice in the St. Louis area. He is known for his expertise in dental materials and techniques, as well as his innovative systems designs. He writes and lectures on "How To Increase Productivity and Profitability." He may be reached at (314) 434-6808.
Figure 1
Figure 2
Figure 3