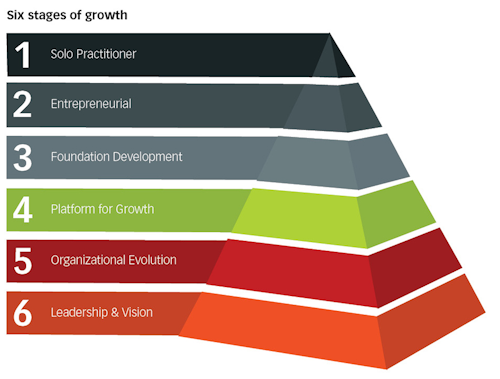 21-40 offices
Vincent Cardillo, MBA
Editor's note: This article is part six of a seven-part series. The final article will appear in April Dental Economics. Find previous articles on DentalEconomics.com. Search "Cardillo."
In my initial article,I identified that private-equity-backed multilocation group practices, or dental service organizations (DSOs), are becoming more influential and controlling a larger portion of the dental market. In my 20-plus years of experience growing DSOs, I've identified all successful, developing groups' progress through the Six Stages of Growth. Therefore, as you transition from solo practitioner (Stage 1), through entrepreneurial (Stage 2), to foundation development (Stage 3), to platform for growth (Stage 4,) to organizational evolution (Stage 5), following these progressive steps will facilitate your ongoing growth.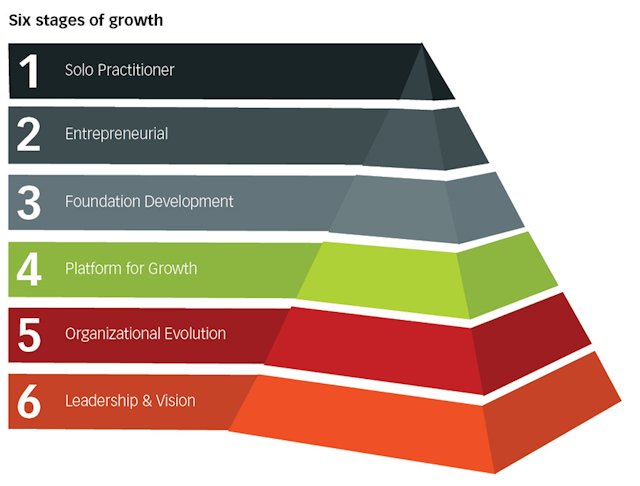 Last month's article highlighted Stage 4 (10 to 20 offices). This is where you create a transition process that systematically integrates acquired practices or launches de novo practices, while you consider the associate and partnership model. You also define your role in the company and determine if you are the chief executive officer (CEO) or chief dental/clinical officer (CDO/CCO). These pieces, coupled with prior stages, expand your growth model.
This month's article focuses on Stage 5 (21 to 40 offices). This is where you create a call center, create your C-suite, and consider financial restructuring. You'll need to make decisions around these components of Stage 5:
C-suite
C-suite means the top executive or highest level corporate positions in a company. For example, a CEO is a C-level position. In Stage 4, you laid the foundation for your C-suite when you identified your two most critical positions—CEO and CDO—and defined your role within the company. C-suite executives share common responsibilities, such as strategic planning and operational efficiency.
Like personnel decisions made in the prior stages of growth, you must have the most qualified people in your C-suite. The most appropriate candidates may already exist within your company, which means you upgrade their positions. However, external recruitment is necessary to ensure that you also have the appropriate people to complete your organizational structure needs. At this level of growth, your organizational chart should be composed of people who have experience with the management and operations of companies that generate $100 million or more, because they understand the steps necessary to scale growth.
These five C-level positions need to be filled at this stage of growth:
1) Chief financial officer (CFO), whose job is to oversee the financial operations of the entire company; the controller and director of new purchasing report to this person
2) Vice president of operations, who oversees the regional manager as well as the call center and transitions department
3) Human resources director, who is directly responsible for the overall administration, coordination, and evaluation of the human resources function, and oversees the director of education, training, and development
4) Director of business development, who will assist with strategizing future locations, including acquisitions or de novo practices
5) Vice president of marketing, who will spearhead marketing strategies for the nonbranded or branded practices
While you began to form your C-suite during Stage 4 and you will round out the remainder of the team during Stage 5, the following two areas (perhaps started during prior stages) should be addressed during Stage 5.
---
Spotlight: Call center
Outsourcing calls to an external company or creating your own internal group of dedicated phone agents maximizes efficiencies in this stage. It's a time and productivity drain for front desk staff at every office to constantly be on the phone. It also draws them away from paying attention to the patients in front of them so they can create a positive in-office experience.
Enterprise practice management software, such as Dentrix Enterprise, will be key for utilizing a call center. Using a shared database, phone agents have access to a single appointment book, patient and provider records, and insurance information They can handle:
• Insurance verification
• Recall
• Bringing in new clients
• Scheduling
• Provider credentialing
• Insurance fee negotiations
By using a call center and providing clear areas of specialty for staff, you can grow your employees more effectively, making performance more reliable and success more certain.
Spotlight sponsored by Henry Schein's Dentrix Enterprise
Financial restructuring
You have reached this stage with assistance from any or all of the following: outside investors, operational cash flow, debt, or partner buy-ins. By this stage, you must understand that all banks have a lending ceiling for borrowers. This ceiling is based on the bank's size, which is based on the bank's total assets and risk tolerance. For example, a bank may have a $5 million or $10 million maximum and may include real estate holdings. If you know you have a maximum of $20 million and you've used $10 million in real estate, you only have $10 million remaining for your practices. It's probably worth sitting down with a financial advisor to evaluate if it makes sense for you to take this leverage and invest in real estate or dental practices. Keep in mind that during the past 15 years, returns on dental practices have been higher than on real estate.
Additionally, you are most likely personally guaranteeing the debt during the stages of growth. It is important to note that during good financial times, when your business reaches a certain size, you may relinquish the personal guarantee. If you choose to avoid the personal guarantee, you may seek separate types of lenders that will lend without this, with the caveat of paying double or more.
With this in mind, you will need to seek alternative forms of financing to continue the growth of your organization, for example, an employee stock option plan (ESOP). With an ESOP, employees end up owning the company over time. Or, you could seek to sell a portion of the entity to a private-equity firm who would assist you with the growth of your company at a much faster rate. Just as you look to restructure your financial liabilities, you must continue to focus on creating maximum operational efficiencies by leveraging centralization within your company, for example, by creating a call center.
Call center
A call center will help you deliver an optimal patient-centric experience by using the best people to service specific types of phone calls. When you create a call center, you must consider both inbound and outbound calls. Inbound calls include new and existing patient phone calls, while outbound calls include patient confirmations, reactivations, and scheduling open treatment plans.
When you build your call center, you'll want to focus on one area at a time. For example, focus on inbound new patient calls because this is a primary growth factor for dental practices. In fact, based on industry numbers that I've seen, 30% of all phone calls go unanswered. Therefore, in the case of inbound new patient calls, you may be losing these patients because of an unanswered phone. An unanswered phone is a costly mistake because marketing and advertising dollars spent to acquire new patients are adversely impacted every time a phone call goes unanswered. You may also consider assigning each marketing campaign its own dedicated phone number so you can track the effectiveness of the strategy and determine if your dollars are being well spent.
Do not discount the relevance of outbound patient reactivation calls. It is important to consider that patient reactivation as another new patient channel. Additionally, the cost to reactive a patient is less than the amount spent to acquire a new patient.
Consider the following characteristics of having a call center. First, the driver of a call center is call volume. Call volume is established by the number of practice locations or practice types. For example, specialties such as orthodontics and pedodontics are inherently considered high volume due to the nature of these practices, and they automatically justify creating a call center.
Second, a call center generates efficiencies, thereby minimizing office payroll. If payroll is not minimized, the patient experience is increased and therefore production is increased. Thirdly, a call center allows treatment coordinators to spend more time with patients and improve case acceptance. Therefore, a call center not only improves operational efficiencies but also provides a cost savings to the company while improving the patient experience.
To summarize
With ownership of 21 to 40 practices (Stage 5), you continue to evolve your organization. This is done by creating your C-suite, while considering financial restructuring and creating a call center. Once you accomplish Stage 5 and decide to continue your organizational growth, my final article will take you through Stage 6 (41-plus offices) and summarize the Six Stages of Growth.
---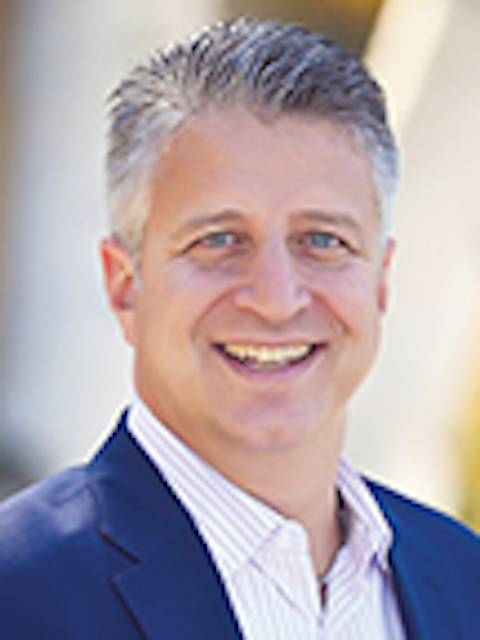 Vincent Cardillo, MBA, has more than 20 years of experience owning, leading, and partnering with DSOs, the latest of which was No. 14 on the 2014 Inc. 500 List. He is the founder of Dental Management Innovations LLC (DMI). DMI positions clients for growth by strengthening their operational systems and infrastructure. Mr. Cardillo also provides his expertise to private equity firms and institutional investors. His book on the six stages of growth will be published later this year. Contact him at vin@dmidental.com.