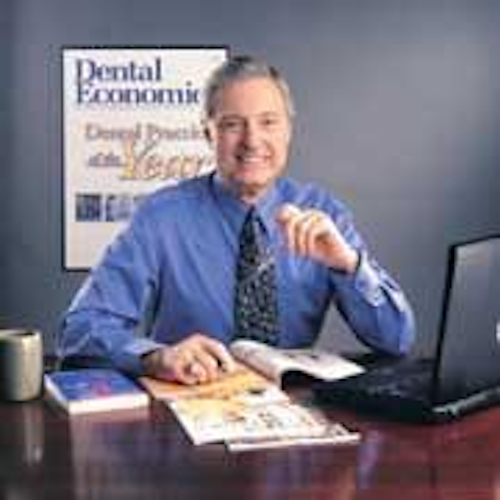 One of the first decisions that I made when I took the job as editor six years ago was to drop the "Office of the Month" column. I believed that it had become redundant and that it was not well-received by our readers. As it has turned out, that was the worst decision that I have made. I have had so many readers ask me, "Whatever happened to the Office of the Month?"
With this issue, I am correcting my mistake and reinstating the Office of the Month in grand style. It will not only be an ongoing series, it also will be our cover story each month. Building a new office or redoing an existing office can have a huge economic impact on our lives. The story accompanying the office photos will give you the opportunity to understand why the dentist is building this new office. Is it an ego trip, or is it a sound business decision backed by a well-thought-out business plan?
The first office is located in rural Missouri. Drs. Kelly and Marc Barnett decided to join their practices after 17 years of practicing in different locations. Their choice of location, the design of the office, and the eagerness of the team have combined to assure a successful practice. Their biggest problem is how to serve the large influx of new patients.
So, look for the innovative offices that will appear each month in the pages of Dental Economics. I promise to bring you the best of dental office design in both new offices and in updating existing offices. Next month, I will publish the protocol for seeing your office on the cover. I trust that you will enjoy the return of Office of the Month.
I have visited many dental manufacturers and seen firsthand the tremendous commitment that they have to research and development. This R&D impacts both the consistency and improvement of current products and the development of new products.
This month, I visited two research facilities, one in Buffalo and the other in Minneapolis. You probably can quickly figure out that the companies were Ivoclar Vivadent and 3M. I know you would be as amazed as I was when you understand the amount of time and money these companies spend on research.
I have personally witnessed the daily combination of clinical, technical, lab results, and marketing that a manufacturer has to balance. Some data may look great in the lab, but that data has to be checked out in the mouth because the results may be totally different. Then, outside, unbiased research must be done too. The companies struggle with how to communicate their message to you, the dentist, in a way that is ethical and proper. I always am overwhelmed at the amount of time spent testing and retesting before a product ever comes to market!
The other day, I was watching the evening news with Tom Brokaw. He was interviewing an Army General who had retired about 18 months ago as the Chairman of the Joint Chiefs of Staff. Here was a man whose life had been extremely structured. He always had someone at his beck and call to do his every bidding. He and his wife of many years were enjoying their retirement. The General was able to do many things that he had never had time for in the past.
He had climbed a tree on his property to trim some limbs when he lost his grip and fell 20 feet to the ground, hitting headfirst. He was rushed to Walter Reed Hospital, where the doctors said he would never walk again and might even end up as a quadriplegic. Never one to accept the first opinion, the General decided that he would do all he could to regain the use of his body. His is one of those stories of an incredible turnaround — he is indeed walking and functioning normally again!
When asked how he did it, he replied, "FAITH, FAMILY, and FRIENDS."
Joe Blaes, DDS, Editor — e-mail: joeb@pennwell.com