How suite it is!
Seeking an office design geared more for the patient, Dr. Dan E. Patterson creates an innovative concept for oral surgery.
Aug 1st, 2005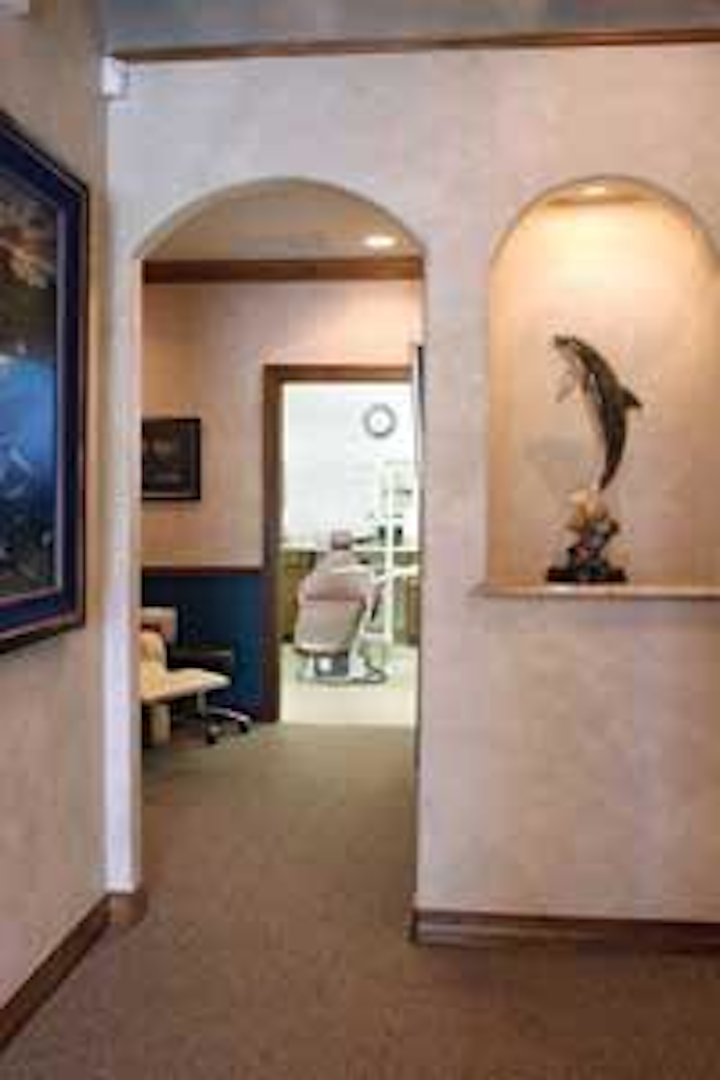 Seeking an office design geared more for the patient, Dr. Dan E. Patterson creates an innovative concept for oral surgery.
After practicing some 25 years as an oral surgeon, Dr. Dan E. Patterson knew it was time for a change.
Dr. Patterson, a native of Bartlesville, Okla., and the founder of the Central Oklahoma Oral and Maxillofacial Surgery Associates, thought that there was a better method for providing care than what he had been doing in his traditionally designed dental office.
"Although my practice had evolved into a patient-focused, total-experience concept, it was clear that traditional office design did not support this ideology," said Dr. Patterson, an honors graduate from the University of Nebraska College of Dentistry.
"Dental office designs typically focus upon efficiency of care delivery and the needs of the doctor," he added. "My philosophical goal was to create a patient-centered design."
So, Dr. Patterson sold his specialty practice in Stillwater and moved 75 miles away to Tulsa with the plan to design a practice in which the patient's needs come first.
On June 23, 2004, Dr. Patterson opened the doors to Ashton Creek Oral Surgery Suites. Along with the practice's opening, he unveiled a unique approach to dental care - the "suite" concept.
"Although modern dental offices are pleasant, colorful, and esthetically pleasing, they do little to mask or conceal the intimidating sights and sounds that patients find objectionable," said Dr. Patterson, who completed his predental studies at Oklahoma State University.
"My desire to instill emotional comfort and reassurance led to the development of the suite concept. The intent of this concept is to effectively distract and divert patient attention from the purpose of the patient's visit."
To do this, Dr. Patterson's design for Ashton Creek provides for mental distractions as well as physical separation to make a patient's dental experience more enjoyable.
With this innovative approach, patients scheduled for oral surgery at Ashton Creek are guided along a gallery corridor that is dotted with an array of bronze sculptures and paintings. Some of the paintings are the work of noted marine artist Wyland. This artwork aims to provide patients with a calming, soothing effect prior to the surgery whether it be for an implant, tooth extraction, or grafting procedure.
Patients then are taken to a private room or "suite" that is located between the gallery corridor and an adjoining operatory. The suite shelters patients from the view of dental equipment and the noises oftentimes created by the use of this equipment.
In the suite, patients are prepped for surgery. They are seated in a large, theater-type recliner, allowing them a chance to relax in a stress-free environment. Family members are even allowed to join patients in the suite.
"Twilight" sedatives then are administered intravenously by the Ashton Creek staff. The sedatives are amnesic in nature so patients will have no recall of the surgery. Following the surgery, patients are escorted from the operatory back to the suite. After the effects of the sedatives wear off, patients wake up in the same recliner with family members waiting to greet them.
"The combined use of physical barriers, esthetic diversions, and modern amnesic drugs has enabled us to completely eliminate the conscious perception of the dental experience," Dr. Patterson said.
Ashton Creek has three private suites. Each one is decorated in a different style. One is early American in nature with a Valley Forge portrait and a rendition of the Preamble to the Constitution on the walls. Another is known as Noah's Ark suite after a likeness of the canvas art in the room. The third private room is called the aquatic suite for a variety of marine art that fills the walls.
Each of the suites leads to one of two operatories. Each operatory features state-of-the-art technology.
"With the construction of our new facility, we implemented a fully integrated paperless patient record system, digital radiography, electronic interoffice text messaging, and we installed high-tech multimedia patient education and entertainment systems," Dr. Patterson said.
Among the patient monitoring and life support systems included at Ashton Creek are an ECG, automated blood pressure monitoring, pulse oximetry, and automated external defibrillator.
To the patient, the most visible new technology feature is probably the 37-inch LCD flat panel screens located throughout the practice.
In the consultation room, a wall-mounted flat panel screen displays radiographic findings for easy identification of dental problems, which enhances discussions between staff and patients. A flat panel screen with general information in the reception area greets patients upon entrance to the practice. Another LCD screen, located in a waiting room designed especially for family members, provides for television or movie viewing. Also, each suite contains a flat panel screen for PowerPoint presentations.
While the private rooms are the focal point of the suite concept, several other design features help to distinguish Ashton Creek from the traditional dental office.
Upon entering the facility, one of Ashton Creek's six full-time staff members (the staff includes Dr. Patterson's wife, Ann, a registered nurse who serves as implant coordinator) greets patients in a reception area that simulates the atmosphere of a hotel concierge. A large reception window, accompanied by a low counter, combine to create a feeling of openness and warmth.
A room dedicated specifically for consultation with an assigned treatment coordinator awaits patients. Decorated to resemble a room at home rather than one at a dental office, the consultation room is used for patient registration, discussions about diagnoses and treatment options, patient education, and records reviews. Located apart from the private suites and operatories, the room provides a quiet, relaxed setting for important business matters.
In addition, while an Ashton Creek patient is in surgery, family members can relax in the cozy waiting room, which is located near the reception area. Furnished with leather furniture and stocked with plenty of refreshments, family members can wait in comfort while a surgery is in progress, opting to watch television or a movie if they wish.
"I wanted to design a practice from the patient's point of view," Dr. Patterson said. "I wanted it to be as unlike a dental office as I could make it and change people's perspective about the dental experience. (Consultant) Roger Levin says that 'perception is reality.' I wanted to convey high-tech and quality here at Ashton Creek and the fact that we are different."
A contributing reason for Dr. Patterson's focus on the patient perspective comes from his background as a pilot with Southwest Airlines the last 16 years.
Dr. Patterson, who still spends a couple of weekends a month flying for the airline, calls Southwest "the customer service king" of airlines.
"Southwest has a greater appreciation for the customer's perspective," he said. "They try to always outdo someone else in terms of customer service. In almost every way, Southwest takes a different approach to doing things than any other airline in the industry. They have more of a team approach. A lot of this applies to dentistry as well. As dentists, we are providing a service, too. By serving customers well, we can set ourselves apart from others."
With its suite concept, Ashton Creek is a practice that is not only unique in its design but successful, too. According to Dr. Patterson, the innovative approach sets a new standard of specialty care. Thus, it is very much in demand by patients as well as referring doctors.
"The specialist or boutique generalist who wishes to employ the suite concept should anticipate a practice growth rate that markedly exceeds normal growth projections for startups," he said.
For Dr. Dan Patterson and his staff, how "suite" it is at Ashton Creek Oral Surgery Suites in Tulsa!